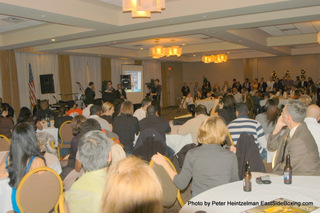 By Peter Mark Heintzelman, Photos by Peter Mark Heintzelman – The Coral Restaurant, on Shrewsbury Street in Worcester, Massachusetts, hosted the return of its most recent boxing champion, super middleweight Edwin "La Bomba" Rodriguez this evening, attended by sponsors, family, friends, and a hundred fans of Worcester's Pride.
Fresh off his whirlwind travels to Australia, Rodriguez flew to North Dakota, to grab the vacant WBC USNBC super middleweight belt by a nine round TKO against James "Buddy" McGirt, Jr, Then, in , his most recent venture across the Pond , Rodriguez sparred with Carl Froch, as the Brit recovers from injuries in his Super Six World Boxing Classic, and helped prepare Froch for his next fight against Arthur Abraham..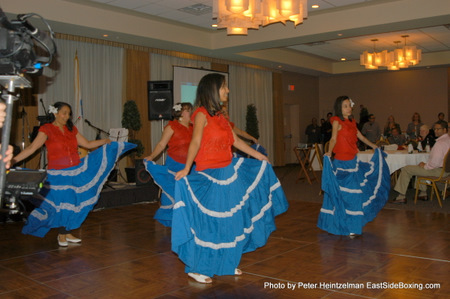 Attorney-Manager, Larry Army, Jr, of Worcester, MA, must have his pockets burning with the expenses of it all, but it's a great wager, by Army and trainer, Peter Manfredo, Sr., of Pawtucket, Rhode Island, who have dug in, stayed focused, and brought their Dominican Republic-born pugilist quickly up the ranks of the competitive super middleweight division, in a short three years.
At the celebration, Edwin spoke about his struggles with weight, and motivation, as he was preparing for his fight with McGirt:
I went down to my managers' office , and I had tears in my eyes, and I didn't think I could lose 28 pounds in two week, I was getting light headed, and spoke to my manager and promoter, and I rememberto today, that this is when my career totally changed. I love eating. So, you know, weight had been an issue, and I got to the point of knowing I was doing something wrong, and I said to my manager, Larry, I'm not in love with boxing any more, and I don't think I can do this any more.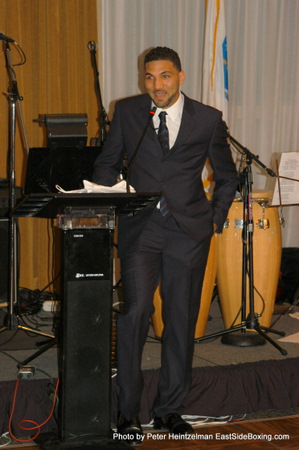 My promoter is a very nice guy, and I told him, and he didn't want me to get hurt, and I really appreciate my promoter coming out to me, and being strong to me like that. So, I was thinking of retiring, and doing something else. You know, Larry Army, my manger, and my best friend. But that day, he knew I was beat, and he didn't say anything to me. And I want to thank Larry for believing in me, when I didn't believe in myself. And he became a brother to me. And thank you for that, Larry. So, I took a few days, and I was in denial with my eating habits, but I got linked up with a nutritionist for a few weeks, and in my last fight, I felt really good, and in my last fight, I thought I was doing everything right.
But it was great times, and I was able to win that belt with a lot of hard work and dedication, and I'm glad to stay undefeated, and making my City proud and to Worcester's Boy's and Girl's Club, because that's where I came out of, and I want to also thank my father, who came here in 1985, and I didn't meet my Dad for a lot of years, and he ended up in USA, and it was tough for us, but I really appreciate my Dad, for working to give me and my brothers a better life, and its his birthday today, so I want to say Happy Birthday Dad.
And finally, to his family and friends, Rodriguez ended: "Thank you guys so much, you make me so proud today."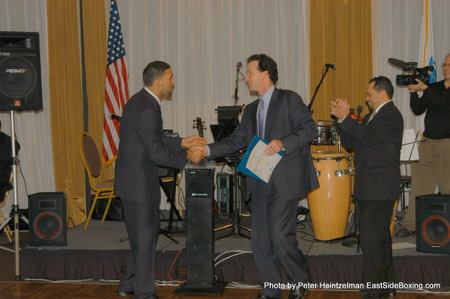 Even Worcester's Mayor, Edward O'Brien showed up for the return of Worcester's hero, co-sponsored by Webster First Federal Credit Union and Centro Las America's, of Worcester.
EastSideBoxing got a minute to speak to Edwin Rodriguez at the event this evening: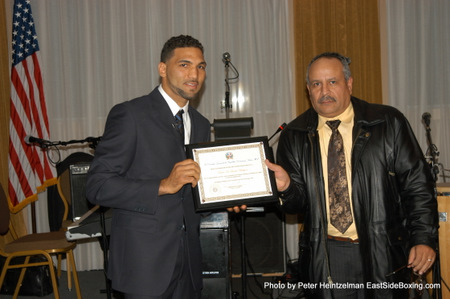 EastSideBoxing: Edwin Rodriguez, 17-0, 13 KO's, and now the WBC USNBC Super Middleweight Champ – it was just a short time ago, I saw your first fight in January of 2008, in Mansfield, Massachusetts, where you started your win record with a first round KO of Sam Gomez. Does this all seem like a dream to you?
Rodriguez: Life is a dream!
EastSideBoxing: In the brief 3 years you have risen to the top of the super middleweight division – to what do you attribute your climb over other fighters in your division?
Rodriguez: You know, I have a great team behind me. I work hard. Just lately, I started with a nutritionist and conditioning, and doing the whole 9 yards, and things are working out real well.
EastSideBoxing: 2010 is almost done. What are you hoping to accomplish in the ring in 2011?
Rodriguez: You know, two years ago, we had a goal, and it was to become a world champion in three years, and I think we are going at the right pace, and I wouldn't change anything. I want to get to the top ten in 2011, and fight for the title.
EastSideBoxing: How has it been to have Larry Army, Jr., as your manager, and Peter Manfredo, Sr, as your trainer?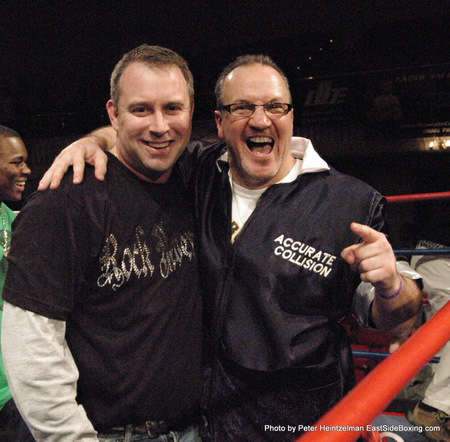 Rodriguez: It has been a very fun ride – those guys are crazy!
EastSideBoxing: Now that you are married, is your punch faster or slower?
Rodriguez: A little bit faster!
EastSideBoxing: I know you and your team are working on getting your next fight under contract – – can you tell us now who, when and where is your next fight?
Rodriguez: My next fight will be January 14th, in Key West, Florida, and I believe there is already a contract out their with Aaron Pryor Jr., I looked on box rec, and it looks like is is happening, and will be on ESPN.
EastSideBoxing: And lastly, Edwin, can you try and convince your team and your promoter, Lou DiBella, to bring another fight back to Worcester?
Rodriguez: Oh, definitely, I think we are on the right track. We had a couple good fights out of the state, and we had good tv following as well. I hope we will have big tv back in Worcester, and have more people, and I believe it will happen in Worcester, or somewhere around here. But my goal in 2011, is to come to Worcester. That would be great.
EastSideBoxing: Any final comments to your fans at EastSideBoxing.com?
Rodriguez: Keep following me, because 2011 is going to be a great year. I keep improving, and I know 2011 is going to be a big year.