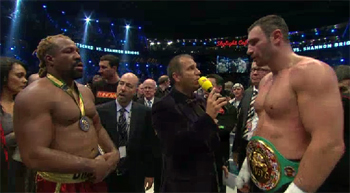 by Geoffrey Ciani – WBC heavyweight champion Vitali Klitschko (41-2, 38 KOs) successfully defended his title and defeated Shannon Briggs (51-6-1, 45 KOs) by unanimous decision (120-107, 120-105, 120-107). It was a brutally one-sided encounter where Klitschko probably had his best performance since coming back to defeat Sam Peter and reclaim his championship after nearly four years of inactivity. Shannon Briggs became just the third fighter to go the distance with Klitschko. Despite his tremendous heart and determination, he received a terrible beating and was unable to effectively implement his offense.
Vitali Klitschko landed a good flush right hand just ten seconds into the opening round. This would become a familiar pattern over the course of the fight. Briggs seemed a bit tentative at the onset and was less aggressive than most anticipated. Vitali was controlling the distance and landing the better shots at range while Briggs attempted some body shots. Briggs appeared winded early, and it seemed as if he might lack the energy to see things into the later rounds.
In the second round Vitali began finding the mark with short lead left hooks. As the round progressed he began peppering Briggs with right hands. Vitali was absolutely outstanding when it came to maintaining his proper fighting distance. This pattern continued in the third. The pace was fairly slow, but Vitali was consistently doing the better work landing crisp shots with both hands. Briggs started finding the mark a bit more in round four, but he was still being hammered by Klitschko who was far more active and accurate.
Vitali continued his dominance in the fifth and sixth rounds. Briggs appeared tired and was unable to muster an effective sustained attack. Meanwhile Vitali continued landing right hands at will. Through six, despite eating a lot of shots Briggs never appeared seriously hurt. That all changed in round seven when a series of crushing lead rights from Vitali had Briggs on uneasy legs. He appeared stunned for the first time, and after a short combination highlighted by some stellar left hooks, Briggs was clearly hurt. He was eating an accumulation of shots and sent stumbling to the corner at the conclusion of round seven in what could easily have been scored a 10-8 round for Klitschko.
Briggs was slightly wobbled again in the eighth and it seemed as though a Klitschko knockout victory was inevitable. Briggs absorbed a slow prolonged beating throughout the eighth and ninth rounds. He found himself in big trouble again in the tenth when Vitali opened up with an onslaught of vicious right hands. Klitschko smelled blood and went for the kill, but Briggs somehow withstood the horrific beating and remained standing. The action slowed a bit in the eleventh when Vitali appeared to take a breather, but he picked things up again in the twelfth and resumed peppering Briggs with a variety of big punches.
This was a tremendous victory for Klitschko, who had not looked this impressive since his comeback win against Peter. In recent fights against Juan Carlos Gomez, Chris Arreola, and Albert Sosnowski, Klitschko appeared to be slowing down and looked more vulnerable. Tonight he was in prime form and put on a masterful performance against a very game opponent. Vitali seemed quick, agile, and fought intelligently. He was landing lead rights, lead hooks, and was always able to control the distance with his jab. At times, he was throwing punches in bunches and putting together some nice short combinations on both the inside and outside.
Briggs lost every round of the contest, but he always maintained his focus and was extremely determined. Unlike Kevin Johnson a year earlier, Briggs was trying his best against the far more skilled and quicker champion. Johnson was content on merely surviving against Klitschko and never tried to make a fight of it. Briggs, on the other hand, was continuously trying despite being ineffective. He suffered a severe beating in which he exhibited tremendous heart and courage. It was an admirable effort by Briggs who gave the fans their money's worth by hanging in there when lesser men would have folded.
It is unclear where Briggs goes from here. Another title shot seems unlikely given the one-sided beating he suffered, but his efforts were brave enough that he could possibly land another meaningful fight in the foreseeable future. For Klitschko, it seems like a fight against former cruiserweight and light heavyweight champion Tomasz Adamek could be next, provided Adamek wins his upcoming fight against Vinny Maddalone on December 9. Adamek provides a stark contrast in style from Briggs and his speed, skills, and movement should provide a totally different type of challenge for Klitschko. At this stage, however, short of his brother Wladimir it is doubtful that any heavyweight has what it takes to beat the elder Klitschko.
***
To learn more about "On the Ropes Boxing Radio:
Visit our official Website:
http://www.ontheropesboxingradio.com
Join our Facebook Group:
http://www.facebook.com/group.php?gid=231954175413&ref=ts
Or Follow us on Twitter:
http://twitter.com/JennaOnTheRopes
To contact Geoffrey Ciani or Jenna J:
ontheropes@boxing247.com
To read more by Ciani or Jenna please visit The Mushroom Mag:
http://www.eatthemushroom.com/mag