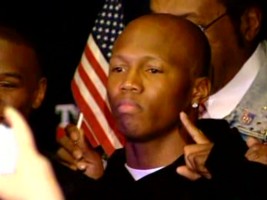 by James Slater – 32-year-old Zab Judah, the former light-welterweight and welterweight champ, returns to action for the first time in eight months on July 16th, when he faces capable Mexican boxer Jose Armando Santa Cruz in Newark, New Jersey. The flashy southpaw from Brooklyn, back down at his optimum weight of 140-pounds, hopes to kick-start his career and work his way back up towards another shot at a world title at light-welterweight.
In what will very likely be his last chance at climbing back to the top of his weight class, Judah faces a live and possibly dangerous foe in the 29-year-old with the 28-4(17) pro record. Co-promoting the card as he is, "Super" Judah will be looking to live up to his nickname. But can he do so?
Santa Cruz, in many ways a fighter who has been unlucky, is probably best known for two fights – the 10th-round stoppage loss he suffered at the hands of David Diaz, and the 12-round split decision loss he suffered when he met Joel Casamayor three fights later.. Both of these contests took place down at lightweight, and Santa Cruz was desperately close to winning both. Having outboxed then WBC interim lightweight champ Diaz for nine-rounds and being well ahead on all three scorecards back in August of 2006, the Mexican got himself caught and TKO'd by Diaz. While in the Casamayor fight, 15-months later, Santa Cruz went home with a hugely debatable points loss; this after having decked the Cuban southpaw in the 1st-round.
Despite losing these two fights, however, Santa Cruz proved his class. Since his 6th-round stoppage loss to Antonio Pitalua in September of 2008, in a WBC lightweight title eliminator, the Californian-based Mexican has won two KO's in a row, against so-so opposition, up at light-welter. Not having been terribly active as of late, Santa Cruz could well be rusty against Judah. Also, the Mexican's best days may have passed, and down at 135-pounds. If, however, he has retained a good deal of the stuff he showed against Diaz and Casamayor, he could possibly give Judah a tough time.
Zab's southpaw stance is not going to trouble Santa Cruz, as he handled the stance of Casamayor and Diaz well enough, but Judah's power might prove to be a real problem. Always putting out his best work in the early-to-mid rounds of a fight, Judah will be dangerous early on in July. And Santa Cruz can be tagged and he can be taken out. The fight will, in my opinion, turn interesting, if the younger (but perhaps more ring-worn) fighter can get through to the second half of the scheduled ten-rounder.
Having only had three fights in the past two years himself, we can't be in any way sure how much Judah has left to offer. Still, this fight being against a light-welterweight (one that has moved up from lightweight, at that) will suit Zab – a man who has been beaten by just one 140-pounder in his entire career. Two wins removed from his vacant IBF 147-pound title clash with the much bigger Joshua Clottey (a 9th-round TD loss for Zab), Judah, 38-6(26) will be the favourite to make it three wins on July 16th.
Santa Cruz, despite having moved up from 135, is the taller man of the two, though, with a longer reach also. This may mean Zab could find himself getting caught and maybe even outboxed at times.
Judah, who would make a most interesting challenger for WBA 140-pound boss Amir Khan (a fight that has been discussed), cannot afford any slip-ups next month, and he knows it. Looking for a fresh start and eventually another crack at a major belt, the Santa Cruz fight is one of the most important of Judah's entire career.
With everything at stake, you can expect Judah to come in fully fit and focused. It may not be easy, but he will get the win. Look for Zab to stop a game Santa Cruz in around 7 or 8-rounds. The action figures to be lively and competitive until the ending, though.