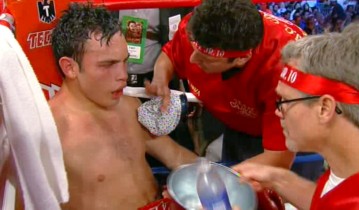 by James Slater – Undefeated son of a legend, Julio Cesar Chavez Junior turned in a career-best performance last night in San Antonio Texas, as he pounded out a clear and wide 12-round unanimous decision over an always-game John Duddy. Showing off some of the new skills new trainer Freddie Roach has taught him over the past few weeks, the 24-year-old improved to 41-0-1(30) and proved that he belongs at 160-pounds (even though it's possible Chavez jr's next fight could be back down at 154 – more about that later).
Winning the WBC's "silver" title at middleweight, Chavez jr is now looking forward to becoming a legitimate world champion. In dominating Ireland's Duddy, who fell to 29-2(18) and remains a fighter to have never been stopped, Chavez put himself in line to face either 154-pound champ Miguel Cotto or world middleweight king Sergio Gabriel Martinez.
According to promoter Bob Arum, Chavez jr will likely have one more fight before going for a world title – likely against either the Puerto Rican who holds the WBA belt at 154-pounds or the Argentine southpaw who holds the world's middleweight crown..
"Everything depends on Mayweather-Pacquiao," Arum is quoted as saying by Ring.tv.com. "If it gets made, it will have a domino effect."
Arum reportedly said that if Pacquiao-Mayweather does go ahead (as we all hope it will), Miguel Cotto could well face Antonio Margarito in a big rematch of their highly controversial 2008 clash. Cotto, then, being a possible "Plan B" for Pacquiao in case Pac-Man cannot get Mayweather into the ring, will only face Chavez if the mega-match fails to materialise. If, however, the massive event does go ahead, Chavez jr could wind up facing Martinez – the man he became mandatory challenger for by beating Duddy and winning the "Silver" belt.
But would Chavez jr stand a chance of defeating either champion?
A few months ago – when he was languishing in a period of suspension brought about for using an illegal dietary drug in his fight with Troy Rowland – the very idea of Chavez jr facing the likes of Cotto or Martinez would have been laughed at. Some fans may still laugh (or sneer) at the possibility of either fight now, and the 24-year-old, despite his good win last night, would surely enter either match as a considerable underdog – but it's almost certain Chavez jr WILL go up against the real elite very soon.
Personally, I feel he would get hammered by Martinez, the man who beat up the much bigger Kelly Pavlik. All wrong for Chavez jr, this fight could, in my opinion, even come close to ruining the Mexican star. But could Chavez jr be ready for the somewhat ring-worn Cotto? Sure, Cotto, having a new trainer by his side in Emanuel Steward, looked rejuvenated last time out in stopping Yuri Foreman, but would you pick the Puerto Rican to run right over Chavez jr? I wouldn't.
Style-wise, with his high workrate and his good body attack, maybe, just maybe, the youthful and energetic Chavez would have a decent shot at upsetting Cotto at 154.
Whatever you think about Chavez' chances of becoming a legit world champion, though, it seems we will get to see how he does in such a challenge soon.