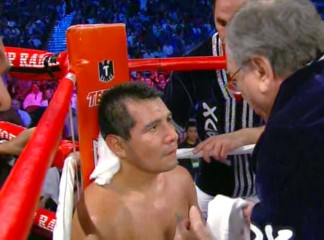 by Geoffrey Ciani: Marco Antonio Barrera (66-7) proved he has something left to offer when he coasted to a ten round unanimous decision victory over Adailton De Jesus (26-5). This was 'The Baby Faced Assassin's first fight since March of last year when he was overmatched by Amir Khan in a fight that was ultimately stopped by a gruesome cut Barrera suffered early from a clash of heads. Now 36 years old, many were wondering what (if anything) the proud Mexican warrior had left in the tank. Apparently, he still has something. All three judges saw the fight in his favor with final tallies reading 100-90, 98-92, and 99-91.
The shopworn Barrera showed no major signs of ring rust. He looked sharp, fluid, and showed off some nice skills on offense and defense. A crisp intelligent jab helped Barrera dictate the pace of the fight. Always known for being selective with his punches, Barrera knew when and when not to punch. When he did punch, he was often doubling and tripling up the jab effectively, and following this up with some good right hands that landed with frequent precision. At times, he even showed glimpses of his former brilliance when he doubled up with a left hook to the head and body..
Barrera looked impressive. Of course, DeJesus was no world beater. He was a carefully selected opponent to help gauge what Barrera had left. Obviously, he proved he had something left and perhaps a great deal more than many suspected. Given his age, his history of past wars, and the fact that he was fighting at a career high of 141 pounds, many wondered whether Barrera would struggle with DeJesus. That was not the case at all. Barrera was in complete control. He fought intelligently and showed he is serious about making another run.
Marco Antonio Barrera has always excelled in recent years when his opponent fights at his pace. DeJesus obliged Barrera and allowed him to dictate the terms. This made him the perfect opponent and it enabled Barrera to showcase his stuff. It will be interesting however, to see how well Barrera reacts against an opponent who wants to fight at a faster pace and forces him to leave his comfort zone. Barrera has always been troubled in recent times by those who challenge him with high volume and activity.
Where does Barrera go from here? His best bet might be angling for a shot against WBC lightweight champion Humberto Soto. Until then, Barrera would probably best serve his own interests by taking another tune up fight against a higher caliber opponent. If he can do that and win as impressively as he did tonight, then perhaps he is not too far removed from re-entering the title picture.
***
To view a complete list of past guests from On the Ropes Boxing Radio please visit our website:
http://www.ontheropesboxingradio.com/profiles.html
To contact Geoffrey Ciani:
ontheropes@boxing247.com
To read more by Ciani or Jenna please visit The Mushroom Mag:
http://www.eatthemushroom.com/mag.