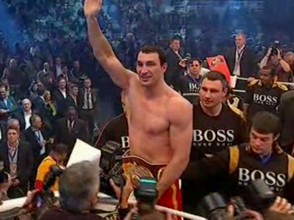 by James Slater – It's official: Wladimir Klitschko, the reigning IBF, WBO and Ring magazine heavyweight champion, will NOT be facing WBA champ David Haye in his next fight. Despite reports surfacing that say Klitschko and his team tried their best to negotiate a deal with the Londoner, the eagerly awaited unification clash will have to wait at least a few more months.
Because, as has been reported on Fightnews.com, the also intriguing Klitschko-Alexander Povetkin bout took a massive step towards being set today, as Klitschko's promotional group K2 won the purse bids battle. Winning by quite a margin, at $8,313,000 to the bid of $4, 250, 001 put in by Sauerland Event, K2 now have 90 days to get the fight nailed down. Reportedly, the pencilled in date is September 18th, in Germany.
So, now that Klitschko and his group have won the purse bid for the big fight, can "Dr. Steel Hammer" win the contest that will take place in the ring?
Povetkin, aged 30 and unbeaten at 19-0(14) was a quite superb amateur, with a Gold medal win at the 2004 Olympics being his most outstanding achievement, and he is as good a challenger for the younger of the two Klitschkos as anyone else out there. And, with new trainer Teddy Atlas now having been with the Russian hope long enough for the two to have got acquainted with one another, the timing is probably as good as it's ever going to be for Povetkin to rumble with the 34-year-old.
Still, despite his credentials and despite his excellent and knowledgeable trainer, many fans – in fact the majority of them – seem to see nothing but another win for Klitschko. It's not that Povetkin is a bad fighter, obviously, it's just that he is relatively small compared to the 6.6.5″ and approx 245-pound Klitschko (Povetkin is 6.2″ and around 225), he has never met any pro remotely at Klitschko's level and, to top it all, Wladimir is looking better than ever right now.
Povetkin can be expected to give it his best shot, and his skills must be respected by Klitschko. The thing is, though, Povetkin WILL be respected by the meticulous champion – a man who leaves nothing to chance – and his best shot will not be enough. Like Eddie Chambers and all the rest of Wladimir's recent challengers, Povetkin will have a hell of a time getting past the champion's hammer of a left jab. It's possible Povetkin, as gutsy as they come, will be able to tough it out on the way in and get close enough to do some damage, but most fans don't see this happening. To be frank, I don't either.
Look for another challenger, this one the IBF mandatory challenger, to take a slow but sure pounding from "Dr. Steel Hammer;" one that ultimately leaves him either flat out on the mat or pulled out by his corner. Needless to say, Povetkin – who earned this shot way back in January of 2008 – will be a big underdog going into the September clash.