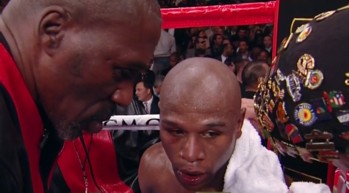 Bill Patrice Jones – From the first bell at the MGM grand on Saturday night, Floyd Mayweather was out to prove beyond any doubt that he is the best fighter alive today. Whether or not his total domination of Shane Mosley means he is once again the pound for pound king is unknown. The fight was both sickening and enthralling. The audience sat watching with awe Mayweather's lighting hand speed and effortless movement around the ring. But they also watched an ageing legend come face to face with the unforgiving truth that his time at top has come to an end. The narrator for HBO's 24/7 observed that fighters are more in touch with their own mortality than anyone else. This was read over a final montage of Mayweather and Mosley preparing for battle. In hindsight the words seem ominous. Shane Mosley was granted his wish, the chance to prove himself the best fighter alive, it turned into a nightmare..
The sense of anticipation ahead of Saturday's fight was incredible. It was the most exciting matchup possible following the collapse of Pacquiao Vs Mayweather. Shane Mosley was a fan favourite, he has pursued the best without question, enthralled audiences and won respect. So many boxing fans who grew up watching Mosley prayed for him to shut Floyd Mayweather's mouth, or write for himself one more glory ridden page in his story.
Yet there was more to the anticipation between Mayweather and Mosley. Question marks still existed over whether or not Floyd could really lay claim to being the greatest welterweight alive. Many claimed he fought smaller men. Others said outright that he refuses to take risks. His bout against Shane Mosley therefore became something of a rite of passage. Now he would face a big strong hard punching welterweight who would not be intimidated. Perhaps people were feeling overly nostalgic, remembering Mosley's golden days? Ultimately he came to represent everything that the detractors said Floyd lacked: He was brave, took on the very best no matter what, took risks and fought for the fans. All Mosley fans out there were to be heartbroken when the final bell rang.
Shane Mosley looked somewhat nervous as he waited backstage to make his ring walk. Floyd Mayweather looked the total opposite, composed assured and fearless. Mosley walked out to a great reception. The moment had come.
Those who had picked Mosley to win expected him to start fast. They were also counting on him unsettling Floyd with volume punching, pushing him back and winning the early rounds. Seen as overly conservative in some of his recent fights, fans expected to see Mosley set the pace and hope to build early momentum.
The first round was revealing of how the fight would progress. Mayweather looked every inch a superior physical specimen. He looked like a finely tuned athlete in his prime fighting an older man. He moved into the middle of the ring, took the initiative and bullied Shane immediately. He was for the first time in a long time on the front foot and he looked awesome for it. This was more like the Floyd Mayweather people had first become excited about. His hands were lightning quick and his jab pistol like. Mosley looked a little ragged and seemed deeply unsettled by Floyd's decision to be the aggressor. He was tentative with the jab and not up on his toes. If he could still match Floyd for hand speed his foot speed was lacking. The signs were there: Mayweather was simply a cut above.
The second started the same, only Floyd was being a little overly aggressive. He seemed to show Mosley less respect than in the first round. With 20 seconds in Mosley got up on his toes resembling at last sugar Shane of old. Mayweather walked on to a jab and moments later Mosley landed a terrific right hand. At once stunned and unsteady Floyd grabbed Shane's right arm and stifled his momentum. Still it was Shane's round and a minute or so later he landed a sharp right hook. This time Mayweather looked genuinely hurt and almost touched down. The shock looked possible. Ironically the most telling moment of the whole fight came as Shane looked to follow up. A great finisher, Mosley was suddenly heaving and seemed unable to pull the trigger. Mayweather even ended the round stronger. The crowd were buzzing but Mosley's expression on the way back to his corner was mixed.
From then on Mayweather dominated Mosley in every way. He made a serious statement in the third round, landing great hard punches throughout. Mosley could not get his shots off, Floyd took the middle of the ring and goaded him. He paid for every mistake and looked confused.
The fight remained this one sided until the very end. After three rounds Mosley was heaving and looking despondent in the corners. His dream fight had turned into a nightmare. He could not dominate Floyd for a moment, he could not push him back and found himself unable to throw a combination throughout the entire fight.
Perhaps we had overlooked the fact that Mosley had never been the most intelligent fighter and was not known for handling defensive boxers too well. Now he found himself in with one of the greatest defensive fighters of all time.
Mosley did not go out with a bang but rather the hype machine surrounding him ahead of the fight slowly faded away as the rounds passed. It was agonisingly obvious that he could not mount a comeback.
Floyd Mayweather deserves immense praise for what he did on Saturday. He took on one of the world's best welterweights and thoroughly outdid him in every way. He was faster, stronger, sharper and more intelligent. Better yet he showed aggression and vigour. Judging by this Floyd Mayweather is almost unbeatable. Though he took some big shots in the second round from a reputed puncher he kept his composure and came back with a dominant showing in the third. The size did not bother Mayweather at all. With his father and trainer now reunited and with the suggestion of a greater fighter being out there in Pacquiao to dispel; Floyd Mayweather looked at his very best.
In spite of all the necessary adulation for Floyd Mayweather, we need also acknowledge the fact that Shane Mosley is past his best. You saw written on Shane's face the sobering truth that he is not what he once was. Nazim Richardson implored him to show us his warrior spirit. Yet whatever Mosley wanted to do to Mayweather, his body would not respond. He was still dangerous as shown by the second round. What he was not was as sharp. He was on his toes for no more than two minutes of the whole fight. He sat waiting almost disoriented not knowing what to do. He was fighting a superb boxer but he was also questioning himself. The fatigue worsened as the rounds passed. Watching him stare out blankly in between rounds was surreal. Here was his moment and he could do nothing for it. Knowing Mosley could not win it would have been nice to see him go down in flames, instead he found he could not even ignite his fire.
Boxing is a cruel sport in which the extremes of human experience often sit side by side. On Saturday night we witnessed the showcase of a legendary fighter in his prime. We saw the adulation and euphoria in the aftermath of such a dominating performance. At the same time we watched the once great Shane Mosley face a harsh truth in what was supposed to be his special night. As one legend grows the sun is going down on another.
It was sad to see. Perhaps the most poignant moment was catching a glimpse of Shane Mosley's son watching from ringside, knowing that deep down his idol will never be at the top again. Significant moments in boxing are rare but unlike all other sports they can sometimes be saddening.