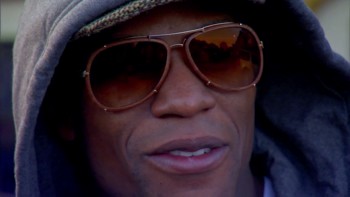 LAS VEGAS, NV (April 30)…Six-time World Champion Floyd "Money" Mayweather and WBA Welterweight Super Champion Sugar Shane Mosley, are set to meet in Mayweather vs. Mosley: Who R U Picking? on Saturday, May 1 at MGM Grand in Las Vegas in a mega-bout which will be produced and distributed live on HBO Pay-Per-View® beginning at 9 p.m. ET/6 p.m. PT.
TOP WRITERS AND MEDIA
"I'm picking Mosley. I'm not sure how much Floyd has lost having fought just once in two years. Mosley has equal if not better hand speed, and I just don't know what Mayweather has or has not lost in his defensive genius in two years. Mosley in a decision."
– Bert Sugar, boxing writer and historian ..
"Mayweather by decision due to his speed and boxing skills."
– Gordon Marino, The Wall Street Journal
"This is such a good fight. I'd long thought that Shane is the one guy that had the tools to beat Floyd. He's almost as fast, I think Mosley is stronger, has good skill. What he has to do is cut off the ring and stop Floyd from getting away. If Floyd times Shane, he's going to be in trouble. But if Shane keeps him in place, I think he has a really good chance to work Mayweather. If I was a betting man and was forced to make a pick I'd have to go with Floyd, but I think Shane has a great chance. Whoever wins, it's going the distance."
– Kieran Mulvaney, Reuters/ESPN.com
"There are 50 variables for this fight I can think of without even thinking, not the least of which is how the 16-month layoff will affect a 38-year old Mosley or if Floyd's foot speed at 32 will be enough to withstand what I expect to be a relentless assault. I expect Mosley to try and dictate the tempo but I also expect Mayweather to frustrate him with a flurry of counterpunches. Take Mayweather in a unanimous decision."
– Chris Mannix, Sports Illustrated
"Floyd with a knockout in Round 6, duh! He's quick and talented with a touch of cocky, that's enough for me to believe."
– Jason Kennedy, E! Entertainment correspondent
"I think both Mayweather and Mosley will come out fighting smartly. But Mosley will eventually lose his patience trying to hit Mayweather, and in trying too hard to get at Mayweather will leave himself open to Floyd's superb counter-punching. Mayweather wins by unanimous decision."
– Bob Velin, USA TODAY
"This is a fight Floyd has wanted for years. He's heard the criticism about not fighting the top welterweights and he wants to prove a point. I expect him to put on one of his best performances in this fight and win a clear-cut unanimous decision."
– Kevin Iole, Yahoo! Sports
"Mayweather wins by decision. Floyd has pushed himself as never before in training camp, surrounding himself with top sparring partners and grinding through exhaustive workouts that Mosley, at 38, will have trouble matching. Clearly, Shane will attempt to pressure Floyd, but Mayweather's defensive brilliance is still in peak form which should protect him from Mosley's knockout power. That'll reduce the fight to a workout session, precisely the formula Mayweather needs to improve to 41-0."
– Lance Pugmire, Los Angeles Times
"Mayweather to win…too quick, too slick. Mayweather on decisive points decision."
– Gareth Davies, The Daily Telegraph
"Shane Mosley and Floyd Mayweather, Jr. are both superbly skilled boxers at the top of their game. But Mayweather may be the best defensive fighter of this generation and that will negate Mosley's greatest assets – speed and power. Mayweather by decision."
– Tim Smith, NY Daily News
"Sugar Shane Mosley has been counted out before and that's what motivates him in this fight. It's easy to say that he's been in too many tough fights over the years. But I think that's his edge here. Mayweather hasn't been in a competitive fight since winning a split decision over Oscar de la Hoya in 2007. Tough fights are the norm for Mosley. Shane will make Mayweather fight like no one else has made him fight before. Also consider that Mosley is faster than any other fighter Mayweather has faced and it all adds up to a unanimous decision win for Mosley."
– Bobby Cassidy, Newsday
"Mayweather on points. Mosley is too old, and Mayweather is a better fighter."
– Jeff Powell, The Daily Mail
"It should be a great fight. I don't think Mosley can knock out Mayweather and I think he's probably going to have to do exactly that to win the fight. Mayweather should be on form and satisfy his sweet tooth on Sugar Shane, remaining unbeaten by unanimous decision. If he brings anything less than the full "Money" mayhem, though, Mosley will quickly make him pay."
– Jim Slater, Agence France Presse
"Mosley will throw more punches and Mayweather is too conservative. The judges like activity. Mosley by decision."
– David Avila, Riverside Press Enterprise
"I think Mayweather wins a close decision. Mosley will have problems cutting the ring off, and Mosley is stronger, which is probably a concern for Mayweather. Mayweather's activity and consistency will pull out the fight, possibility in a split decision."
– David Mayo, Grand Rapids Press
"Shane Mosley is really, really good. But Floyd Mayweather is great, and the difference between really, really good and great is enough for me to go out on a thick enough limb to predict 'Money' by unanimous decision. Say what you will about Floyd – and some critics insist he's 'boring' because he usually wins so easily – but I've got to see him lose, or at least be pushed to the limit, before I saw off that limb on which I'm perched by picking someone else to beat him."
– Bernard Fernandez, Philadelphia Daily News
"I like Mayweather by decision. Too young, too fast, too much like Shane. Mosley will have his moments, especially early in the fight. He will test Mayweather early but Mayweather will prove to any doubters remaining that for all his defensive skills and movement he is, at his core, a fighter. In the end, speed will be the difference, as it always is."
– Ron Borges, Boston Herald
"Money is precisely that when it comes to huge fights. Floyd is the best counter puncher and defensive fighter I've seen and will give Shane nothing but problems. Fans and media always disrespect Mayweather, but 40-0 says it all. He'll control this one throughout, while Shane tries in vein to knock him out. Mayweather wins in a unanimous decision and breaks the pay-per-view records that he already owns. As always, Floyd will put on a show and take advantage of an older fighter."
– Scott Ferrall, host of "The Scott Ferrall Show" on Sirius XM Radio
"Floyd Mayweather in a close decision. This is Shane's last shot and he goes out firing, but Floyd is too much at the end."
– Calvin Watkins, ESPN Dallas
"I think the effort to cast this fight as a complete toss-up is optimistic. Shane comes in as heroic dragonslayer after beating Margarito, but that doesn't mean he's equal to the task of being the first guy ever to beat Mayweather. Mayweather by decision."
– Don Steinberg, Philadelphia Inquirer
"Mayweather by decision. This has the makings of an epic fight. Mosley's strength and experience along with having Naazim Richardson in his corner will give him a great chance to win. But in Mayweather, we're talking about the best defensive fighter of his generation and now that he's already had a fight under his belt in his comeback. He should prevail."
– Steve Carp, Las Vegas Review-Journal
"My guess is that Mayweather will be inflicting damage up the middle as Mosley tries to go for the body. The more Mosley misses – and I believe that he will miss often as relative fatigue sets in – the more Mayweather builds momentum toward a 12-round split-decision."
– Lem Satterfield, AOL FanHouse
"Mayweather by decision. I think he's the best fighter in the world right now. He's too technical and Shane won't be able to keep up with him."
– Brett Okamoto, Las Vegas Sun
# # #
Mayweather vs. Mosley: Who R U Picking? is promoted by Mayweather Promotions and Golden Boy Promotions, and sponsored by Cerveza Tecate, AT&T, DeWALT Tools and StubHub. The 12-round welterweight battle is set for Saturday, May 1 at MGM Grand in Las Vegas and will be produced and distributed live on HBO Pay-Per-View® beginning at 9 p.m. ET/6 p.m. PT.
Tickets, priced at $1,250, $1,000, $600, $300 and $150 not including applicable service charges, are on sale now and limited to 10 per person and ticket sales at $150 are limited to two (2) per person with a total ticket limit of 10 per person. To charge by phone with a major credit card, call Ticketmaster at (800) 745-3000. Tickets also are available for purchase at www.mgmgrand.com or www.ticketmaster.com.
Seven of the MGM MIRAGE properties will host closed circuit viewing of Mayweather vs. Mosley. Tickets for the closed circuit telecasts at all venues are priced at $50, not including applicable service charges and handling fees are on sale now. All seats will be general admission and will be available at each individual property's box office outlets and at all Las Vegas Ticketmaster locations (select Smith's Food and Drug Centers and Ritmo Latino). To charge by phone with a major credit card, call Ticketmaster at (800) 745-3000, or visit www.mgmgrand.com or www.ticketmaster.com. Ticket sales are limited to 20 per person.
The finale of HBO®'s all-access reality series "24/7 Mayweather/Mosley" debuts tonight Friday, Apr. 30 at 8:30 p.m. ET/PT. Episodes one thru three are available on HBO ON DEMAND®. All four episodes will air consecutively on Saturday, May 1 at 9:30 a.m. ET/PT on the main service.
The Mayweather vs. Mosley pay-per-view telecast, beginning at 9 p.m. ET/6 p.m. PT, has a suggested retail price of $54.95, will be produced and distributed by HBO Pay-Per-View® and will be available to more than 71 million pay-per-view homes. The telecast will be available in HD-TV for those viewers who can receive HD. HBO Pay-Per-View®, a division of Home Box Office, Inc., is the leading supplier of event programming to the pay-per-view industry. For Mayweather vs. Mosley fight week updates, log on to www.hbo.com.