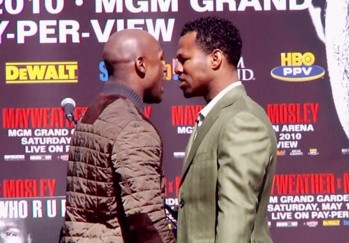 by Geoffrey Ciani – Shane Mosley and Floyd Mayweather are both talented fighters but when it comes to textbook skills and pedigree, there is no doubt Mayweather is superior. If we were to make a complete checklist of offensive and defensive attributes such as hand speed, foot work, punching technique, elusiveness, etc., Mayweather would have more checks in his column than Mosley. The areas where Mosley would have the edge primarily deal with size, power, strength, and other similar qualities. For this reason, the majority of observers are picking Mayweather, and not without good reason—he is clearly the more complete fighter.
If this fight comes down to raw skill Mayweather should emerge triumphant. The question becomes, is the bout going to be decided by skill and skill alone or will it be decided by something more?
Mayweather's career has largely followed the model set by Roy Jones Junior. As a general rule, Mayweather and Jones were both businessmen first and foremost. Any concerns pertaining to legacy and standing always took a backseat to the almighty dollar.. This is understandable. After all, boxing is a business and the sport's participants are the ones doing all the hard work and taking all the risks. They have a right to reap the benefits of their efforts. Jones and Mayweather are both fighters who minimized risk to maximize their rewards. This is a common sense strategy for an athlete looking to earn as much as possible during the length of his career. I can respect this.
There is, however, another breed of fighter whom I have an even greater respect for. A good example of this would be Hall of Fame boxer Carmen Basilio who was a recent guest of On the Ropes Boxing Radio. When I was afforded the opportunity to speak to Carmen I asked him how he would most like to be remembered by the fans. Without hesitation, the former two time welterweight world champion quipped, "That I was a crowd pleaser—that I gave the fans excitement and that they enjoyed watching the fights. That's why people came to the fights, so we can make them enjoyable." Basilio's attitude is one that is much easier for fans to embrace, especially when compared to Mayweather who arrogantly boasted he was in the "check cashing business" on the most recent episode of HBO's Mayweather-Mosley 24/7.
Since first moving to welterweight in November 2005, Mayweather has yet to face a live body at that weight. His toughest foe was Zab Judah, who was always a bit of an underachiever and not the smartest boxer inside the ring despite having A-level skills. Mayweather usually cruises against guys who pose little chance of beating him. The perfect example would be his two most recent fights against the undersized Ricky Hatton, who already proved he was too small for 147 pounds when he struggled against Luis Collazo, and the grossly undersized Juan Manuel Marquez, who had absolutely no business fighting at 147 pounds. Shane Mosley represents the first true threat Mayweather will have ever faced at welterweight. Even still, most people are not giving Mosley much of a chance in this one because Mayweather is the undefeated fighter known for having better skills.
There are two problems with this line of thinking. For starters, too many people are acting as if Shane Mosley is a lumbering oaf totally lacking in coordination. This characterization could not be further from the truth and totally undermines what Shane brings to the table. Additionally, this argument acts as if boxing is decided on skill alone. What about heart and determination? What about a desire to be great by constantly proving yourself against the best? Mosley has always wanted to prove his worth to the public by tackling the biggest and best challenges available. This is something Mayweather, by his own admission, has rarely if ever sought to do. Until recently, he seemed perfectly content feasting on guys like Hatton and Marquez—guys who were far too small to compete. The only reason Mayweather really accepted the fight with Mosley is because he needed to save face after the total fiasco in his failed negotiations with Manny Pacquiao.
Cherry-picking inferior foes is something that will come back to haunt Floyd against Mosley. He is simply not prepared to overcome adversity against a hungry welterweight like Mosley. Shane understands what a win against Mayweather can do for his legacy and he is going to be determined to impose his will on the check-casher. Sooner or later, a fight is going to break out in this one, and when it does, Floyd will be forced to overcome adversity for the first time in years. This will not be a matter of making simple counter-adjustments as was the case when Floyd fell behind early in his fights with Oscar De La Hoya and Zab Judah. Against Mosley, Floyd is going to be forced to fight and this is not something he has shown he can do in the past. In fact, Mayweather has never been big on proving his greatness—he would much prefer shooting his mouth off and telling us how great he is. In that regard, he is Shane's polar opposite.
Mosley may not be as skilled as Floyd but he has the size, power, and heart to beat him. When all is said and done, the majority will soon begin to realize that Sugar Shane Mosley is to Floyd Mayweather what Vernon Forrest was to him—a total nightmare.
***
To read Ciani's complete breakdown of Mosley versus Mayweather, check out Six Myths Regarding Mayweather-Mosley: Why Shane Mosley will win
*
To learn more about On the Ropes Boxing Radio please visit our official website:
http://www.ontheropesboxingradio.com
To contact Ciani:
ciani@boxing247.com
To read more by Ciani please visit The Mushroom Mag:
http://www.eatthemushroom.com/mag