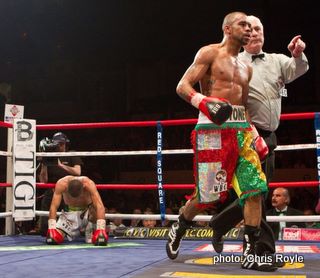 by James Slater – As U.K fight fans may know, 29-year-old Rendall Munroe of Leicestershire won a final eliminator for the WBC super-bantamweight title this past Friday night, as he overcame an early points deficit to halt talented Mexican Victor Terrazas in the 9th-round. Improving his fine pro record to 21-1(9) (the one loss coming way back in 2006, up at featherweight, against Andy Morris), Munroe earned himself a shot at reigning WBC 122-pound king Toshiaki Nishioka of Japan.
As promoter Frank Maloney said shortly after his fighter had stopped Terrazas with body shots (becoming just the second man to have beaten him at pro level), Munroe is a hardworking man who has done everything the hard way – from winning minor area titles, to the British, European and Commonwealth crowns. Maloney also said he will try his best to get the Nishioka fight here in the U.K, but that the confident Munroe would travel if need be. Can "The Boxing Bin Man" beat the man who has been WBC champion since 2008?
A southpaw like Munroe, 33-year-old Nishioka has a very good 35-4-3(22) record, and in a now 16-year pro career he has been stopped just once; way, way back in just his second paid fight, in 1995.. Fast, accurate and very disciplined both in and out of the ring, the boxer from Tokyo has more than proved his class with wins over the likes of Genaro Garcia, Jhonny Gonzalez and, most recently, in his last fight, Ivan Hernandez.
After engaging in a four-fight series with Thailand's Veeraphol Sahaprom, with all four bouts contesting the WBC bantamweight belt, Nishioka moved up to 122-pounds and he has yet to lose since doing so. The 33-year-old never really managed to figure out Sahaprom, losing two decisions and boxing a couple of draws with the Thai. 12-0 since the last fight with Sahaprom, in March of 2004, Nishioka has gone from strength to strength.
The majority of the Japanese fighter's bouts have taken place at home, but Nishioka has boxed and won in Las Vegas, Marseille, France and Monterrey in Mexico. If the money was right, then, the reigning WBC champ would probably come to the U.K to tackle Munroe. And, as good as he is, Nishioka is not unbeatable and he would face in Munroe a fiercely determined, incredibly strong-at-the-weight and peaking challenger.
Munroe, who always enters the ring in magnificent condition, may not be a big puncher, but he has shown an ability to wear down his opponents, often breaking their hearts with his sheer persistence and work rate. Reportedly never having been down in his career, either amateur, pro or in sparring, Munroe, who works by day as a refuse collector (hence his, unofficial, nickname) is very strong indeed. Taller than Nishioka at 5'7″ to 5'6″ and with a slightly longer reach also, Munroe, when the fight takes place, will once again try and impose himself on his rival in a attempt at breaking him down and out-working him.
No doubt, this is the acid test for Munroe – who holds good wins over quality men like Kiko Martinez (X2), Simone Maludrottu and now Terrazas – and Nishioka will most likely feel he has nothing overly to worry about with the man who has earned the right to fight him. When he gets in the ring with the solid, relentless Brit, however, Nishioka will know he's in a tough fight.
According to Box Rec, Nishioka must first defend his belt against the unbeaten Balweg Bangoyan of the Philippines. That fight is set for April 30th in Tokyo, and assuming the champion can get past the 15-0(6) 23-year-old it will be Munroe next.
Whether the fight takes place in the U.K or not, Nishioka better get ready for a tough night against Munroe – a fighter who would see his childhood dream come true if he were to capture the WBC crown.