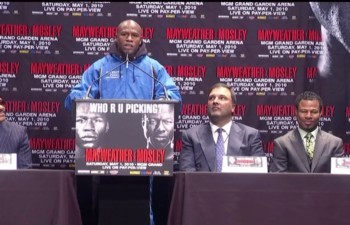 By Paul Strauss: It's an interesting fight to contemplate. Although, most fans and experts say it's not a difficult one to predict. Mayweather will win, they say. In fact, very few experts are willing to go out on a limb and pick Mosley to win. They might say that Sugar Shane will put up a good fight, or that he will make it interesting, and maybe even exciting, but that is as far as they are willing to go. On the contrary, most say they won't bet against Floyd Mayweather, Jr. As support for their position, they reiterate what everyone already knows, and that is Floyd Mayweather, Jr. is undefeated and one of the best defensive fighters of all time. In addition, they might correctly add something like, "He is an excellent and accurrate counter puncher."
Even Nazim Richardson, Mosley's new trainer, will not try to denegrate Floyd's ability as a fighter. He admittedly recognizes Floyd's ability to adapt and adjust when needed. In Floyd, he sees a fighter who doesn't get flustered and doesn't lose his cool. Floyd doesn't have any obvious weaknesses. He seems to have everything a fighter needs to be great. He possesses great footwork and balance. He can get in or out in the blinking of an eye. Or, he can move around and frustrate and opponent. His blindingly fast feet and hand speed enable him to get away with lead rights, and to jump in with a lead left hook without consequences..
When under attack, he can simply move quickly out of range, which might mean something as subtle as a shoulder roll and slight lean back. He might simply catch the punch on his own glove. Or, his opponent's attempt to pressure him might necessitate a half step back. If his opponent persists, he can quickly snap away even more, and if his opponent keeps coming, he will duck under the punches, and then come in close to smother his attacker's assault.
In addition, no one roughs him up on the inside. That was always part of Ricky Hatton's game, but he just couldn't make it work successfully against Floyd, who understands the importance of proper positioning and leverage. He can spin a man, or step around him. If necessary, he will use his shoulders and elbows effectively, and will do so depending upon the situation. In other words, if his opponent wants to play that game, he will quickly let him know that he can fight that way too, and probably better then just about anyone around. One last thing, he is a master at managing distance. He exhibits great ring generalship, and conducts the fight at his distance. His speed and coordination enable him to do so. The result is his opponents are always ending up over-extending themselves in order to land a punch on him. When they do so, they are left exposed to one or more of his sharp effective counter punches.
Let's just quickly go over a check list and see if there are any important ingredients of a great fighter that Floyd doesn't have. 1) Speed – Nope, he has incredible speed with both movement and punching. 2) Hand to eye coordination – He doesn't miss an opportunity for counter punches. He is always wide-eyed and fully understands a fighter is most vulnerable when he is punching. 3) Technical flaws or weaknesses – Nope, he doesn't make mistakes. He is never out of position or off balance, and he will not allow anyone to egg him into taking foolish chances. 4) Poor Conditioning – Nope, he is a noted gym rat, who loves to work out and stay in shape. There's no chance he will run out of gas. 5) Positive attitude – Yep, he's got that too. He doesn't really know anything other than boxing. He has been raised in its environment. He eats and sleeps it. He hasn't tasted defeat, and geniunely doesn't expect that he can be beaten. 6) Unable to deal with the big show – Again the answer is no. He's successfully been through it before. He is not fazed by critics, or those who dislike him or his antics. He is comfortable with who he is and doesn't care what anyone else thinks or says.
The picture of Floyd Mayweather, Jr. we've painted is a pretty daunting one for Sugar Shane Mosley to view. It would appear the odds are so far out of whack that one can only hope for a relatively interesting fight, but not really hold out any realistic hope for a Mosley victory. Oh sure, there have been plenty of upsets over the years, and some pretty goods ones recently as well. One involved Shane if you will recall. But, does this fight really have the chance of being another upset?
What do fans and the experts think about Shane? Obviously, he is a very popular and exciting fighter. He lives to please the fans. He wants to give them a knockout if at all possible, and fans love him for it. He most recently destroyed the monster image Antonio Margarito carried into the ring with him when the two of them battled. However, everyone knows about his miss-steps against Vernon Forrest and Roanld Winky Wright, and the close decision loss to Miquel Cotto. Do those loses fairly and realistically remove from him any real chance at victory against Floyd?
When you apply the same checklist to Shane, you come up a bit short in some areas. He's fast, but probably not as fast as Floyd.
He is a wonderful athelete, but doesn't possess the incredible reflexes, vision and punching accuracy that Floyd possesses. Technically, Shane does make mistakes, mainly because he takes chances. He is an exciting fighter, and most exciting fighters have to expose themselves to danger in order to accomplish what they desire. He definitely is vulnerable for right hands, and Floyd has both a great counter and lead right hand. Shane also remains fairly straight up, and presents a much larger target than Floyd will present. As far as conditioning is concerned, there's probably not much chance that Shane will run out of gas either, and he too has been in the big show many times, and successfully. His life is also boxing. His father taught him from an early age, so boxing is deeply ingrained in him.
Hence, it would appear the balance tips more than slightly to the Mayweather side of the ledger. Any liabilities on Floyd's side probably rest more with his popularity and legacy than with his skills. There remains a bit of gray area though, because there's always the possibility a very good fighter like Shane might land a good hard punch or punches, and no one knows for sure how Floyd will react. That's one thing we didn't talk about earlier on the checklist, and that's heart. Floyd's never been in a really tough fight, so he hasn't had the opportunity to demonstrate what kind of heart he possesses. Chances are he will come out well there too, but even he doesn't yet know the answer to that one.
Sometimes the unusual or unpredictable fighter wins over the more skilled and talented. Many times it's nothing more than a conflicting matchup of styles. It's a good bet that Shane and Nazim know and appreciate that fact, and they will take more than a few chances to create problems for Floyd. Shane trusts his chin and overall toughness, so he will be willing to be "vulnerable" for a moment here and there in an attempt to confuse Floyd and possibly land a telling blow that might start the action going his way. It's also a good bet that Shane will not play into Floyd's strength's, and let him manage distance and pot-shot him. Look for Shane to employ abupt shifts and transitions, coupled with unusual punch angles to deal with Floyd's elusiveness. Can he pull it off? Most, understandably, say no. But, just as critics don't faze Floyd, neither do they concern Sugar Shane and his new trainer Nazim Richardson. They too have no illusions and understand perfectly well what's ahead of them. They are firmly convinced they know how to come away with the victory. It's not a false hope either. They are truly students of the game and have carefully analyzed not only the strengths and weaknesses of their opponent, but Shane's as well. They see no need for bad mouthing or down grading their opponent. Rather, it's just calm, cool and calculating preparation they demonstrate for the task at hand. As a result, they will not hesitate a bit in letting you know that betting on Shane to win is a good bet. .