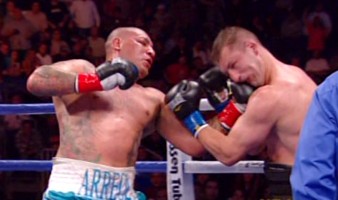 By Paul Strauss: Former heavyweight champion Lennox Lewis described the situation accurately when he said if Chris Arreola doesn't take himself seriously (his weight and conditioning), then the fans aren't going to either. That comment was made in reference to the disappointing size of the crowd at the Citizens Business Bank Arena in Ontario, CA. Since Arreola is from neighboring Riverside, CA, it was thought he would draw well, but that apparently didn't happen.
The fight itself was not complicated or very skilled for that matter. Adamek generally beat Arreola to the punch with straight forward type combinations, coupled with side to side movement. Arreola had his moments when he would bull-rush Adamek against the ropes. Sometimes that occurred when Chris would double or triple up on his jab. Other times it happened when he would just use his huge body to charge like a defensive lineman..
But, Adamek is no dummy, and he wisely would tie up Chris, or often times catch him with short shots to dissuade his attack. On occasion it did appear Adamek was hurt, primarily because his footwork would get bad. However, it was revealed between rounds that the leather sole of his shoe was starting to come loose. His corner men taped it up, and he seemed less bothered by it for the rest of the fight.
By the end of the fight, Arreola face was mess. Both of his eyes were badly swollen, and there was a gash on the bridge of his nose. Arreola never gave up trying, but it was obvious that he needed to rest at times because of his flabby condition. That definitely cost him rounds. He also had moments when he acted strangely. At first it seemed as though he hurt his right hand when landing a punch to the top of Adamek's head. But, then there was discussion that he might have hurt his bicep. In the post fight interview, Chris said he hurt his left hand? Regardless, he used them both after they were supposedly injured, and one possiblity for Arreola's wincing might have been Adamek's good body shots.
Some are now saying that Adamek is truly a heavyweight threat, but that seems unrealistic. Just consider how often he got tagged by Arreola's right hand. He saw it coming and was able to roll with it a bit. The point is that if he got hit a lot by Arreola's slow right hand, what will happen if he faces someone like David Haye, who possesses much more speed and a great right hand? At the very least, he will get a messed up face and probably be TKO'd if not knocked out. Furthermore, most fans understand he doesn't stand a chance against either of the Klitschko brothers. That's a given.
In the undercard, Alfredo Angulo kept up a steady attack against the faster Joel Julio. Julio has the reputation of being a big puncher too, but he never gave himself the chance, because he wouldn't set himself. Angulo proved that one way to deal with speed is to throw short straight punches, and to keep letting your hands go. As a result, Angulo continually landed the sharper, more damaging blows.
Julio seemed anxious and rabbit like in his movements. While Angulo appeared determined and confident. In fact, Angulo could often be seen pacing back and forth in his corner between rounds like a caged animal wanting to be released.
Lennox Lewis repeated his opinion that Julio was making a big mistake by continually moving to his left, and into Angulo's power, the right hand. Lennox offered that if he were in the ring, he would anticipate that movement and throw the right hand to where he knew Julio would be moving. Sage advice.
In the eleventh round, Angulo dipped in and to his left. At the same time he let go of his right which went right over the top of Julio's pawing left. Bang! Flush on the jaw was the impact of the punch, and Julio went down with a thud. He managed to beat the count, but the referee correctly waived off any further action and saved Julio from further punishment. So the fighter with the dog collar earned himself a spectacular victory and the interim WBO light middleweight title.