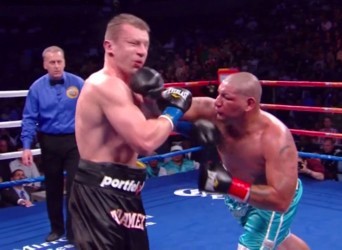 by James Slater – First of all, I've got to admit I was way off the mark with regards to how I saw last night's fight between Tomasz Adamek and Chris Arreola going. I felt, with his size, raw power and relentlessness, the bigger man would definitely be too much for the former light-heavyweight and cruiserweight ruler, very likely even stopping him in the second half of the 12-rounds. Adamek, though, with his speed, skill and superbly executed game-plan, outboxed "The Nightmare" on the way to winning a close, hard-fought majority verdict. In so doing, "Goral" proved me wrong, wrong, wrong!
Adamek, now 3-0(2) as a heavyweight, also proved he is a legitimate heavyweight; one who can handle a big, strong, young and always dangerous puncher like Arreola. The question now is, can 33-year-old Adamek handle either one of the three current belt holders at heavyweight – Wladimir Klitschko, Vitali Klitschko or David Haye?
With his hit-and-move style capable of frustrating Arreola last night, Adamek showed once again that speed can kill.. But would such in-and-out tactics work against either of the two giants from Ukraine – what with their ramrod jabs, ability to dictate the movement and the distance in the ring and their withering power. Maybe for a few rounds Adamek would be able to make one of the two brothers look lumbering and somewhat slow in comparison – older man Vitali especially – but wouldn't the Klitschkos catch up with the "small" Pole eventually?
Adamek, never a warrior to look at doing things the easy way, has made it clear he wants to challenge a Klitschko as he attempts to capture a world title in a third weight class – but would he not be better off taking on the more-his-own-size WBA ruler, Haye? Sure, Haye has speed of his own to more than rival Adamek's quickness and he also has explosive punching power. But with Haye having also come up from the cruiserweight ranks (Haye has had just four fights as a heavyweight, one more than Adamek) this match-up would be on a more level playing field. Also, the styles of the two men would almost certainly mesh well and give us a great fight.
Of course, as he again showed last night in beating Arreola, Adamek is a more cautious boxer these days, and if he wouldn't stand and trade with the Mexican/American slugger no way will he choose do so against "The Hayemaker." This doesn't mean the fight, if it does happen, will be boring; far from it. Would Adamek get away with skipping around the ring, throwing pot-shots as he did so, against the aggressive Haye? Or would the powerful Brit give Adamek no choice and force the Polish warrior to stand and fight hard?
Far more of a 50-50 fight that an Adamek challenge of a Klitschko, Adamek Vs. Haye makes sense in my opinion – for Adamek, at least. But would Haye, who has also spoken of facing the Klitschkos himself, want to take such a risky and presumably far less lucrative fight?
So far in his heavyweight quest, Adamek has shown he can take a decent shot from a big man, he has shown he is so much faster than the bigger guys and he has also shown he is capable of frustrating a dangerous puncher. This doesn't mean he can go on to become a legitimate belt holder in the division, but, as Adamek himself once said when discussing will happen when he faces a genuine heavyweight threat – it's going to be fun finding out what happens when he does challenge for one.
At the very least, Adamek, like Haye, has brightened up the heavyweight landscape.