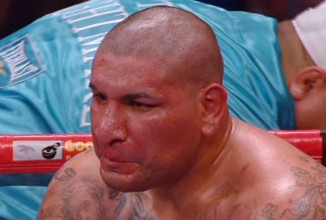 By Frank Gonzalez Jr.: Saturday night in Ontario California, Polish born New Jersey resident and Heavyweight contender, Tomasz Adamek (41-1, 27 KO's) put on a boxing clinic on how to beat a big, sloppy power puncher, as he went 12 rounds against Cristobal Arreola (28-2, 25 KO's). When it was all over, Adamek had finished the fight on his feet with nary a scratch; while Arreola's face was so swollen he looked like a Jack-O-Lantern with a beak and a vulgar vocabulary that does a poor job of "representin" his community.
This had to be a fight that Arreola figured he would win by imposing his bigger frame on Adamek's relatively smaller one. A fight where Arreola would over power the smaller Adamek into submission but no, that's not what happened at all. Adamek fought a very smart, tactical fight that saw him slipping in to land clean shots and then out of Arreola's range to make him miss. Adamek constantly changed directions and Arreola lacked the agility to keep up with where Adamek moved from second to second..
A few times Arreola's punches would catch Adamek but never anything flush. That was on account of two things; Arreola's poor technique and timing and Adamek's excellent timing, mobility and ability to punch over Arreola's shots. Adamek constantly came forward to engage Arreola, landing clean punches and getting out of the way for any returns. That's how he won round after round after round.
I gave Arreola the first round, which was one of those close, feel-out kind of rounds. After that, I can't see how Arreola won another round, since he was unable to mount any sustained offense throughout the fight. Adamek proved elusive and agile at 217 pounds, compared to Arreola's 250 pounds, some of which jiggled like Jello on a roller coaster when he moved. At one point, Adamek landed a right uppercut into the body and it looked like he was punching into a tattooed marshmallow.
From round two to twelve, every round was like Ground Hog Day, with Adamek coming in, landing a quick combination and then moving out of range, over and over, as Arreola threw errant punches that not only missed their target but sapped his confidence as the fight went on. By the twelfth round, Arreola was so frustrated by his inability to catch Adamek that he was jawing to Adamek to come closer. But it was Adamek didn't heed him as he was too busy dictating the terms of engagement—from start to finish.
In the end, the official Judges scores were 114-114, 115-113 and 117-111 rendering Adamek the winner by Split Decision. Judge Tony Crebs was the one who was hallucinating or drunk. How else did he see this one sided affair as a Draw? Where the hell do they get these Judges? What are their qualifications? Tony Crebs would do well to get his eyes checked first thing Monday morning.
During the post fight interviews, Adamek spoke in English and said that Arreola made good preparations for this fight. When asked how he won the fight, he said he was smarter, faster and so he was the winner. He said Arreola never hurt him. When asked who he wants to fight next, he said tomorrow he'll think about that but for now, he is just happy for this win.
Arreola then got on the mike and cursed a lot but was complimentary to Adamek and even admitted that the scores were right (two out of three at least). He said he hurt his left arm but would make no excuses because Adamek was the better fighter tonight.
Guys like Arreola are great for boxing, especially for the HW division, which is so sorely lacking in personalities…or much of anything these days. Maybe if Arreola gets serious enough to tone up his body and work on refining his agility and skills he can be more competitive against good technical fighters. I can't see Adamek beating either of the Klitschko brothers. They're just too big, too strong and too fundamentally sound. Maybe Wlad can be rattled mentally but even still, how close could Adamek get to Wlad without eating a salad of jabs?
Congratulations to Tomasz Adamek, who demonstrated what boxing really is—the art of hitting without being hit. Guys I'd like to see Adamek fight in the future include Alexander Povetkin, Eddie Chambers or David Haye.
* * *
Comments can be emailed to dshark87@hotmail.com