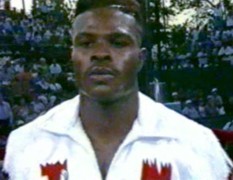 by James Slater – Exactly twenty years ago today, in Tampa, Florida, a star was born in the 154-pound weight class. 23-year-old Terry Norris, with a pro record of 24-3(13) and a nickname of "Terrible," met the fearsome John "The Beast" Mugabi in a bout that would see the big-punching Ugandan attempt to defend his WBC light-middleweight crown.
Mugabi, who had a record of 36-2(36), may have been the puncher, but on this night he would be the fighter falling victim to a great KO; one so great, Ring magazine awarded it it's KO of the year award for 1990.
Beaten only by Marvellous Marvin Hagler up at middleweight (KO'd in the 11th-round of a savage battle) and by Duane Thomas down at 154 (TKO'd in the 3rd, when a stray thumb that went into Mugabi's eye contributed to the loss), the 30-year-old Mugabi was expected to keep his belt against Norris..
Norris, after all, in a previous attempt at winning a world title at 154-pounds, had been starched by Julian Jackson; losing inside two-rounds in July of '89. But Norris' fast hands, his sharp punches and his all-out aggression were about to make fans forget about the Jackson loss (along with his other two setbacks, one coming via DQ, the other by fairly close decision – both losses coming reasonably early in Norris' career).
Coming out fast right at the first bell, Norris proved surprisingly quickly that this fight was nothing more than a mismatch! Blasting the slow-starting champion with a left hook to the head, Norris, with less than a minute gone, saw his rival wobble badly. Wasting no time, Norris, with his bang-on reflexes, launched a furious follow-up attack – looking, as he was, for the spectacular finish. A blurring series of lefts and rights later, Mugabi was on the canvas, in bad shape.
Bravely beating the count, Mugabi got up, but upon doing so he all but had to be held up by referee Eddie Eckert; with Mugabi falling into the chest of the third man in the ring. The fight could well have been waved off right then and there, but Mugabi, perhaps due to his fearsome reputation, was permitted to go on.
Norris, all over the soon to be ex-champion like the proverbial "cheap suit," soon had Mugabi on queer street again (if Mugabi had ever left it!); cracking him with a series of rights that left him bent over at the waist, holding onto Norris so as to remain upright. Showing amazing courage, Mugabi then actually started fighting back a touch. For a few seconds, it even seemed as though the older man would make it out of the round. But it was not to be.
Ending the fight in the spectacular way he was hoping for, Norris landed a flush right hand to Mugabi's head, sending him down, with Mugabi falling onto the bottom rope as he fell. A second later, with Mugabi having come to rest while laid on his face, it was clear the fight was well and truly over with. Norris was the new WBC king at 2-minutes and 47-seconds of the very first round!
Norris went on to prove that this incredible win was no fluke, and he defended his belt ten times – beating top names like Ray Leonard, Meldrick Taylor, Donald Curry and Maurice Blocker as he did so. It wasn't until December of 1993, when he was upset by Simon Brown, that Norris lost again.
As for Mugabi, he was never the same fighter again; his only other world title fight being a 1st-round KO loss at the hands of another future star in Gerald McClellan.
Mugabi got the shock of his life against Norris twenty years ago today; the sport of boxing got its KO of the year for 1990 at the same time!