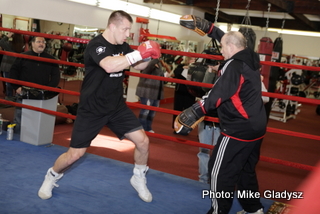 Ticket sales for the February 6th, Tomasz Adamek vs. Jason Estrada, IBF Heavyweight International Championship at Prudential Center, Newark, NJ, have been selling at a record setting pace. The $38 seats sold out early and as of Saturday the $103 seats are also sold out. There are still great seats available. There are a handful of premium Ringside seats available at $253, a small amount of terrific $78 seats, as well as affordable $53 tickets.
"Tickets are selling at an unprecedented pace and we expect a huge, rollicking crowd to come out on Saturday and join in all the fun and excitement", said Kathy Duva, CEO Main Events.
This fight is promoted by Main Events and Ziggy Promotions in association with Classic Entertainment and Sports, Inc. Tickets can be purchased at: Prudential Center Box Office; by calling TicketMaster at 800-745-3000; or visiting www.prucenter.com..
Quotes From Tomasz Adamek Workout World Boxing and Fitness Center, Jersey City, NJ
From Adamek: When asked about his weight and Cruiserweight vs. Heavyweight: "This weight is natural for me, very comfortable. I am eating more, I am not hungry. For the fight maybe I will weigh what I weigh today, 222lbs. This is my natural weight. This time I am happier when I go into training."
"Cruiserweight was more difficult for me. I always had a problem getting to the weight, especially when I was 175. I feel very good at this weight. I feel faster. The difference in training is the sparring partners are heavier, 240, 250lbs. But I feel stronger because my weight is natural."
"My dream is to be champion in the heavyweight division. Estrada is a good boxer; but I am serious about this fight. I need to win. It is very important in order to move up for a heavyweight title." "Estrada is a technical boxer. If I see opportunity to knock him out I will, but if not, I prepared to go 12 rounds."
When asked who would he like to fight next:
"I will fight everybody. We have this fight on February 6th right now I concentrate on that. Maybe in April Arreola, we will see. Maybe a one more fight after that and then I will ready for a championship fight. Right now I must win against Estrada."
"Every guy when he comes into the ring wants to win, but I believe I will win this fight. I am stronger, I am healthy. When I am healthy I am very fast. I have power. I feel good!"
Jason Estrada commented that you will have a problem with his hand speed:
Tomasz – "I'm fast too! I think I am stronger. He must know this. My jab is very strong and my right has the most power."
Commenting about being a local favorite:
"I am so happy to be fighting at Prudential Center. I feel like this is my second home. My first home is in Poland. But now my second home in United States is Prudential Center. I won my second belt here, Cruiserweight, but I need to win 1 more belt here, Heavyweight. There are many Polish people in this area. I am happy when I come back to Prudential."
Comments from Trainer, Andrew Gmitruk – "You know Estrada is a big guy with a very special style, but Tomasz Adamek is very quick, very comfortable. He is very strong. He is extremely well conditioned. We expect a hard fight, but we expect to win this fight."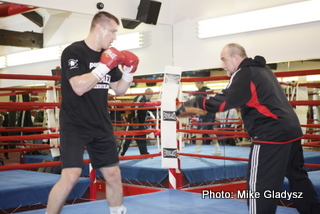 "Adamek has extremely good movement. It comes from the body, from the legs. His speed is like light heavyweight or middleweight division. Good left hook and right hand. He has not lost his speed or coordination (stepping up to heavyweight). Every day he is getting stronger. He is very well conditioned. I think he is a complete boxer now. Most heavyweights have lost the power, the coordination, and the speed. They are only thinking about the hard punch. Tomasz has everything together with the hard punch. That is why I think he is very dangerous for everybody in the heavyweight division."
Tomasz Adamek and his trainer Andrew Gmitruk responded to Jason Estrada comments
Trainer Andrzej Gmitruk about the "who has fastest hands, disrespecting" issue:
"It's not about who has fastest hands. It's about who has the quicker mind in the ring. I have no doubts that both answers are the same: Adamek. We are not disrespecting Jason – on the contrary – we know how important this fight is if Tomek wants to be a world champion. He (Estrada) wants to play a spoiler role, but it does not work against somebody with such a strong psyche and determination like Adamek. Maybe Estrada wanted to be disrespected; maybe he was hoping we are not serious about this fight. Unfortunately for him – we are dead serious".
Adamek:
"I just smiled when I read Jason quotes. First of all I had no idea he has so much free time on his hands to pay such close attention to what I'm saying and who I'm sparring against. I on the other hand have no idea who he is sparring with and have no desire to know it. I just don't care. I care about my training camp, my preparation. Maybe he has to speak with one of my three sparring partners, 18-1, 15 KO, Travis Kauffman, who could not believe how fast and accurate I can be in the ring."
$38 Ticket Category SOLD OUT for Adamek – Estrada
Tickets for the February 6th Heavyweight boxing match between Jersey City's Tomasz Adamek and Jason Estrada of Providence, RI have been selling at a pace far exceeding that for any previous Adamek fight at Newark's Prudential Center. "We learned this morning that the $38 category is already sold out," Adamek's co-promoter, Kathy Duva of Main Events, said. "Following his stunning TKO victory over Polish legend Andrew Golota in October, Adamek is bigger than ever," she added. "Tickets in all price ranges have been moving faster than ever since they went on sale last month. We are expecting our biggest boxing crowd ever at Prudential Center on February 6th."
The fight is being promoted by Main Events and Ziggy Promotions in association with Classic Entertainment and Sports, Inc.
Tickets for the event are available through TicketMaster or at Prudential Center Box Office. Group discounts are available. Tickets, priced at $53, $78, $103 and $253 (ringside) are still available and can be purchased at Prudential Center Box Office, by calling Ticketmaster at 800-745-3000 or visiting Prucenter.com.