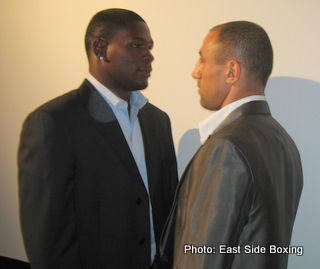 HOUSTON (September 29th, 2009) – Sometimes a fighter can find himself up against the ropes. That's the feeling most people in the boxing community have about Jermain Taylor. He's fighting an undefeated former champ in his hometown and he is the underdog. The pressure is on, but nothing could be further from Taylor's mind as he prepares to face Arthur Abraham on October 17th, at the o2 World arena in Berlin, Germany.
"If anyone thinks I'm lacking in confidence or feeling any pressure, they're dead wrong," said Taylor. "Just because I've lost a few fights, I'm not ready to be written off. "Sometimes a fighter can lose and get beat up with that loss. That has not happened to me. I beat myself in every fight I lost, but I have learned from my mistakes. I'm a better fighter because of the losses."
Taylor is also a more focused and disciplined boxer in the gym. He's already put in close to three months of training for the Abraham fight, including a 10-week camp at George Foreman's Youth Center in Houston, Texas, where a new road-work routine was added to his training.. Taylor says he has enjoyed the challenge of the new routine, which has him running a full mile and then alternating 400- and 800- meter intervals with 100-meter sprints in-between. The total track work adds up to five quality miles of road work.
"For this training camp a lot attention was focused on my morning workouts," Taylor said. "In the past, I was over training with my morning runs because of the weight I had to lose. I was running six miles every day, even on sparring days. Before I reported to training camp in Houston, I had a mini-training camp in Little Rock, which was good because I came into camp without having to worry about my weight."
SHOWTIME Sports Super Six World Boxing Classic (Group Stage 1) will air Live on SHOWTIME® at 8pm ET/PT (delayed on the west coast). Carl Froch vs. Andre Dirrell airs LIVE immediately following Jermain Taylor vs. Arthur Abraham. Televised in High Definition and Standard Definition.
The Taylor-Abraham fight is the start of the historic inaugural Super Six World Boxing Classic round-robin six fighter tournament, featuring the class of the Super Middleweight division from home and abroad. Five of the world's top boxing promoters have collaborated with SHOWTIME Sports to facilitate this epic tournament. Lou DiBella of DiBella Entertainment, Dan Goossen of Goossen Tutor Promotions, Mick Hennessy of Hennessy Sports, Gary Shaw of Gary Shaw Productions LLC and Wilfried and Kalle Sauerland of Sauerland Event will promote the tournament which begins October 17th and runs through spring 2011.
Tickets for Taylor vs. Abraham are now on sale by calling (01803/206070) or visit http://www.o2world.de/ – (Euro – €15, €29, €39, €60, €80, €150, €250, €1000) / From USA (01149-1803/206070) / $22, $42, $56, $86, $115, $215, $350, $1,434).
With less than three weeks before the fight, Taylor has completed the first leg of training, the 10-week camp in Houston. The second leg of the most extensive camp of Taylor's career takes place in Berlin, Germany, where he will depart during the first week of October to complete his final weeks of training.
"I know Abraham has a strong fan base in Berlin and he will have the hometown crowd on his side," said Taylor. "But the pressure will be on him to perform in front of the hometown crowd and come away with the victory, not me. Sometimes the hometown crowd can work against you because you want to do so well."
"I respect Arthur as a fighter. He has good power and he's a smart fighter. I know he will be well prepared, but I smell victory in the air for this fight."
Members of Team Taylor are also confident, knowing the former undisputed middleweight champ is 100-percent focused and ready.
"We have done our homework on Arthur Abraham," said Taylor's trainer Ozell Nelson. "We have looked at all 30 of his fights on tape and know exactly how we are going to fight him. Speed kills and we have speed on our side against Arthur."
Lou DiBella, of DiBella Entertainment and promoter of Taylor, likes the way his fighter is approaching this bout.
"Don't underestimate Jermain Taylor," DiBella said. "I've worked with Jermain his entire pro career and I've never seen him this hungry and motivated to win. He's in incredible condition for this fight. I have a lot of respect for Arthur Abraham, but pound-for-pound, skill-for-skill, I don't see Arthur matching up with Jermain. The King will get knocked off his throne."