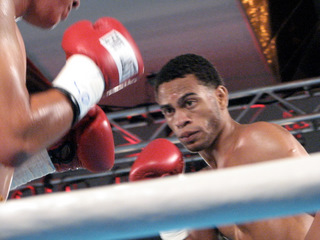 By Amir Peay, Photo by Abe Peay – Hagerstown, MD – Ballroom Boxing Promotions, known for arguably the best club show in the Washington, DC and Baltimore region, along with TKO Promotions out of Houston, teamed up with matchmaker Chris Middendorf to put on a night of boxing at the Hager Hall in Hagerstown, Maryland. The evening showcased five prospects in five fights, and although none of the prospects were put in particularly tough, and all five won, one fighter stood out above the rest as a fighter that fans will want to keep their eyes on.
Lightweight Francisco Contreras (10-0-0, 10 KO's), originally from the Dominican Republic, now fighting out of Irvington, New Jersey, scored a TKO win at 1:35 in the 2nd round, over Juarez, Mexico's Julian Rodriguez (15-17-4, 9 KO's). The first round began a little slow as both fighters felt each other out, but as they began to exchange it was obvious that Rodriguez was clearly out of his class. Contreras, with his lead left down below his waist and right glued to his chin, looked very comfortable and was able to pick his shots, feet planted, landing clean and hard, while Rodriguez would try and respond to the clean shots by throwing a pitter patter flurry of shots that did not land clean nor affect Contreras.. Towards the end of the round, Contreras landed some big punches and then half pushed Rodriguez to the canvas. Rules a slip by the referee, Rodriguez looked to have been affected by the punches, but was given a reprieve as the round came to an end.
The 2nd round began with a brief delay, as a soft spot in the floor boards in the center of the ring had referee Ken Chevalier pause the action, while it was repaired. When the action continued, Rodriguez came out cautious and Contreras seemed content to pick his shots, even switching to southpaw briefly. Rodriguez then decided to mix it up and let his hands go, and both fighters ended up trading punches in the center of the ring, with Contreras getting the better of the exchange. A couple of hard shots by Contreras sent his opponent into the ropes, and Contreras followed, unleashing a barrage of big, clean punches that landed to the head and body, including some that snapped Rodriguez's head back. The referee stepped in and ended the fight, and there was no protest from the dazed and staggered Rodriguez.
A win over Rodriguez was neither hard fought nor a big step for Contreras, but it allowed ringside observers to see the technique and composure that comes with a seasoned amateur career. As an amateur, Francisco Contreras competed for the Dominican National Team all over the world, with a terrific record of 350-14. Contreras is managed by award winning manager Cameron Dunkin, along with co-manager and trainer Valentin Contreras. Dunkin currently manages world champions such as Kelly Pavlik, Nonito Donaire and Steven Luevano.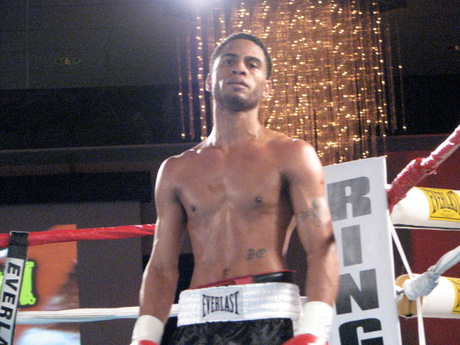 "Francisco Contreras is a terrific talent who had an outstanding amateur career. Valentin and I along with TKO BOXING Promotions are very high on him," stated Dunkin.
Contreras showed good technique, composure, fast hands and power, and with his background and his team he is definitely a prospect worth watching.
Results for the other fights were as follows: Light heavyweight Alexander Johnson (6-0-0, 3 KO's) defeated Ariel Espinal (6-10-2, 1 KO) in a 6 round decision; Middleweight George Armenta (13-4-0, 11 KO's) defeated William Johnson (9-19-1, 3 KO's) via TKO at 2:10 in the 4th round; Welterweight James Stevenson (11-0-0, 10 KO's) defeated Sebastien Hamel (10-21-1, 1 KO) via TKO as Hamel retired after the 3rd round; and in the main event of the evening, cruiserweight Andres Taylor (10-1-1, 6 KO's) defeated Joseph Harris (10-8-0, 7 KO's) via TKO at 1:25 in the 4th round.