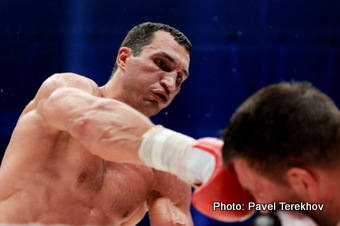 by Geoffrey Ciani & Jenna J – (The following interview transcript with Wladimir Klitschko aired on episode 36 of On The Ropes Boxing Radio, August 24, 2009)
Jenna J: Alright! Wladimir Klitschko welcome to the On the Ropes radio show. I'm the host Jenna J with my co-host Rummy, how is it going today?
Wladimir Klitschko: Thank you. Everything is going very well. I can't complain I just finished my golf game and I had a great, great, great golf day.
JJ: Well we're very happy that you took time out to join us for this interview today. And first of all I would like to congratulate you for becoming the Ring Magazine Heavyweight Champion with your win over Ruslan Chagaev.
WK: Thank you very much. I was looking forward to get this belt and I believe that's right round about three to four years I have been waiting to get this belt. And now fortunately I have got it. It was actually accidentally because I was supposed to fight David Haye and then two weeks before the fight my opponent was switched so I got the chance to fight #3 of Ring Magazine rating list so that's why and that's how I got the belt. Which makes me feel happy..
JJ: Great. Now you said that it took you know three to four years to get this recognition, how does it feel now that you're recognized as the best heavyweight in the world?
WK: It feels awesome. (laughs) But I understand that that I have responsibilities to keep it as long as I'm active as an athlete and it's certain pressure of course. I understand that lot of guys are looking up to fight with me and of course to win these fights with me. And it's certain pressure and I just have to defend this title, which I'm going to do as long as I'm fighting and I really enjoy it. I think that with every heavyweight champion of the world you have abilities and chances to move a lot of things in this world and put attention to lot of problems in this world. I'm talking now about charity part and I think that's important we did a lot and did move certain things in this area and many things are coming up.
JJ: Great, great. I'm going to go across to my co-host, Rummy.
Geoffrey Ciani (aka-Rummy): Hi Wladimir. Now I just wanted to ask you under the tutelage of Emmanuel Steward you have improved noticeably inside the ring, but in your first fight with him, you actually lost a fight against Lamon Brewster. What are some of the things that Emmanuel has been able to teach you since that point in time where it's obvious, from a fan's perspective, that you have become much better and more effective inside the ring.
WK: We were talking with Emmanuel about Brewster fight a lot and we have been watching this fight over, over, and over and everything that went down in this fight was perfect—believe it or not. The whole strategy and tactic came through and I did whatever I wanted to do with Brewster for five rounds—actually for first four rounds and then the rest is history. So I lost this fight. And I just wanted to tell that the fight was perfect. I did everything that I had to do. I didn't get good result and that was really a bad beginning to work together with the Emmanuel Steward. I started to work with him and we lost the fight.
I would say "we" because not only just myself in the ring, but it is also teamwork and that's why I say "we" lost it, but we took a lot of my own abilities and just try to use my natural abilities. It is also punching power, but it is also abilities to be able to move on my feet and the speed, which also I do have. As Emmanuel Stewart says, "speed kills", and I truly believe it. In this sport if you're fighting against the guy who is really slow that's not good for the fighter because he will have no chance with the guy who is faster. And I think that the work, which we do with Emanuel Steward, is very creative work. We create things and we practice a lot of them during the preparation and then we're accomplishing it in the ring, so we do actually in the ring everything what we were preparing before and it works amazingly good. It's not like chaotic and like I'm going to the ring and I'm trying to win this fight—it's not like that. The attitude is different. I'm going in the ring and know exactly what to do because we have been studying our opponent on video for many days while we are in training camp and it's actually very easy to fight them. When you know what you have to do, it's really, really easy.
JJ: Great. Wladimir, some people consider this era of heavyweight division to be a weaker one. Now what I want to ask you is who do you see in the heavyweight division that you think will give you your biggest challenge?
WK: I was in Montenegro and I met a fan—a Klitschko fan—and he said, "Yeah now in the heavyweight division we have recession, we have crisis. And the name of the crisis, guess what—Klitschko brothers". I felt that was funny because you can see it as really crisis or you can see it you know that we're really dominating the division and that's actually the opinion in United States that heavyweight division is down and has difficulties and nobody is really excited about it. But in another part of the world, for example in Europe, we have lot of competition and we have the last two Klitschko fights we had 11.5 million viewers out of 85-86 million people who are living in Germany and that's only Germany, actually. So the ratings are amazing. We filled out arenas, which were completely sold. We filled out the stadium, the last event was in the stadium with 61,000 people, and it wasn't just guests and we didn't you know give tickets so there was tickets which were bought by people going to fight. We actually don't feel nothing about bad times in the heavyweight division here in Europe, but of course, I understand that in US we don't have really American stars who perform well, who look good kind of just not said look good but exciting. I wish there is going to be lot of competition in the heavyweight division also with these American heavyweights fighters. To give an example, my brother Vitali is going to fight Los Angeles at the Staples Center with Chris Arreola who is American fighter undefeated. He won most of his fights by knockout and there is going to be heavyweight championship world for double WBC belt. So I think that this fight will create an excitement also in the heavyweight division in United States because not only is one of the Klitschko brothers going to fight, but also an undefeated heavyweight American fighter. I think that's going to be very, very, very, great. I mean a great big fight for the sport and especially for the heavy division.
JJ: Now Wlad, to follow-up on that, there has been a lot talk about you possibly fighting American Eddie Chambers. Is that going to be your next fight or do you not quite know yet?
WK: It's possibly going to be like that, that I'm going to fight against Chambers who is also a very experienced fighter and it is going to be for all the belts. So December, December this year the fight will happen. I don't know exactly where it is going to be, but it is going to be a big fight, of course.
JJ: Great.
WK: I don't know the site I don't know the place where it is going to be not yet.
GC: Now Wladimir, your fight with Sam Peter in many ways was a crossroad fight for you in which you showed tremendous heart inside the ring rising three times from the canvas, and, except for those couple of knockdowns, you dominated the action. I had actually heard—I don't know if it is true—that had you lost that fight you were considering retiring, but you obviously came out triumphant you have come out a much better and more confident fighter since then. Can you tell us a little bit about that fight and whether there was any truth to that at that time?
WK: After losing to Brewster and the split decision win with Williamson I needed to regroup and prove myself. So there was a rising star Samuel Peter. My sparring partner, who I fought against was Charles Shufford defending my WBO belt. So I had him as a sparring partner and I exactly remembered that he came to the gym and sparred so it wasn't really difficult for me to spar with him. Anyway he was familiar to me and I was looking forward to it to get this fight, because that was for number one place in IBF and I guess that was the other version either WBA or WBC. So that was for number one contender and to become a number one contender in this version and I remember that especially in this fight, actually the attitude was wrong for my opponent and his crew. I mean his managers and friends because they were considering me as dead man walking, which was great for me because I knew that I can beat this guy. And in the fight directly I should tell that Samuel Peter was really giving everything. His motivation was unbelievable. He was pumped up with energy and self confidence because he hasn't lost anything and he just thought that he is going to roll over younger brothers and I believe that this attitude actually made him lose this fight. And I should tell as many punches as he got and didn't get down also in the 12th round when I hit him with left hook and shook him, I felt I broke my hand so hard it was, and I just saw him that he was just about to go down, but he was wobbling, but he kept standing and you know, he didn't go down—I was really surprised. Anyway, he took a lot of punishments and he also caught me a couple of times. The fight was leaded to me, but my confidence was way, way too much for Samuel Peter who was probably underestimating me. That's the mistake which lot of fighters do actually underestimate and then they unfortunately are going to lose this fight, when they underestimate me.
JJ: Great. Wladimir, briefly you mentioned your brother and the question that I have for you is you said in the past that you sparred your own brother, and seeing as everyone is always ask what would happen if you two would were to meet in the ring, could you tell us what those sparring sessions were like?
WK: We have been together for the last thirty three years and we're supportive all the time for each other and with each other. And because we're supportive—you didn't ask this question, but (laughs)—we will never fight each other because doesn't make any sense. Vitali always showed me certain things because he was more experienced and he was the older brother. He is 5 years older than I which helped me, but later on with the more experience I was gaining I was also trying to help my brother. And we did spar before, but with age we're getting so competitive that our sparring sessions were going to, going to be very emotional and all the time one of us—mostly me (laughs)—was getting hurt. So after I break my leg could you imagine how crazy the sparring was that I had to break my leg. We just decided we will never spar with each other because we're just too competitive and too emotional and we're getting heavier, stronger, so why we should eliminate each other? That's why we stopped to spar with each other.
GC: Now Wladimir, in a lot of ways you were considered a unique combination of a European standup fighter who also has a bit of an American flare to his style. Can you tell us a little bit about your amateur background in boxing and explain maybe some of the differences that you have seen between the European style and the American style that you seem to have blended so well?
WK: I consider it as a compliment what you said, thank you. There is certain space to and certain stuff to be improved in my abilities and that's what I'm working on. I got really a lot to work with special trainers such as Tommy Brooks, Freddie Roach, Don Turner, and Emmanuel Stewart and a lot of other trainers from the eastern part of the world and I took from all of them the best which I can take because old trainers they have their strong sides, and finally I found Emmanuel Stewart who is a genius in the ring. I'm not afraid to say it he is definitely a genius and I would love to say it for myself because I had collected this experience from all different coaches from different countries and this man is definitely not trying to change me not trying to change me at all. He actually aiding stuff and we discuss a lot. We, as I said before, create the work and it's art work, which we do in the ring and the preparation, actually. It's great ability to be able to get Soviet Boxing School because I went to the Sports School in Soviet Union in that time and the Soviet School was really, really good, the Amateur School was really, really good and strong. And I believe that specially in United States the problem, which we have, we have no amateur background. How can we have professional fighters with good abilities and they don't have amateur background it's, it's of course going to go down the hill not top of the hill.
And I believe that such tournaments and Golden Gloves class and that American amateur team going to travel a lot and to compete a lot and especially with ummm, were going to have in this area young strong fighters it is going to affect their professional sports as well. There is no doubt with that. They got to be able as myself sometimes maybe trying in different countries, different coaches, and different styles. There is no advantage between American style or the European style. The only thing is which is important in boxing is the result no matter how you fight it's the result very important. And I believe that, that maybe difference between European and American style is that the American style is very open and actually their full attention is more to land a punch and maybe, secondly important, not get punched, or actually maybe in the third place not get punched. So it is a lot of action and, I would maybe say, is in a certain way like a cowboy style, you know, very aggressive. Just get in there and get it all!
GC & JJ: (laughs)
WK: And sometimes even without strategy, maybe European styles are more, they look kind of more defensive, but I have been taught first of all not getting punches so I was working on defense. My opponents, I mean not my opponents, my sparring partners were getting into the ring and they have to attack me and I have to, staying on one leg and moving with my body, not get hit, and then I have to change the leg so on the other leg move one leg jumping in the ring and trying to get not hit. Then stay on two legs and you try to defend yourself is much easier, you move much better, but the first thing which I was taught is not getting punched. Then the second one, you look for opportunities to land a punch that's probably the difference between American style and the European styles.
JJ: Great.
WK: Was it clear?
JJ: Yeah. We have just a few more questions for you before we let you go, and one of them is that you briefly mentioned your June 20th fight with Chagaev. Now originally you were set to face David Haye on that day and he pulled out due to an injury. And after that he was actually scheduled to face your brother and he pulled out of that fight for a fight for a fight with Nicolai Valuev. Could you post what your opinions are of David David Haye both in and outside of the ring?
WK: I don't like to talk about somebody who is not really present in the conversation and he can't answer any questions and so and so, but I will give you just my comment on it that if somebody like David Haye calls you out during the year—he calls you out, he calls you out, he calls you out—he talks a lot of not truthful and not really good things about you as the person, and also, he is representing himself with the decapitated bodies of your family members, which is completely over the edge. In this world there are lot of sports and rules in the sports and there is certain behavior in the sports, but that was definitely out of regular behavior and out of any understanding and over the edge and below the belt-line the way how he promoted himself.
Then he was getting to the fight first of all he is promising things, which he cannot with his manager Adam Booth which he cannot deliver as Chelsea stadium in London. And I have to wait for him for half a year because of Chelsea stadium on June 20th—that was the previous fight scheduled for and otherwise we're going to fight in March—so he could not deliver it and I was waiting for June. I said, "Alright, so I'm going to fight you", because not only me want to see this fight, but also the fans the boxing fans were so excited he promoted himself so well that they want to see David Haye going down in the Klitschko fight. So I said, "Okay David, we're going to fight.", and he asked me if the fight was going to be on June 20th. It did not happen in London. I had to find another stadium in Germany, which we did with K2 and two weeks before he bailed out. I don't blame him you know injury in sports are so close and athletes always getting injuries, and so it happens, but then later on for him ask me to postpone it for a week, then for two weeks, then for four weeks, then for seven weeks, I mean I couldn't really decide can I take this man serious or not. So I decided no matter what I'm going to fight on June 20th,because I lost my time already with him, I was getting really rusted because I wasn't fighting in March or April as usually. And then the Vitali fight with him was in line. We were negotiating and then suddenly, the man disappeared the day before the contract had to be signed. The man disappeared and his manager didn't even pickup the phone to tell us that the fight is off because we have signed with Valuev.
And then his comments at the end that "Valuev is much more easier to fight for me", David said. "To me Valuev is an easier fight than a Klitschko". There is no logic, but I mean the logic is just simple and ridiculous. I don't know, there should be certain pride. If you say something, if you want to have fight and you call somebody to this fight and you actually signed the same contract before which he was supposed to fight and signing contract with my brother Vitali so inside of the contract did not change finding excuses you know the contract was bad whatever was bad it's totally ridiculous. I don't see this man. This man is immature as a person and he is immature as a fighter that's my opinion and that's it.
GC: Now Wlad, I have a question for you, and I actually had the opportunity to speak Emmanuel Stewart about this, where they are saying some people claim it is a weak heavy weight division right now, but other great champions from the past like Larry Holmes and Joe Lewis have been able to establish themselves by dominating in the sport over a long period of time which seems to be what you are on your way doing. My question for you is what would you like to accomplish in your career before all is said and done and how would you like to be remembered by the fans?
WK: To be honest with you, I don't really care or think about legacy and how I'm going to be remembered. I just enjoy what I'm doing and I really enjoy to fight. I don't like to watch the fights, I'm not really going to the fight nights to see somebody. I definitely don't like it, but I love when I'm in the ring and when I am preparing to defend, and I love to have a challenge, and I love what I do. Otherwise I will not be for several weeks in the camp and be on schedule because it is also pretty difficult. As a young man, to put yourself in the certain surrounding where you have nothing, but boxing is pretty difficult. Could you imagine at my age and, but anyway I do it I do it with understanding why I'm doing it for what I'm doing it because I love it. Without love I probably will stop to do it. I love to perform I love to be surrounded with people, I love people, I love it when especially not man giving me compliments what a good fighter I am but from the females when I am getting it, it's much better
So and it's just an enjoyable time to be at the top of the performance and sport because I had many years of the sport behind me. I just really, really enjoy it and especially because I understand it's not forever. The actual life of sport is very short and I just enjoy it and I'm not 23 I'm 33. I am at my best time anything I can wish in the sport, but I also understand that I don't have so much time left so I really enjoy every second being involved in the sport.
JJ: Great, great Wladimir, we don't want to keep you too long today, so I have one final question for you and that is, is there anything you want to go say to all of your fans that you have out there?
WK: I am so appreciated first of all to you my fans—our fans—that's actually wrong, it's not my fans it's our fans of the sport of boxing. I'm talking right now from all the champions of this sport, if I may, and everyone who involved as a fighter in this sport. Without you we will not compete, we will not show our best performances, we will not do what we do actually. Thanks a lot, I want to say thank you to all of you that you have time and passion to look at different weight classes and stay with us through the years because I do know lot of fans who through the years are fans actually for ever in the life of this sport because this sport is amazing. The history of this sport is very long and it's a classic sport.
By the way, boxing starts when two gentlemen want to get heart of a woman and she was watching how two gentlemen you know talk to each other with the fists and one guy who won, he will get the heart of the woman. So that was what the fight was. That's why I am talking also about female fans. We have not only guys who are watching but also female fans and I just want to say thank you for it. Stick with us, and stick with the Klitschko brothers and thanks for your attention. I wish all of you stay in good health and just have fun in the sport, which you're following.
JJ: Great. Well thank you very much Wladimir for giving us this time in this interview and we wish you the best with your future fight.
WK: Thank you for having me and it was really a pleasure to talk to my fans through you guys.
GC: Thank you Wladimir.
***
For those of you who missed the episode and would like to listen to it in its entirety, CLICK HERE. (If you just want to listen to the Klitschko interview, it starts at approximately 75 minutes and 10 seconds into the show).
***
To contact Jenna or Ciani:
ontheropesboxingradio@yahoo.com
To read more by Ciani please visit The Mushroom Mag:
http://www.eatthemushroom.com/mag