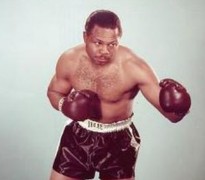 30.07.09 – Paul McCreath – Before we go any further let us clarify one thing. The number 141 is not universally accepted as the total number of KOs in Archie's career. In the 1940's, 50's and 60's when Archie Moore did most of his fighting record keeping was not nearly as accurate as today when we have the benefit of computers to help us keep track .For this article I consulted 4 different respected sources of boxing records,namely Boxrec, Fight Fax, Wikipedia and The Ring Record Book and Boxing Encyclopaedia. None of these agree on the same numbers regarding wins, losses or KOs. Two of them agree he had 11 draws. It is safe to say that it is possible that none of the records is 100% accurate. In those days some fights just never were recorded, especially when a fighter fought all over the world like Archie did. One thing is clear whether you accept 129 or 141 or some other number in that range, the Old Mongoose as Archie was called scored more KOs than any other fighter in the history of the sport.For the sake of argument let us use the Fight Fax numbers, 194 wins, 23 losses, 11 draws and 141 KOs. Nobody can prove otherwise one way or the other..
It should be understood from the beginning that Archie did not achieve this record by knocking over a bunch of stiffs. After turning pro in September 1935 he climbed into The Ring's annual top 10 ratings by 1943 and remained there in one division or another until 1962 when he was still #9 at heavyweight. During this time he fought an unbelievable number of top ten fighters including at quick count a total of 11 future Boxing Hall of Fame members over a total of 22 fights.I might have missed one or two. He scored 5 KO's over these fighters and many more over top ten ranked men. Oddly enough he was not known as a slugger but was more of a boxer puncher. He would outpoint his foes until he saw the chance to lower the boom. He did certainly have plenty of punching power.
Archie began fighting at around the welter limit of 147 pounds. By 1936 he had moved up to middleweight although he usually weighed only around 155 pounds. There was no lightmiddleweight division back then. By 1940 Archie was rated #1 at 160 pounds by The Ring. He never got a title shot and by 1944 he had moved to lightheavyweight at 175 pounds and became rated #1 in 1946 at that weight. He remained in the top 3 until 1952 when he finally got a title shot and became the champion by defeating future Hall of Fame member Joey Maxim over 15 rounds. He would repeat this win twice more and hold the title until February of 1962 when he was finally stripped of his title by the last organizations to recognize him. His last defense had been in June of the previous year against Guilio Rinaldi in New York, a 15 round decision for Archie. The NBA had vacated his title in October of 1960 for refusing to give top contender Harold Johnson a rematch .Moore had already defeated Johnson in 4 out of 5 matches including a KO in a title match in August 1954. Johnson would soon win NBA recognition as champ by stopping Jessie Bowdry in 9 rounds in February 1961. Before that Archie was the undisputed champion.
One of the most famous of all his bouts was Archie's title match with the Canadian Yvon Durelle in Montréal in December 1958. The rugged new Brunswick fisherman put Moore down 3 times in the first round and once more in the 4th before Archie came back to stop Durelle in the 11th. In a rematch the next year he again stopped Durelle this time in 3 rounds. All told Moore defended his title 9 times and held it the longest in the history of the division, a little over 9 years .Among others he defended against middleweight champ Bobo Olson with a 3rd round KO. He also challenged for the heavyweight crown twice ,the first time against Rocky Marciano in September 1955. He knocked Rocky down early but was stopped in the 9th round. The next year he met Floyd Patterson for the vacant title after Rocky retired and was stopped in the 4th.Before meeting Patterson he faced James J.Parker in Toronto in front of 19,832 fans at the old Maple Leaf Stadium ballpark and won the Ontario version of the world title. Nobody else recognized this as a title fight.
During his nine years as lightheavyweight champion Archie fought far more often as a heavyweight. In those days most heavyweights were only around 185 to 200 pounds so it was not a big jump in weight to move up. Moore often outweighed his opponents for these fights and usually came in at around 195 pounds yet he could easily get back down to 175 for title defenses. He claimed he did this by a method taught to him by an old aborigine while Archie was on a tour of Australia. The secret according to Moore was to chew your meat but never swallow it.After you got all the juice out you spit out what was left.
During his days as a heavyweight Archie defeated many top heavyweights including #1 ranked Nino Valdes twice, Bob Baker, and Alajandro Lavorante plus a draw with Willie Pastrano who went on to drop back to 175 and become a belt holder there. Earlier he had met such greats as Jimmy Bivins 5 times, Bob Satterfield, and Ezzard Charles 3 times, all fighters who fought at both 175 and heavyweight. Against Bivins he was stopped the first time but won the last 4, 3 of them by KO. Between 1958 and 1962 Ring Magazine broke with their usual policy and rated Moore in the top 10 at heavyweights and also recognized him as the 175 pound champion at the same time.
One of the things that was always in dispute about Archie was his age. Moore claimed he was born in Benoit Mississippi in December of 1916. His mother insisted the year was 1913. Most historians believe his mother. If we accept her date as a fact then Moore was almost 39 years old when he won the championship from Maxim. He would have been 47 when he made his last defense against Rinaldi. Remember that there was usually only one champion at each weight class in those days and only 8 weight classes. A world champ was a real champion. His last major bout against Cassius Clay was in November 1962. He lost that one in 4 but had drawn with Pastrano in May of the same year at age 48. He had one last fight in March of 1963 against wrestler Mike DiBiase and won by KO in 3 rounds. Clay of course later became the one and only Muhammad Ali.
Archie Moore was truly one of the most remarkable fighters I have seen in my lifetime and I did see him fight many times. He was not my favorite back then since he defeated my favorite fighters on more than one occasion but I have come to greatly respect his achievements as the years have gone by. I doubt if we will ever see another fighter like him.He passed away in December 1998.