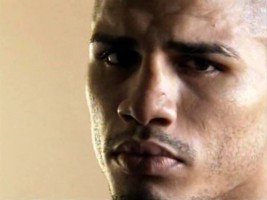 By P.H. Burbridge – Success for a boxer is measured by the number of options he has. When other high profile fighters and their handlers drop your name almost every time a microphone is shoved in their face then you know you've arrived. Well, Manny Pacquiao has arrived! Everyone with in a 20 lb radius of him is trying to link their name to his. Right now, he's the top guy and the one who can generate the biggest purse for an opponent. At this point in time, Manny has a lot of options. Miguel Cotto is a proud champion who for many years has been viewed as a fighter willing to take on the stiffest challenges and the toughest opponents in his division. Cotto is a solid technician and a terrific body puncher who has recently showed a side of himself that few knew existed prior to the fight with Antonio Margarito. Cotto leading into that fight was considered a search and destroy fighter who would simply wear down his opponents with relentless pressure and precision punching. The Margarito fight showed Miguel at his best and also at his .worst. In that fight Cotto was forced to take a boxer-puncher approach because of Margarito's size and strength. He boxed to stunning affect early however it became clear from about the 6th round on that the sand was running out of his hour glass and as his punch output and movement diminished it almost seemed like a matter of time before the other shoe would drop. And, drop hard it did!
That fight changed Miguel Cotto in a way that is very difficult to measure.
Can anyone truly measure a fighter's will? A fight against Manny Pacquiao might force Miguel Cotto to respond to that very question.
Does he still have enough to carry on when he's taking a physical beating and is Manny Pacquiao even capable of delivering that type of a pounding at welterweight? Will Pacquiao's speed be too much for Miguel to compete with and can he keep pace with him? For Pacquiao, what happens when Manny gets hit by a puncher of Cotto's caliber and can Manny make the necessary adjustments if he finds out that he can't hurt Cotto? Can the puncher win this fight if he has to box?
AND, the big one, can Manny Pacquiao do something that NO boxer has ever done before and win a 7th world title in his 7th weight division? That would be historic. As fans we'll have very little to complain about if a fight between Miguel Cotto and Manny Pacquiao is made because it has all the intrigue you could ask for. But, the historic implications aside, the question of "will" and how much of it Cotto has left would have been enough for me to drop my hard earned cash to see this fight.
Why do so many question the will of a champion of Miguel Cotto's caliber?
One word, Margarito! Or at least the ghost of Antonio Margarito.
The story of the Cotto-Margarito fight in my eyes is one of tactical incompetence. Miguel Cotto in the biggest fight of his career attempted to do something that was ill advised and almost completely out of character. And it undermined his greatest attributes which are his power and his precision punching. By applying so much movement #1, Cotto took away from his punching power by never truly getting set to deliver his shots and #2 by overextending himself physically which caused stamina issues late in the fight. Some have made the argument that Miguel was also dealing with a then unknown and unfair advantage that many believe Antonio Margarito was able to get away with for years, loaded gloves. Cotto himself has never used that as an excuse or implied that he was a victim of this type of an assault but conspiracy theorist have done that for him. Many in the boxing community do not believe #1 that Antonio Margarito was "unaware" of the substance being placed on his hand wraps and #2 that the "Sugar" Shane Mosley fight was the only occasion in which this substance was used. I'm including myself in that statement. There is no way to validate any of this definitively because unfortunately at the time of that fight no one from the Cotto camp was even present in Margarito's dressing room to oversee his hands being wrapped. Regardless of Miguel's public attempts to avoid assigning blame it's my opinion that this was incompetence of the highest order by his head trainer. It's so rudimentary in professional boxing that SOMEONE in your camp oversees your opponent getting his hands wrapped that you take it for granted and wouldn't even consider the possibility that it could be overlooked. But, in the case of the Cotto camp it was. That being said, we'll never know if loaded gloves truly played a role in the outcome of the fight but what we do know is that Miguel Cotto took a facial battering at the hands of Antonio Margarito and it's at least a possibility. I could go on about the morality of such a thing and the integrity of our sport but I think most fans understand the ramifications.
For Miguel Cotto the experience forever changed the direction of his career and has led many boxing insiders to suggest that he'll never be the same. That may be partially true because regardless of whether or not Margarito had a hardening substance on his hand wraps Miguel Cotto was forced to concede. He was the one who essentially had to end the fight by going down to a knee. We can't underestimate the power of self doubt when talking about a fighters psyche. In hindsight, his corner should have stopped that fight after the 10th round but they didn't and it forced Cotto to make a decision that a fighter shouldn't have to. It was more evidence of incompetence. It made me appreciate Eddie Futch more than ever for his courage and insight in stopping the fight in Manila between Muhammad Ali and his fighter, Joe Frazier. It was the right thing to do and only trainers of the highest caliber know when to tell their fighter "that's enough". In the case of Cotto, I think all the signs were there for a trainer to see and it should have been stopped at least 25 seconds sooner than Evangelista Cotto eventually did. It's a fine line and we never know if a fight is stopped too early but we always know when it was stopped too late. That decision is part of a trainer's burden and there's nothing more important. That burden was placed on the fighters back that night and Miguel Cotto is damaged because of it.
The theory goes that once a fighter makes the decision to stop a fight himself then it becomes easier (and some believe likely) that he'll make that decision again. Doubt looms large in a fighter's mind and this type of situation can haunt him throughout his entire career. It's also one of the toughest things to overcome. Cotto to his credit did what you would expect a MAN of his caliber to do and that is to put his sights on a return match with Antonio Margarito to redeem himself. Cotto was the one who sought out that rematch with his mind on exercising those demons. That's a good sign. When that fight became impossible due to "Plastergate" he switched his sights to another highly ranked and feared fighter, Joshua Clottey. Before that he tuned up and reintroduced himself to the fight public by outclassing and dominating Michael Jennings.
On Saturday June 13th he beat Joshua Clottey. He didn't beat him in an overwhelming fashion but he won enough of the rounds in my mind to be correctly awarded the victory.
That win served as a moral victory of sorts for Miguel Cotto and is further evidence that he's not only strong physically but mentally. It hasn't been quite a year since the Margarito fight and I think that Miguel Cotto is starting to show the signs that he's back. His confidence is high and I think he's ready to take on what will be perceived as the biggest challenge of his career a fight with Manny Pacquiao. For Miguel Cotto he can correct many of his past sins with a win in this fight. This is a very winnable fight for Cotto regardless of those who firmly believe he's an easy mark for Manny. Stylistically, this should be an action fight. Both guys have shown a willingness to stand and trade which makes for exciting sequences and when you factor in that Cotto may be the hardest puncher that Manny has ever faced and also that Cotto himself has shown a vulnerable chin then you've got a real recipe for high drama. There are so many interesting subplots to this fight that I can see it going either way. I, by no means believe that Manny Pacquiao will dominate this fight and by the same token don't believe Miguel Cotto will do so either. In order for Miguel Cotto to win he'll have to return to his days of search and destroy by showing a major commitment to the body. He must stay in Manny's range and take on the role of the aggressor. I don't see Cotto outworking Pacquiao so he'll have to hope to over power him and as we've seen in recent outings that will not be easy.
It's Manny's speed and his use of angles that make it tough to land solid on him and combined with his southpaw stance he has the style to create problems for anyone regardless of size. So, Cotto will have to show more of his greatest attribute which is his patience if he is to do well. He can't get frustrated. I see him applying steady pressure with the goal of landing enough body shots to render Manny stationary. If he can do that then he'll be in good shape and I wouldn't be surprised if he stopped Pacquiao.
BUT, if Pacquiao gets into a rhythm and is able to stay off the ropes while darting in and out as he did against De La Hoya then I think we could see a similar outcome. I do think Manny can hurt Cotto but I don't see him committing to power shots early. In Cotto's recent performances the question of stamina has been raised and I think it's legitimate. I think Miguel shows some vulnerability late in fights and that may dictate a fight plan which calls for Manny to box early and bang late. Manny has shown the ability to carry his power into the later rounds so I think between rounds 8-12 we could get some real action. You can rest assured that Pacquiao will be going into this fight with a BIG advantage corner-wise and that Freddy Roach will map out a strategy based on Miguel being dangerous early. That leads to the next question for Cotto.
Who will be his head trainer? Lately, there have been reports of Emanuel Steward showing some interest in leading the Cotto camp and in my opinion that would bring exactly what Miguel needs in terms of temperament and tactical expertise. So, if that happens I expect for Steward to be a huge positive. As an HBO analyst he's seen Pacquiao fight live many times and his comments regarding Manny's strengths and weaknesses have always been right on in my opinion. Emanuel Steward is also a master of modification NOT reinvention meaning he doesn't try to change deeply ingrained aspects of a fighters make up and understands the danger in doing so. We just saw evidence of this danger and how it can create confusion in the ring via Mayweather Sr's ill fated camp with Ricky Hatton. Steward's talent is making key changes in a fighter's execution to correct or minimize an exposed weakness and increase his overall efficiency. He did it with Lennox and he's been doing it with Wlad. Not all trainers can join the camp of an accomplished fighter and add without taking away. Steward has made a career of it. So, even though I would still give the edge to Pacquiao and Roach because of their long term success and association I would definitely view Emanuel Steward as a HUGE plus for Cotto. The truth is, if Miguel doesn't get Steward he better get someone of that caliber to help design the blue print because it's obvious that Roach continues to grow as a trainer and tactician so to go head to head against Manny with the team members that he currently has in place would be a mistake in my opinion.
Cotto is at a crossroads and he can re-write his entire story with a win over the best fighter in the world.
By beating this one man Cotto will emerge as the fighter that everyone attempts to link their name to.
I'm sure Bob Arum has clearly outlined to him that a win over Manny Pacquiao will be "VERY, VERY GOOD" for his business.
But, something also tells me that no matter what business opportunities come as a result of a win over Pacquiao that Miguel Cotto will save a dance for Antonio Margarito.
And a win in that fight will be good for his soul!
(Please feel free to contact P.H. Burbridge via email at PHBboxing@yahoo.com with any comments or feedback.)