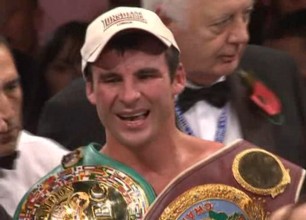 by James Slater – Former world super-middleweight and light-heavyweight champion Joe Calzaghe knew the time was right for him to quit the sport he loves, and he hung up the gloves earlier this year. Sporting a superb 46-0 record, "The Pride of Wales" managed to do what few fighters ever have, and retire without a single loss or a draw on their record. It's too late for that now when it comes to Ricky Hatton, but Calzaghe says "The Hitman" should get out now and thereby retain that which is far more important than a perfect record; namely his health.
While Hatton – who has yet to make up his mind about fighting on or not after the disaster that felled him against Manny Pacquiao on May 2nd – has been urged by some people to give it another go in the ring, Calzaghe is not one of them. Speaking to today's Sunday Daily Star, the 37-year-old urged 30-year-old Hatton to retire..
"It was a devastating loss against [Manny] Pacquiao and I think it's time for him to retire," Joe said. "The most important thing in boxing is your health. I watched the fight and Ricky took some heavy shots. He just didn't seem to turn up on the night. A lot of people will be telling Ricky what to do, but only he knows what is right.
"Maybe he'll want one last fight in Manchester to get a win. You wouldn't blame him if he felt that way."
Calzaghe may well be right, and the proud Hatton perhaps will take a "farewell" bout in his home city. But what if Ricky were to lose that fight too? One man who thinks Hatton should definitely retire immediately, thus forgetting all about any other fight, "farewell" or otherwise, is Hatton's former promoter Frank Warren. Warren made it clear he feels Hatton's punch resistance and "everything else" has totally gone, and that he would be a fool to risk another fight.
Sure, there may be some sour grapes there due to the way Hatton and Warren fell out, but is the promoter right with what he says? Though Calzaghe wasn't as brutal as Warren, he at least hinted that Hatton is finished as a top level fighter. It would be awful seeing "The Hitman" getting beaten up and KO'd by a lower level fighter brought in as a "safe" opponent, only to tear up the script.
As things stand, at least Hatton can hold his head up high and say rightly that he has only ever been defeated by pound-for-pound the two best fighters in the world – in Pacquiao and before that Floyd Mayweather Junior.
A future Hall of Famer, Hatton might decide he's done enough fighting and concentrate on his promotional goals.