The upcoming fight with Sandro Siproshvili in Cuxhaven on 6th March wasn't the only thing on Herbie Hide's mind at the press conference today. The former two-time heavyweight champion is also celebrating the release of his autobiography. The book, aptly titled "Nothing But Trouble" tells the story of his upbringing in Norwich and his time in boarding schools in Norfolk after arriving in England at the age of ten, before detailing his roller coaster boxing career and his numerous escapades outside of the ring..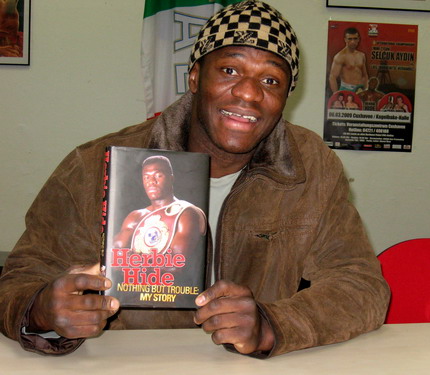 "My book tells it like it is," says Herbie. "Lots of people bring out a book, but nobody has a story like mine. I'm the original bad boy. Everything is in there. You'll laugh and cry when you read it. I've been through so much in my 37 years and my life really has been nothing but trouble, as the title says. But I haven't finished yet because now I'm going to beat Siproshvili and then go on to be world champion for a third time."
STAR BOXING FIGHTERS WORKING AS A FAMILY
On March 6th, Delvin Rodriguez (23-2-2, 14KO) will look to defend his USBA welterweight championship, and earn the number two ranking in the IBF world ratings when he takes on highly touted welterweight contender Shamone "The Truth" Alvarez (20-1, 11KO). The bout will take place at the Mohegan Sun Resort and Casino in Uncasville, CT and be broadcast live as that evening's ESPN2 "Friday Night Fights" main event.
DELVIN RODRIGUEZ
To get prepared for the slick southpaw Alvarez, Rodriguez and his camp called on the services of two of Star Boxing's other prized fighter's Raymond "Tito" Serrano (8-0, 5KO) and Demetrius "Boo Boo" Andrade (2-0, 2KO), who coincidently will both be fighting on the undercard on March 6th. Andrade will open the "Friday Night Fights" telecast with Serrano fighting in the live co-feature.
Although Rodriguez lives in Danbury, CT he trains in the Catskills, at his manager Stan Hoffman's training camp in Kerhonkson, NY. Hoffman has owned and operated the camp, which is made up of a Victorian mansion, a separate three bedroom house, a cabin, a full operating boxing gym, and an outdoor track, for the last 25 years. The camp can house up to 19 fighters at one time.
"This is the second straight camp that Serrano has come up to help me prepare for a fight, but this was the first time I worked with Demetrius though," stated Rodriguez. "I really appreciate them coming up here and working with me. They are two really good prospects and I see a very bright future for both of them. As the more experienced professional I try to help them out in anyway I can, inside and outside the ring. Hopefully what I am trying to tell them will benefit them in their careers and make them better fighters, both physically and mentally."
RAYMOND "TITO" SERRANO
"Working with Delvin is a great learning experience for me at this stage of my career," said the 19-year-old Serrano who will compete in his first scheduled eight rounder and first nationally televised co-feature when he takes on once beaten "Smokin" Jay Krupp (12-1, 5 KO). "We work really good together, and I think it's great that we are both promoted by Star Boxing, and both being able to help each other out for our fight's on March 6th."
DEMETRIUS "BOO BOO" ANDRADE
Andrade, the 2007 amateur world champion, and 2008 Olympian, voiced a similar opinion as Serrano. "It's like we are one big happy family here at Star Boxing," said Andrade with a smile. "I think it's pretty special that the three of us are promoted by the same promoter (Andrade is also co-promoted by Art Pelullo's Banner Promotions), all fighting on ESPN2, and all working together to help each other get ready for our upcoming fights. It is going to be a very exciting night of boxing and I foresee a clean sweep for Star Boxing on March 6th."
The card is promoted by Joe DeGuardia's Star Boxing in association with Mohegan Sun Casino and Resort. Tickets are priced at $75.00, $45.00 and $30.00 and are on sale now through Ticketmaster. Ticketmaster customers may log on to ticketmaster.com or purchase tickets by calling 1 (800)745-3000 or by calling any Ticketmaster Charge by Phone number; or visit any Ticketmaster outlet. Tickets may also be purchased at the Mohegan Sun Box Office subject to availability or by calling Star Boxing at (718) 823-2000. Doors open at 6:30 PM with the first fight scheduled for 7:30. ESPN2's telecast will run live from 8:30 to 10:30 PM.
BALLROOM BOXING AND TKO BOXING PROMOTIONS TEAM UP FOR 2009
Tickets available now at 410 766-7474
BALTIMORE, MD, (February 28, 2009) Scott Wagner's Ballroom Boxing and Chet Koerner's TKO BOXING Promotions, have teamed up for 2009 to present six world class professional boxing events this year at Baltimore's Michael's Eighth Avenue as part of the nationally known "HOMETOWN HEROES TO WORLD CHAMPIONS" series.
Ballroom Boxing is one of the longest running professional boxing series in North America . The upcoming card on April 2nd will be its 93rd spanning thirteen years. Scott Wagner has created and masterminded the highly successful series since its first show on February 15, 1996.
Said Wagner "We have three exciting shows planned for this spring and if all goes according to plan Ballroom Boxing and TKO Boxing Promotions will really make its mark in this area at the same time as it establishes itself as one of the home bases for TKO."
"My father and I have always believed in promoting our "Hometown Heroes", so it will be exciting to work with TKO and their concept of "HOMETOWN HEROES TO WORLD CHAMPIONS", It's a great fit for both sides."
Ballroom Boxing has featured world champions Hasim Rahman, Kermit Cintron, Nate Campbell, Wayne Braithwaite, Vincent Pettway, Luis Collazo and has been an important part of the development of local standouts Lamont Pearson, heavyweight Tony Thompson, Darnell "The Ding A Ling Man" Wilson, and Teddy Reid, as well as featuring rising stars on their way up such as Yuri Foreman, Mike Arnaoutis, Mario Santiago, Roman Martinez and Andre Dirrell.
Said Koerner, President of TKO Boxing Promotions "'We're thrilled to work with the Ballroom Boxing team as we move into the Baltimore area with our "HOMETOWN HEROES TO WORLD CHAMPIONS" series. Boxing fans across the country are packing venues to see their favorite local fighters in world class action and that's our commitment to Baltimore fight fans."
Ballroom Boxing and TKO Boxing Promotions first worked together on the annual Jonathan Ogden Foundation benefit boxing show this past October 30th and followed that up with an outstanding card on November 20th at Michael's Eighth Avenue with the relationship now turning into a strategic alliance. The promoters will work together to continue to showcase the best area talent in the context of the world class professional fighters that are being promoted by TKO.
Said Koerner "We had a packed house on November 20th and the passion the fans had for the fighters really drew me to making this deal with Scott. Working with the legacy of great fights in the Ballroom Boxing series over the last thirteen years, starting with these six shows we will continue the standard of terrific events they've had over the years."
Through the years, Wagner and Ballroom Boxing have stayed away from signing fighters. Scott Wagner realized early on that if he signed a fighter and they developed into a world class prospect that in order to take the fighter to the next level that he would have to sign the fighter over to a promoter with national visibility.
Said Wagner "With this strategic alliance with TKO, I can now sign a fighter, develop him together with TKO, and if he really becomes a top pro, with TKO's cross country reach, we can promote him nationally. This will be a very exciting year for not only Ballroom Boxing, but also Ballroom Battlefield. And working with TKO will allow my firm to have greater reach and greater strength going forward."
Long time matchmaker for Ballroom Boxing, Chris Middendorf, is also a partner and the matchmaker for TKO. "Chris knows how the shows work here and what sort of quality that our fans demand. With him already working for both Ballroom and TKO, this will be a seamless transition" continued Wagner.
Scott Wagner has been spearheading the drive in Maryland to include MMA, which passed and went into law in January. Wagner has also planned an ambitious schedule of MMA fights this year under the name Ballroom Battlefield.
Further information on Scott Wagner's Ballroom Boxing can be viewed at their website, www.ballroomboxing.com