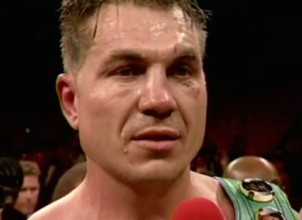 VITALI KLITSCHKO: STOP WHINING, STOP LYING, STOP CRYING
By Oleg Maskaev: Dear Vitali, Let's stop the nonsense. When I fought you for the CSCA (Centrum Sports Club Army) Military Championship, I stopped you in the 1st round. You were badly hurt and your corner threw in the towel. Stop making excuses, stop lying and be a man and admit it. That was our 1st fight.
I became Heavyweight Champion in August '06 and made my 1st defense in December '06 in Moscow before a sellout crowd in the 1st Heavyweight Championship bout in the history of Moscow. Your people contacted my promoter, Dennis Rappaport, and said that the WBC had designated you Champion Emeritus; and as such you had the right to immediately face me for the Heavyweight Championship. I agreed to fight you despite the fact that you were inactive for about 4 years and that you cancelled your last 4 fights due to injury.. After months of negotiations surrounding the controversy as to who had the 1st right to fight for the Championship, Samuel Peter or you, I stood firm and supported your position. In return for my loyalty, you and your people started double-talking and procrastinating. On or about April '07 HBO became disgusted and gave us a deadline for the contract to be signed. I signed the contract and was told that my promoter would receive your executed contract the next day. Vitali, your contract never was signed and you gave some ridiculous excuse that you wouldn't have enough time to train. What were you doing for 4 months, getting a suntan and not training? I had very serious surgery for my elbow, due to injuries I suffered in my fight Dec. '06. I went for rehabilitation after the surgery and was still ready to fight.
You claim that you shouldn't have to fight 2 successive mandatories, but that's exactly what the WBC had ordered me to do. You never complained or suggested that it was unfair or the WBC didn't have the right. Of course not! It benefited you Vitali. Life is a two way street, there aren't 2 sets of rules, one for you and one for everyone else.
You say you want to fight Arreola, Haye, or Dimentrinko, I don't blame you….none of them have ever beaten a top ten contender.
Remember the words of Joe Louis, 'you can run but you can't hide'. For whatever the reason you have done everything humanly possible to avoid fighting me. I don't know if it is psychological or what. Sometimes a fighter has another fighter's number…like Mosely had DeLaHoya's and Forrest had Mosely's. These fighters won in the amateurs and also scored and won big upsets in the pros. Vitali, I know how to beat you. I stopped you in the amateurs and I'll stop you whenever you have the courage to face me in the ring.
Prior to my fighting Peter I suffered a devastating back injury, the 1st in my professional career, I knew that if I had to postpone the Peter fight again, my title would have been stripped from me. There were strange and bizarre circumstances, surrounding the Peter fight, perhaps even bordering on the criminal. The truth of which will eventually come out. Suffice it to say that the real Oleg Maskaev was not in the ring that night. Today I am 100% healthy….and a 100% healthy Oleg Maskaev is a dangerous man. I respect you as a sportsman, so do whatever you choose; go to mediation, go to court, say your prayers, but remember if you defeat Gomez, you can't fight anyone before you fight me. Vitali, stop the whining and let's start fighting. I'll fight you in Russia, in the U.S., or even in your own backyard. Let's get it on.