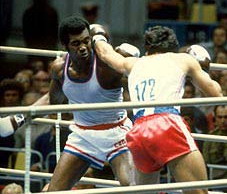 By Leon de Juda: The heavyweight division, is by far the most watched and respected class in both amateur and professional boxing. The big men who compete at this division atract more fans and more media than any other. It is without a doubt what boxing is all about. Even people who have never heard of the smaller weight champions know of Ali, Foreman and Tyson. In recent times however, the Heavyweight division has been suffering from a real Champion not to say that there are not any good talented heavyweights out there. Names like the Klitschko's stand out but the present Heavyweight division lacks a real true Champion. A Champion that always dominates and never leaves any doubt or controversy behind his win. This is of course, not possible in today's heavyweights.
Let's take a moment now and look back at two great men who in their time were simply " unstoppable ".. Even though these men never competed in the pros, it's very safe to say that they would have been without a doubt two of the best Heavyweights in the history of boxing. Their achievements in the amateurs are so remarkable that simply they were in a class of their own. The Island of Cuba has produced excellent fighters of all weight classes. The Eastern part of Cuba called " Oriente " is where these two men came from. The First, Teofilo Stevenson and the second Felix Savon. Their dominance was so unrivaled that they simply collected Gold medals for a living beating along the way, every single heavyweight contender from every country.
Stevenson, at 6'6 tall was an all around perfect, power puncher and physically gifted fighter, that was any " trainer's dream come true ". He started his boxing career at the early age of 9 years old and since there simply became a Boxing Legend capturing Gold Medals in 1972, 1976 and the 1980 Olympics. He was also World amateur Champion in 1974, 1978 and 1986. American fight promoters offered him the amount of five million dollars to challenge World heavyweight Champion Muhammad Ali in his first professional bout, which would have made him the second boxer to go straight from the Olympics into a professional debut with the world's Heavyweight crown on the line, after Pete Rademacher. But he refused, asking "What is one million dollars compared to the love of eight million Cubans?" Unfortunately for him and for the boxing World it never happened. This would have been without a doubt, " the fight of the fights ". Stevenson would have showcased the World his unique abilities and talent fighting along the way the famous Ali.
For some of you who have never seen Stevenson in action, it's very encouraging for you to see him as he was a phenomenom that only comes around every 50 or 100 years. Stevenson would have been a force to be wreckon with and would have gone down in history as one of the best Heavyweights of all times. Even though he was an " amateur " like his profession said, he showed a polished professional technique and was an excellent competitor outside the ring as well. His ring movements, his speed, footwork, accuracy and Power was simply unmatched for a person so tall like him. If he would be fighting today in the pros, today's heavyweights would not stand a chance with this Cuban great. He would simply outclass the competition including the Klitschko's or any other.
After Stevenson retired, along came another devastating puncher from Guantanamo, Cuba the great Felix Savon. Savon came also from the Cuban amateur system and was even guided by Stevenson in his boxing career. He too was an imposing figure standing approximately at 6'5 and had a fierce reputation for wiping out his competition and like Stevenson collected Gold medals for a living. He first won his first Olympic Gold medal in 1992 and then in 1996 and 2000. Savon defeated every single contender thrown at him including famous names like, Danell Nicholson, David Izonritei, Luan Krasniqi, David Defiagbon, Michael Bennet, Sultan Ibragimov, David Tua, Christophe Mendy, Shannon Brigs, Lamon Brewster and many others. His physical talent, strenght, movement, speed and power gave him a reputation as the most feared heavyweight amateur boxer in the World.
When asked about professional boxing Savon stated, " I do not like professional boxing, there is a tremendous difference between Olympic style and professional boxing. In the professional ranks the athlete is not protected at all, they don't take care of him at all and of course the main interest is earning money, It's a very dirty sport. In Olympic style boxing, the amateur sport is very clean and it's truly something that is good for the athlete," Savon said. This is as we know partially true but Savon sadly was very dedicated to Cuba's communist regimen and never even thought about defecting. The experts agree that if Savon would have been allowed to compete in the pros he would have gone down as one of the best heavyweights of all times as well as Stevenson.
Sometimes an athelte need not to actually demonstrate his capabilities because by just looking at his accomplishments one can come to a conclusion and determine at what level this athlete would have performed. Example, there were many Black baseball players in the Black leagues that never played in the Majors mainly because of the color of their skin but they have been placed in the Major League Hall of Fame, example, Martin Dihigo of Cuba. It is really a shame that these men never competed in the pros but at the same time left a tremendous impression in the boxing world. The experts agree, Stevenson and Savon would have also dominated professional boxing.
The Island of Cuba would have had their piece of the Heavyweight Championship long time ago with Stevenson and Savon in the pros. In professional heavyweight boxing history, Cuba has never had a Heavyweight Champion because their best boxers have been trapped in Cuba's communist regimen. Only one Cuban actually fought for the heavyweight championship, Jorge Luis Gonzalez against Riddick Bowe who lost. Gonzalez at 6'7 was also a very good amateur but his progress as a professional was severely hindered by Gonzalez's refusal to co-operate with trainers or training, feeling as a top Cuban amateur there was nothing he could be taught. He went through several different trainers during his first few years as a pro, due to his arrogance and laziness.
On March 21, another Cuban will have a chance to redeem Glory for Cuba's heavyweights, his name is former WBC Cruiserweight Champion of the World Juan Carlos Gomez. Gomez will have an opportunity to win the WBC belt from tough Vitaly Klitschko, a fight that will be very hard for both pugilists. The Black Panther Gomez has a legitimate chance to beat the older Klitschko if he is serious enough and training. He has all the technical attributes to defeat Vitaly. Only time will tell come March 21 but I have a big feeling that the Black Panther will somehow walk away victorious and will give Cuba it's first World Heavyweight Championship!