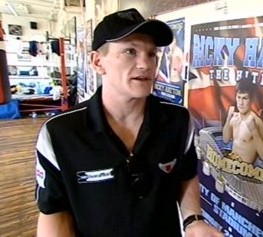 by James Slater – There is still well over two months to go until fight time, but Ring magazine light-welterweight champion Ricky Hatton is already, in the words of his assistant trainer Lee Beard, "in great shape" for his hugely intriguing May 2nd battle with Filipino superstar Manny Pacquiao. Training for the biggest fight of his life, and for his second chance to topple a fighter currently seen as the best pound-for-pound in the world, the 30-year-old Manchester warrior is leaving nothing at all to chance.
Hatton, well known for ballooning up in weight between fights, has done no such thing on this occasion – indeed, "Ricky Fatton" has been nowhere to be seen. Hatton knows he is in for a rough and unimaginably tough war with the great Manny Pacquiao, and he has more or less left the beers and the junk food alone since his fine win over Paulie Malignaggi last November.
Speaking to inside sports. ph, Beard said he has not yet had his fighter's weight checked, but that due to the shortness in time that has passed since the win over Malignaggi there's not been time for Hatton to put on a ton of excess poundage, and that presently Hatton's body looks good.
Beard said they will weigh Ricky this coming Friday, but that he looks pretty solid and ripped right now anyway.
"Ho took his shirt off, and his six-pack abs are there already," Beard said. "He's in really good shape and his fitness is very, very good too."
This is a very good sign for Hatton fans. With less time needed to rid himself of excess fat and weight, "The Hitman" can use his time in camp to work on his game-plan and his overall tactics for the May shootout. And Beard says there will be lots of hard sparring for his man when he gets to Las Vegas.
"Once we get to Vegas that's when all his hard sparring will start," Beard confirmed. "There's nobody in England that can get anywhere near to what Manny does so it's a bit of a lost cause [sparring in the UK]. We will get sparring partners who can emulate the speed [of Pacquiao] and things but in the end it's the level of experience and the level that Manny's at as the best fighter in the world. You are not going to get anyone like that."
In going to America, Beard, said, there will be "a lot more options" for who to work with in sparring. And once again lightweight puncher Edwin Valero's name has come up. It will be the unbeaten banger who will be sought out for main sparring partner duties.
"Valero doesn't fight like Manny, but he's got similarities in other ways," Beard said.
And although there are doubts as to whether or not Valero's services will be available, the KO-artist is definitely being considered.
As Beard explained:
"We would have to get somebody with the hand-speed of Manny and someone who could bang because Manny is not just fast, he's very heavy-handed too."
With Hatton's early preparations going well, he and Manny will be headed to Manchester and London for the pre-fight publicity tour this weekend. Then it will be back to hard training for the two exciting warriors.