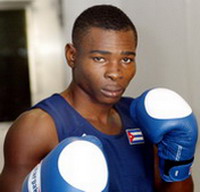 By Leon de Juda: The beautiful Island of Cuba, has possibly the longest and richest Boxing tradition ever since professional boxing was introduced in the late 1800's. Since it's introduction, boxing along with other sports like Baseball became an instant National Passion for all Cubans. Even when the Island had a population of just under 5 million, Cuba produced exeptional World Class Champions like Kid Chocolate, Kid Gavilan, Luis Manuel Rodriguez, Jose Mantequilla Napoles, Jose Legra and Ultiminio sugar Ramos. This remarkable men were not just Champions but they were the best of the best in a time when there was just one boxing organization per weight class. These were the times when being a Champion was more than possesing a belt. Fighters like Chocolate sometimes even fought twice a month in a 15 rounder fight!
The Cuban Champions were World Famous even outside the ring and the Island. Kid Chocolate was said to " stop traffic " in France, while people were captivated by his Fame.. The sport kept growing and developing more in Cuba along with Baseball, Cuba's other passion. These great men, deserve a moment from us to stop for a minute and look to the past to observe their great God given talent inside the squared ring. They gave professional boxing their style, their dedication, their talent and their life. There were many many other great Cuban boxers that deserve to be mentioned here also. I have only included the Cuban World Champions but there were many others who were ranked in the World but never gained the World Champion Status, names like El Nino Valdez, Eladio " Black Bill " Valdez and Florentino Fernandez also deserve to be mentioned.
As Castro and the Revolution took over in 1959, the goverment decided to ban all professional sports. Their reason was, " professional sports degrade the Human spirit ". This was a moment when everything literally stopped in Cuba including Cuba's successful and well oiled professional sports. This was a huge change for all specially for it's new generation of next World Champions. With no other place to shine and compete, the Cubans started competing in the only place for them available to show the World their special talent, the Olympics. In Olympic competition, the Cubans started to shine in every Olympic, World Championships and Pan American Games. Cuba indeed carried it's legacy from it's great past to the modern amateur style of boxing. As a result, Cuba has won more Gold medals and more World Championships than any other country including giants like USA and the former Soviet Union. Yes, I know this is hard to understand.
For many many years, Cuba has been forgotten in professional boxing. Even though the Cubans have cleaned the Olympics and achieved great Glory in the amateurs, the boxing World has only been focused on professiona Boxing. Over time, Cuba's great amateurs started to feel very frustrated with their little monetary compensation and treatment in Cuba. Little by little, amateur greats like Juan Carlos Gomez, Joel Casamayor and Diosbelys Hurtado, were defecting and became the first Cuban professional World Champions ever since Castro banned professional boxing on the Island. There were other good defectors like Ramon Garvey, The Castillo brothers, Ramon and Ivan Ledon, Barthelemy and Mario Iribarren but were not able to capture Glory mainly because of lack of discipline and training. For many of them, their new " Land flowing with Milk and Honey " was too much temptation to handle.
But wait, all of the sudden here comes a group of new Cuban Defectors that are causing a tremendous sensation far more than when Casamayor, Gomez and Hurtado defected. These men are going to bring back Cuba's Glory to professional boxing like never before, if they manage to reject temptations and train like they were in Cuba. Their names are, Olympic Gold Medal winner Yuriorkis Gamboa, two time World Champion Erislandy Lara, and Heavyweight Olympic Gold Medal winner Odlanier Solis. In Ireland, three more Cubans have defected and are causing a huge fan base, their names are, Heavyweight amateur standout Ismaikel Perez, World Champion Alexei Acosta and super middleweight great amateur Luis Garcia. The news does'nt stop there, Two time Olympic Gold Medalist Guillermo Rigondeaux ( compared as a Cuban Roy Jones probably better) has just defected recently and is awaiting his Pro Career. All of these men possess a real chance of not only winning a World Title but P4P status specially Gamboa, Lara and now Rigondeaux. As I write this, there are hundreds more of great Cuban amateurs probably thinking of defecting as well so keep this in mind.
It has been a long wait of about 50 years for Cuba to regain it's lost Glory. This is about to change. This is not to segregate or put down the other very good boxing Countries but to give a better sweet taste of Cuban " Sugar " to our sport. With Cuba back in the mix, all of the sudden it's Showtime again!