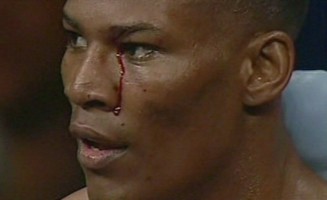 By Paul Strauss: Referee Telis Assimenios finally had enough Friday night at the University Center Arena, Fort Lauderdale, FL. He warned and penalized Humberto Toledo for rushing in with his head down, but the last straw was when Toledo committed a "Mike Tyson" like bite to the shoulder of Breidis Prescott. As a result, he gave the Bam Baby from Ecuador the DQ. It was, as they say, academic because Prescott controlled the action throughout the fight; although, it's debatable whether Braidys will quickly climb the rest of the way up the ladder in the rankings in the lightweight division. He has another fight tentatively scheduled for 04-03-09, with an opponent TBA, so we'll learn more then.
In Friday night's action, Prescott seemed to get frustrated with Toledo's rushes. He managed to avoid most of the potential damage, but there were head clashes, facial cuts, and punches landed. Toledo's not exactly a big puncher, and he's been KO'd 4 times, so it was kind of a disappointment for Prescott not to get him out of there, especially after the Columbian's spectacular one round knockout of Amir Khan.
Cuban sensation Yuriorkis Gamboa once again scored a quick first round knockout. This one came as no surprise against Walter Estrada, who lost four of his last six. In addition, Estrada has been KO'd five times. There wasn't an awful lot to be learned from this quick 25 second fight. It pretty much ended with the first exchange, when Gamboa landed a short right. One disturbing repetition about Gamboa is that he apparently could not even go 25 seconds without exhibiting dirty tactics. In this brief encounter, Gamboa couldn't resist grabbing Estrada behind the head with his left glove, and attempting to push his head down. The referee was on the opposite side when he did this, and everything happened so fast, that the ref didn't pick up on it. In such a quick fight it wasn't much of a factor. However, it does illustrate how Gamboa fights, and his next opponent's corner men short have a long talk with the referee prior to the fight about illegal tactics. It's a shame too, because Gamboa is highly skilled and doesn't need to resort to such tactics.
In another quick stoppage, Cuba defector Erislandy Lara put unrated Keith Gross down with the first straight left he threw from the southpaw stance. Gross managed to get up, but was quickly overwhelmed by Lara, and was sent down once again with a short left uppercut. The referee stopped the action at 1:09 of the first round. As with the Gamboa fight, it is hard to take much from such a quick ending other than Lara did what he was supposed to do. Lara has an extensive amateur background and his ring experience was evident against the novice Gross.
In a four rounder, thirty-seven year old Cuban Ramon Garbey totally outclassed Mike Sheppard. El Nino had Sheppard down once in the third, and twice in the fourth to come away with a shut out. He repeatedly suckered Sheppard into throwing his right, which he would counter with his own right. He would set him up by first rolling with the jab or double jab. Then, when Sheppard threw the right, Garbey would snap away, only to come right back with his own counter right. He caught Sheppard cleanly numerous times, and solidly enough three times to put him down.
The cancellation was a scheduled fight between Richard Gutierrez and Jesus Gonzales. During the rest of the night, ESPN2 provided some interesting discussions about Cotto, Pavlik, De La Hoya and several others. Pavlik and his manager Jack Leow acknowledge the need for Kelly to look impressive Saturday night in his fight against Marco Antonio Rubio. Pavlik can't just beat him. He needs to do it decisively. The same is true of Cotto, but Miguel's task is expected to be easier, as Jennings is not given much of a chance. It was also reported that Cotto is very upset with Bob Arum and Top Rank over their support for Margarito's alleged innocence in the hand wrap incident. Cotto, as most others, feel Margarito knew what was being put on his hands.
Apparently Oscar De La Hoya is leaning toward retirement, but hasn't yet made a final decision. The Golden Boy acknowledged he was hurt more psychologically than physically in his fight against the Pac Man. He is just now starting to come out of seclusion and facing up to questions about his dismal performance. A fight like that can affect a fighter in a couple of ways. One, he might come to the realization that he just doesn't have it anymore and retire. Or, he might feel that it was a fluke, and that he still has something left. In that case, he doesn't want to end things on such a sour note, and ops for one more chance for redemption. Don't bet against the latter.
Bradley and Holt are exchanging barbs. Bradley thinks he will knock out Holt, and Holt counters saying, "You need to do more than hope you can knock me out. You need to hope and pray you can!" Both fighters acknowledge it is going to be a tough fight. That fight is to take place in Montreal, so we can only hope that nothing strange happens.
The Dawson and Tarver fight is off because Dawson sustained a ligament injury to his hand. He should be fighting Glen Johnson anyway. Meanwhile, the Road Warrior Gentleman is matched 2-27-09 against Daniel Judah, with whom he had a draw with back in 2003.
Dan Rafael also answered Brian Kenny's question about the main event versus undercard status of fighters like Cintron, Martinez, Campbell and Funeka. Rafael feels all but Cintron are still main event quality. Teddy Atlas feels Paul Williams will be too much for the inactive Winky Wright. He believes Williams' height, reach, and high volume punching with keep Winky at bay and on defense. He expects Williams will earn a decision.
Finally, it appears the chances of a Klitschko vs. Haye fight have once again waned, which is a shame, because that matchup would have brought some much needed excitement to the heavyweight division.