24.02.09 – Lightweight boxing champion Juan Diaz recently partnered with Everlast to give back to his community. Diaz and Everlast provided a $5,000 donation to The Contemporary Learning Center in Houston. The check was presented to the students during a ceremony held at the school. An Everlast endorser, Diaz is a former Contemporary Learning Center student who frequently returns to the school to speak in order to help motivate students to thrive in education and fitness..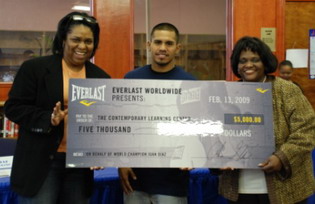 Juan Diaz will be fighting in Houston, Texas versus Juan Manuel Marquez on Feb. 28 for the title of IBO Lightweight Champion of the World, live on HBO.
Sylvester seeking fresh start on Saturday night
The protagonists of Saturday night´s Sauerland Event fight card in Neubrandenburg today warmed up with a public training session in the heart of the East German city. Former European middleweight champion Sebastian Sylvester (29-3, 14 KOs) will be looking to return to winning ways when he faces Italy´s Gaetano Nespro (14-4, 2 KOs) for the IBF international middleweight title. It will be the Hurricane's first fight since losing a points decision to WBA middleweight champion Felix Sturm and also the first under newly-appointed head coach Karsten Rower. "The first months of our cooperation have been great," Rower said. "Things are going very smoothly. Saturday is a big fight for us – a fight which we must not lose. Sebastian needs to be on alert against a tricky opponent." The Hurricane can´t wait to get back into the ring. "I am in great shape," he said. "I really enjoy working with Karsten Rower. I have prepared very well and I will make a winning return."
In the co-featured main event, European super-middleweight champion Karo Murat (18-0, 11 KOs) grants experienced Italian Cristian Sanavia (40-4, 12 KOs) a rematch. Back in April 2008, Murat had deprived the former world champion of his European belt. "I defeated him once so I will defeat him again," Murat said. "I have improved since our first meeting and I keep learning so many things from Ulli Wegner. I will be prepared."
Also in action will be gifted middleweight Dominik Britsch (11-0, 4 KOs), who wants to put himself in the frame for a Youth Title fight with a success over Rachid Ouafi (6-3). "Dominik is one of the biggest talents I have ever trained," Wegner said of the 21-year-old youngster.
"Despite his age, he has a very professional attitude. He has a golden future ahead."
Dean "Irish Lightning" Byrne makes NYC debut in "Erin Go Brawl II"
St. Patrick's Day Eve, Monday Night, Mar. 16, WaMu Theater in MSG
Sean Mannion to be honored for 25th anniversary of world title fight at MSG
NEW YORK (February 24, 2009) – The latest boxing sensation in a long, growing line of Irish boxers who've emigrated to the United States is unbeaten light welterweight Dean "Irish Lightning" Byrne, who makes his New York City debut fighting on the St. Patrick's Day Eve (Monday, March 16) "Erin Go Brawl II" card, presented by Irish Ropes Promotions, at WaMu Theater in the famed Madison Square Garden.
2004 Olympian Andy Lee (16-1, 13 KOs) takes on 3-time world title challenger Antwun "Kid Dynamite" Echols (31-9-4, 27 KOs) in the 10-round main event, while former WBC bantamweight champion Wayne "Pocket Rocket" McCullough, 1992 Olympic silver medalist, fights in the 10-round co-feature against an opponent to be determined.
Byrne (10-0, 4 KOs), who had more than 200 amateur bouts, is a former Irish amateur and Australian professional national champion. The Crumlin, Ireland native now fights out of Los Angeles, where he's trained by Freddie Roach and has sparred at the Wild Card Gym with superstars Manny Pacquiao, Juan Marquez and even Oscar De La Hoya for a few rounds. Bryne is in an 8-round bout versus TBA.
McCullough started the Irish boxing explosion in the U.S., followed by Stevie Collins, Kevin McBride and then John Duddy and Lee. "One of the reasons I came to the U.S. to fight was what they did here," Byrne said from training camp in Los Angeles. "I watched Stevie Collins and the Irish haven't had a world champion in 12 years since him. Everything is great here (U.S.) for boxing – training, gyms, trainers, and sparring. A year ago, I was going to Boston (where, ironically, Roach is from) from Australia but stopped in Los Angeles, worked out a few times at Wild Card, and then Freddie said I could stay. I've been there ever since. Sparring there for a young fighter can't get any better. Manny's an unbelievable fighter and a great person. Freddie has gotten me to sit down more on my punches. I've always had power but, he's brought it out of me, and I'm much more comfortable.
"I'm looking forward to being in New York City for the first time. I've wanted to fight there for a long time to show everybody what I'm capable of. I'm a great entertainer and love to entertain fans who've paid their hard earned money to come to my fights. I've always dreamed of fighting in Madison Square Garden and to do it in front of so many Irish fans is a great opportunity for me. I fought on the Irish Team with Andy Lee. He's a good friend and a good guy. I knew of Wayne McCullough, everybody did back home, but I don't know him. I said hello to him once at a stadium but I'm sure he doesn't remember me. I'm looking forward to meeting him and honored to be fighting on the same card as Andy and Wayne."
Scheduled to fight in 6-rounders on "Erin Go Brawl II" are Irish super featherweight champion Eddie "Pride of Tallaght" Hyland (11-1, 3 KOs), of Dublin; Philadelphia by way of Galway middleweight "Slick Fightin' Irish" Simon O'Donnell (8-1, 5 KOs); Limerick light heavyweight Jamie Power (4-0, 2 KOs) versus Reggie "Concrete" LaCrete (4-0-2, 3 KOs), from Brooklyn; Jersey City super featherweight Danny "Little Mac" McDermott (7-1-1, 2 KOs).
Also on the card in 4-round matches are Massachusetts light welterweight Danny O'Connor (3-0, 1 KO), 2008 U.S. Olympic Team alternate; Brooklyn featherweight Sadam Ali (1-0, 1 KO), 2008 U.S. Olympian; former St. Xavier College star football player Tommy Brown, fighting out of Chicago, making his pro debut in the light middleweight division.
Irish Ropes president Eddie McLoughlin also announced that County Galway's Sean Mannion (42-14-1, 14 KOs) will be honored at "Erin Go Brawl II" in honor of the 25th anniversary of his WBA light middleweight title fight at Madison Square Garden against the eventual champion Mike "The Bodysnatcher" McCallum.
Tickets, priced at $50.00, $75.00, $100.00, $150.00, $200.00, $300.00 and $400.00, are on sale at TicketMaster.com as well as Jack Demsey's in Manhattan, Hilltop in Elmhurst, and the Heritage in Yonkers.
For more information call Irish Ropes Promotions (212.868.9543) or go on line to www.irishropespromotions.com.