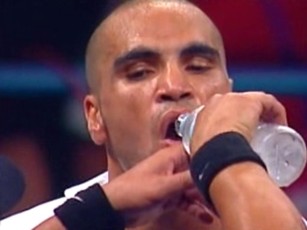 12.02.09 – by James Slater – Australia's Anthony Mundine is in line to fight for a version of the world middleweight title later this year, reports The Sydney Morning Herald – but the 33-year-old is not sure who his chance will come against. Mundine – who confirmed his status as WBA champion Felix Sturm's mandatory challenger with a points win over Shannan Taylor on Wednesday night – wants to fight the German title holder, but says he will have to speak to both the WBA and Sturm's management, adding that he feels there is a chance Sturm will vacate his title soon.
If this is the case, the tough 33-year-old would fight for the vacated belt, or, in another alternate scenario, he could wind up facing Ring magazine and WBC 160-pound champion Kelly Pavlik. Mundine is not too concerned either way; he simply wants to become champion, and then one day unify the belts at middleweight.
Former two-time WBA super-middleweight champion Mundine spoke to the Australian paper about his plans and goals for the future.
"I'm fighting at middleweight now, and that's where I plan to be for the next two or three years," Mundine said. "My goal is the be the first born and raised Australian, the first Aboriginal, to be the unified and undisputed champion of the world."
Though this is his main goal, Mundine says he would also be happy to reacquaint himself with old rival Danny Green, the fellow Australian he fought in May of 2006, winning on points. Mundine said he'd fight Green again for the right money.
"If they pay me the right money I'll whip his [Green's] arse again," Mundine said. "I'll come in at middleweight and Danny Green can come in at whatever weight he wants, he can come in at heavyweight if he wants – it won't matter. I'm the superior fighter and he knows that. But my plans aren't Green, I don't need Green."
The former two-time WBA super-middleweight champion says he likes the idea of going to Germany to face Sturm, partly due to what happened to him the last time he fought in the country – when he was stopped in the 10th round against Sven Ottke.
"I think it is destiny after what happened in 2001 Against [Sven] Ottke that I go back to Germany and fight Sturm," Mundine said. "I'm his mandatory but we've got to speak to the WBA and to his management. He may vacate the title, we don't know. Or he may fight (IBF champ) Arthur Abraham for much more money."
If he can't get either a shot at Sturm or his belt if the German vacates it, Mundine could possibly fight Kelly Pavlik – which the Australian would be happy to do.
"If I can fight Pavlik I would, and hopefully after I fight Sturm I will because after I get the first title I just want the big fights," Mundine said. "I'm at the top of my game now and I'm ready for the best in the world because I feel that I am the best. I don't feel that they are champions, I feel that they are just belt-holders and I am the champion."
Having improved to 35-3(23) with the UD 12 win over countryman Taylor earlier this week, "The Man" clearly feels his best is still ahead of him.