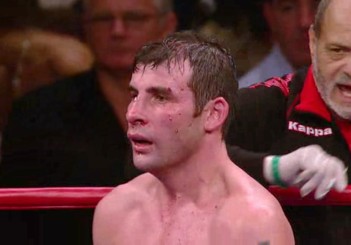 By Neil Goodman: Joe Calzaghe made the announcement a week or so ago that he is retiring from the ring. After forty six fights and no defeats, he feels and right so, that he has nothing left to prove and that the motivation to go on simply is not there any more.
When you consider that Joe started boxing 25 years ago and that his last defeat was 19 years ago, in the amateurs, it is easy to understand why the prospect of another training camp and the sacrifice associated with competing at the top level is not particularly appealing.
Joe came to prominence, first as an amateur, winning 3 consecutive British ABA titles – no small feat in itself. The amateur schooling, coupled with an intense will to win mark Calzaghe as a man to watch in the pro ranks..
Calzaghe turned professional 16 years ago, signing to fight in the Lawless and Duff stable. After 2 years Calzaghe had notched up 14 wins, 13 inside the distance; the one win on points being against a light heavyweight. Calzaghes transition to the paid ranks had been swift and the old-timers, Duff and Lawless, could not keep up; unable to deliver either meaningful opponents or title shots.
It was not long for before Joe signed to fight for Sports Network. Frank Warren, having guided Benn, Reid and Collins could surely unlock the doors which Joe needed to walkthrough in order to hit the heights. In no time at all Joe was fighting Mark Delaney for the British Super-Middleweight title.
This was the first Calzaghe bout which I had seen and the impression he made was immediate; both on Delaney and I! Calzaghe, despite being a southpaw, put aside the boxing manual and proceeded to batter Delaney back to the ropes. Delaney, undefeated at the time, was a durable fighter and a noted banger – but he had no answers to Cazalghes speed, slashing combinations and work rate. It looked like Delaneys nose was broken early doors and fight was smashed out of him inside five rounds.
Warren tried to continue Joe's ring education, by pitching him in against stiff opposition; but he iced 5 more opponents in the next year before reaching his first world title fight.
Calzaghe was the mandatory challenge to Steve Collin's WBO title and the date was set. However, a week before the bout was scheduled to take place Collin's retired. In hindsight perhaps a wise move! Chris Eubank, saw the opportunity to regain his old title belt and stepped into challenge Calzaghe for the vacant title.
The matchup pitted Eubanks experience and proven mettle against the youth and maverick skills of the young welsh upstart. Calzaghe immediately stated his intentions and credentials, by dumping Eubank on the canvas in the opening moments. It had only been a flash knockdown and Eubank was not seriously hurt; but he knew there and then that Calzaghe was not daunted by sharing the ring with such esteemed company.
The fight was fiercely contested; but Joe came up with all the answers. He outfought Eubank and did not give the former champion the opportunity to settle into the sort of paced fight that he usually took advantage of. In the closing seconds of the final round Calzaghe ticked the final box, by surviving the impact of a huge uppercut.
Calzaghe captured the WBO Super-Middleweight title belt on a unanimous decision; winning on the judges cards by 5, 8 and 9 rounds. The rest, as they say, is history. Joe defended the title for over ten years; making 21 successful defences. Rarely did Joe find himself close to losing the belt and only Robin Reid pushed him to a split decision – managing to time numerous right hand bombs to unsettle the champion.
It was not all sunshine and roses though along the way! There were periods of inactivity, mainly through injury to his fragile hands. Furthermore there were both uninspiring opponents and several uninspired performances. Unfortunately Joe faced the same problem many champions have; it just did not make economic sense to give up the belt. Joe stood to make more money defending his title over twelve rounds against his mandatory, as opposed to fighting a credible opponent over ten rounds.
Regardless, you can not have a good day at the office everyday and even a Calzaghe not running on all cylinders was too good for the likes of Starie, Jimenez and Ashira. For years Calzaghe and Warren tried to tie down what would be Joe's defining fight as champion; but potential opponents came and went.
It was perhaps seven years ago that Calzaghe started to make inroads towards a more global appreciation of his skills. Calzaghe faced the experienced Hatchet from Philly, Charles Brewer. Joe was the favourite to win right from the outset, but rather than box and use his noted speed and skills, he chose instead to go toe-to-toe! Almost every round was exciting as the last and the crowd in attendance barely had time to draw breath, as both fighters traded blows. At the end of twelve rounds Joe was a clear winner, however, the manner of the victory and the excitement generated re-energised Joe's career.
I had the privilege of seeing Joe live on several occasions and only once did the fight not live up to expectations. The fight in question was against Jimenez; both the opponents caution and Joe's injured hand meant a rather low-key affair. This said, as always, the Welsh crowd in the grounds of Cardiff castle still made it a night to remember. On the flip side of the coin; I saw the up-and-downer against Mitchell, the trouncing of Lacy and war against Brewer.
The standout moment though, for me, has to be the fight against Kessler in the Millennium Stadium. The atmosphere was truly incredible and fight itself was edge of your seat stuff. Both men did themselves and the sport proud; the fight ebbed and flowed and it took a prime Calzaghe to decode the undefeated Dane's style.
Throughout his career, even when edging passed the ageless Hopkins, Calzaghe would come in for some harsh criticism. The most frequent criticism being that he did not throw his punches correctly. When throwing punches at such speed and volume it is incredibly difficult for every blow to be delivered with correct form. If you compare that windmill performance against Delaney, to the boxing clinic delivered against Lacy, I think overtime Joe refined his output a great deal.
The journalists and fans alike also raised a question mark over some of the opponents selected. This said, Calzaghe never ducked anyone and made numerous very good fighters, such as Woodhall and Sheika, look very ordinary. Had Joe ever faced Ottke, there surely would have only been one winner. I also believe that Joe had the style which would have given him a very good chance of pushing, even a peak Jones Jnr, to the wire.
On a personal note; I really wanted to see Joe perform once more in Cardiff – they really were special nights. But, for the time being at least, the Dragon sleeps. As Joe said himself though, 'Never say, never…'