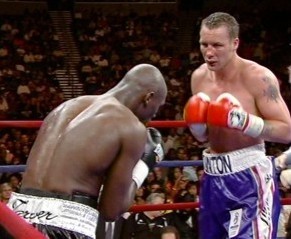 By James Slater: This Saturday night, in the unlikely setting of Jersey in the Channel Islands, UK, light-heavyweight contenders Clinton Woods and Elvir Muriqi will battle it out in an IBF 175-pound title eliminator. The two men who both fought Antonio Tarver quite recently know they have to win if they want to keep boxing at anything approaching elite level. Former IBF champion Woods, now aged 36, has gone on record as saying he will quit the ring if he loses on Saturday.
Having lost his belt to "The Magic Man" in April of last year – putting on an admittedly lacklustre showing as he fought in Tampa, Florida – the Sheffield man knows he cannot afford another defeat. In the tough Muriqi, who was born in Kosovo but now lives in New York, Woods will be facing a much younger (age 29) foe who still has major title ambitions himself. In his own, non-title, fight against Tarver, underdog Muriqi surprised many by giving the Rocky Balboa star a real argument – only losing in the end via a majority verdict.
If this is anything to go by, Woods may well see his fine career come to an end this coming St. Valentine's day.
Speaking with BBC radio, the former champion said he knows he has to win at all costs on Saturday, and that with new coach Glyn Rhodes pushing him in the gym as he has been, he feels a rejuvenated fighter today.
Woods, 41-4-1(24) began by speaking about the near shutout loss to Tarver.
"Everyone knows it wasn't me in my last fight," Woods said. "I was stale. But now I'm training with a smile on my face again. Muriqi says he's faster, quicker and more skilled than me – when he fought Tarver he was unlucky not to have been given the verdict, whereas when I fought Tarver I was terrible – so I think that's what he's basing it [his opinion of me as a fighter] on."
Nine months on from the lopsided points loss to Tarver, and Woods is feeling the urge to get back to the top once more.
"I feel as though I have achieved everything in boxing, but at the same time there is still something else – to win another world title," Woods said. "I've had Glyn [Rhodes] pushing me, shouting at me in the gym, and I feel rejuvenated. It will tell on the night, we'll see on the night. But I will definitely retire if I lose this fight, I will pack it in. I don't want to go back to European level. So that's my incentive, because I don't want to pack in boxing. I love boxing."
Clinton did not give a final prediction, but you can bet that in this fight he will not fail to give his all as he did against Tarver.
Look for a tough, gruelling and more often than not exciting fight as the two men with their careers on the line give us their very best. Very likely a distance fight, Woods is my pick to pull it out and win a razor-thin verdict over the 35-4(22) "Kosovo Kid."