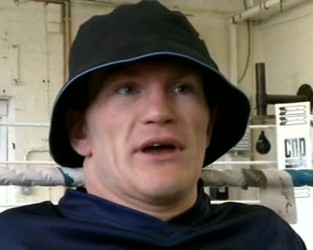 by James Slater – Gifted trainer of Manny Pacquiao, Freddie Roach, has no doubt at all his man will win the upcoming May 2nd battle with Britain's Ricky "Hitman" Hatton – Roach is also dead sure the fight will be both tough and gruelling for both men. As an article in The Manchester Evening News has reported, the trainer is somewhat concerned the fight may get more than a little bit rough and that it will be Hatton's "dirty" style of fighting that will make it this way.
Hatton has a come forward, aggressive approach, and in the past his style of fighting has led some people to claim he uses borderline illegal moves, such as using his elbows and his shoulders when in close. Roach is one of these people, and he says he expects a much stiffer contest for "Pac-Man" in May compared to what he was faced with back in December, when he squared off with a weight drained, some say shot, Oscar De La Hoya.
Roach spoke of how he will be getting in a whole series of different sparring partners for the Hatton clash.
"Hatton is much younger [than Oscar De La Hoya], a more vibrant guy, and will give us more difficulties'" Freddie said. "He will come and truly believe in himself. And he is kind of a rough fighter who will come in with shoulders and elbows, and try to mug us a little bit.
"It's a different style to Oscar but we will train for it and get in the right sparring partners."
Roach never named who Manny's spar mates might be, but they're sure to be fighters who are somewhat bigger than the Filipino, as well as fighters who love to attack. Make no mistake, Pacquiao is in for a real war in Las Vegas, as great as he is.
Roach says, though, that after the first six rounds his man will get on top in a big way with his superior speed.
"Manny has the perfect style for Hatton'" Roach said. "It will be a good fight for six rounds and then Manny's speed will take over and we will get Hatton out of there somewhere along the line."
What may well turn into a very interesting subplot with regards to the big fight is the battle of the trainers involved. Hatton's coach, Floyd Mayweather Senior, is also talking a great fight, and he too is sure his man will win. Who will prove to be the superior strategist – Roach, or the man who has verbally questioned his greatness as a trainer in the past, in Mayweather Senior?
One final piece of interesting news the paper mentioned, is the fact that former light-heavyweight and heavyweight champ Michael Moorer is now an assistant of Roach's. Will he be able to add anything to the game-plan?