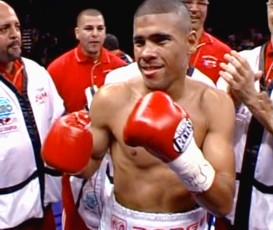 by James Slater – The word is ultra-exciting and lethal punching WBO super-bantamweight champion Juan Manuel Lopez of Puerto Rico will face 36-year-old Filipino veteran Gerry Penalosa on April 24th in the defending champion's home country. This promises to be one very interesting fight, as are all bouts involving the thrilling young fighter known as "Juanma."
Both men are southpaws, but there the similarity ends. Penalosa, who turned pro way back in May of 1989, has already ruled as a world champion – in fact he has done so twice. The WBC super-flyweight king from 1997 to 1998, the Filipino became champion all over again in 1997, when he captured the WBO bantamweight belt he has not lost in the ring. Moving up yet again to face Lopez at 122-pounds, the 36-year-old with the impressive 53-6-2(36) pro record will be hoping his vast edge in experience will come into play in April, and allow him to beat the man many see as boxing's next lower-weight superstar – if not superstar period.
The shorter Penalosa (5'4″ to Lopez' 5'7″) will likely find it extremely tough, however. Scheduled to take a tune-up bout in February first (against the 20-11-1(8) German Meraz in his homeland according to BoxRec), Penalosa will be having his first fight in ten months. Last seen defending the WBO bantamweight belt he won by stopping Jhonny Gonzalez in 7 rounds, against Thai fighter Ratanachai Sor Vorapin, who he stopped in the 8th, the fighter known as "Fearless" may well be somewhat rusty against "Juanma."
It is to be hoped the tune-up will suffice in getting the veteran – who has tangled with such fine fighters as In-Joo Choo (twice), Mauricio Martinez, Daniel Ponce de Leon and Gonzalez – in the best of fighting shape for the big one against the monstrously big puncher. In all of Penalosa's near twenty year career, during which he has engaged in over 60 pro fights, the 36-year-old has never been stopped. That deserves much respect, but it is unlikely the rampaging Lopez will give him any inside the ring.
Fight fans and experts have been raving about the 25-year-old with the flawless 24-0 (22) pro record since, or even before, his chilling 1st round annihilation of the likewise big punching Ponce de Leon, who Lopez iced inside two-and-a-half minutes back in June of last year. Since then, the fighter who enters the ring with an assured smile/grin, has made two defences of his belt – winning both, also inside a single round. This is no mere case of hype – the Puerto Rican who many expect to become as famous and as great as his countryman Felix Trinidad is the real deal indeed.
Fast, accurate and just naturally heavy-handed, Lopez has yet to allow anyone to really test him. This is not to suggest the champion has not proven he can go rounds if need be – he has proven that his power is still as fierce in the late rounds of a fight, winning as he has by KO in the 10th round of a fight. But, on the whole, Lopez does not hang around, and the quick KO more often than not comes. There is always the concern of what may happen if Lopez actually fails to get his man out of there, but so far "Juanma" has given no indications that he has any stamina issues.
Penalosa's best bet, and surely the tactics he will take, will be to get through the perilously dangerous opening rounds, and then come on and box his man late. Will he be able to do this? Though he has never been stopped before the Filipino's best days came at lower weights, and his chin's reliability was proven there (although he did, in a losing challenge to then WBO super-bantam champ de Leon, manage to last the full 12). Sure, Penalosa has made a successful move up to bantamweight, but going up yet again, to face one of the hardest and fastest hitters in the sport? This may be a case of his biting off more than he can chew.
Lopez may not make it four 1st round KO's in a row, but the stoppage will surely come. Brave and proud, Penalosa will give it his all, before he is simply outgunned. This writer picks Lopez to stop his man inside six rounds.