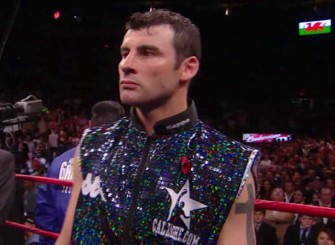 By Matt Knight: It wasn't long ago when British boxing was going through what many observers, maybe myself included, had labelled a 'golden era.' We enjoyed a wide array of recognised World Champions (WBC, WBA, IBF, WBO) ranging from the higher to low-middle weight classes, some fighters were not only world champions but could have been considered division leaders, bordering on Top-10 lb-for-lb lists. So how have the 11 belts once in the possession of UK fighters been whittled down to the paltry 1 (Nicky Cook, WBO Super Featherweight) we currently possess? Has British boxing hit a wall? How can a sport with diminishing popularity recover and once again mount a foothold on the world stage? And were we really in a 'golden era' anyway?
Well if we take into account the ever increasing farce that is boxing politics, then immediately we can ease the sense of crisis in Britain..
The facts are that both Joe Calzaghe and David Haye never lost any of their combined six belts within a boxing ring. Calzaghe, looking to end his phenomenal career with some US box office successes, vacated his multiple super-middleweight titles in order to move up in weight and face ring legends and future Hall of Famers Bernard Hopkins and Roy Jones Jr. He won both these bouts and remains one of the world's elite fighters. Would anyone at super middle have got anywhere near him, I think not. Haye likewise vacated his titles. After claiming the undisputed cruiserweight crown for his own by dispatching with the then undisputed champion Jean-Marc Mormeck and brutally mowing down WBO king Enzo Maccarinelli, he felt the time was right to launch an assault on the blue-ribband heavyweight division. After disposing of Monte Barrett in his first test, Haye too remains one of the world's best and most hyped fighters, the sky appears to be the limit for the power punching Londoner. It is a sign of the increasing politics in boxing that within one year both Calzaghe and Haye no longer had their belts, yet Vitali Klitschko was labelled 'Champion Emeritus' by the WBC for over four years, having his belt virtually handed back to him when and where he required it, and has yet been ordered to defend against Juan Carlos Gomez, despite the Cuban winning two so-called final eliminators in a row.
Ricky Hatton has held numerous belts between light-welter and welterweight, and despite his December 2007 defeat to 'Pretty Boy' Floyd Mayweather he didn't lose any of his own belts in the ring. However in my opinion it was this defeat that started the sense of major decline in the sport in Britain. Hatton was taught a lesson by Mayweather, the fight was proof that speed, skill and ring smarts will always be more than a match for sheer aggression and brute force. For the British public, who had been so embroiled in the Hatton hype machine, the loss was crushing, more so than any of the other fighters losing their belts inside a ring. Hatton is something of a national hero in the UK, a sporting figurehead held aloft such as David Beckham or Jonny Wilkinson, and considerably more than more heralded names across the pond such as Padraig Harrington or Andy Murray. Hatton symbolised UK boxing, his defeat was the equivalent to Tiger Woods getting thrashed at Augusta or when Julio Cesar Chavez was chased out of the ring by Oscar De La Hoya. Of course the routine win over Juan Lazcano and the return to form of Ricky in demolishing Paulie Malignaggi has restored some faith in the sport, Hatton is deservedly back on the fringes of the lb-lb lists and is again being lined up for the big fights against the likes of the winner of De La Hoya-Pacquiao or Miguel Cotto. If Hatton could possibly pull off a victory against one of these superstars then undoubtedly pundits would say British boxing had reached a new pinnacle, let alone a slump, if one fighter can turn a nation's opinion over a whole sport then that man is Ricky Hatton, and unfortunately the Mayweather defeat temporarily upset the mood.
So, taking the above into account, the end of the 'golden era' may be slightly over exaggerated. In Calzaghe, Haye and Hatton the UK still has some of the worlds' most elite, and most feared fighters, and in the case of Haye and Hatton we have two fighters who could yet go on to dominate their respective divisions for years to come.
As for the fighters who have bean beaten and lost their belts for non political reasons, yes some were disappointments, but others could be expected. Perhaps some of the fighters could have been considered fortunate to hold their belts in the first place. It can be debated whether either Junior Witter or Alex Arthur could ever be considered more than high level European fighters, always destined to merely contend on the world stage. A similar fighter, Gary Lockett got a big title chance in June and ended up on the receiving end of a mauling by Kelly Pavlik, one feels if Witter or Arthur had have come up against a Pavlik type champion rather than a DeMarcus Corley or a Koba Gogoladze, then their names may not even have been mentioned in this article, let alone be considered as part of Britain's boxing revolution.
Clinton Woods seemingly became old overnight in losing his IBF strap to Antonio Tarver. Woods has always struggled against the top class fighters having previously lost out to a peak Roy Jones and gone 1-1-1 against Glen Johnson, against Tarver he was out boxed, out thought and out hustled, now aged 36 and having been through some real wars, it is unlikely he will come again. Woods earned his title on guts and determination, it was good while it lasted.
Finally we come to Maccarinelli. Seemingly a reborn fighter training under Enzo Calzaghe, he boxed his way through a considerable amount of lower tier fighters (Bobby Gunn, Mohammed Azzaoui etc) and a couple of sterner tests (Wayne Braithwaite) before trying to unify the cruiserweight decision against the aforementioned Haye. Needless to say this didn't work out for the Swansea fighter, stopped in just 5 minutes, however he is still young, still possesses devastating knockout power, and has the opportunity to regain his WBO title when he fights American Johnathon Banks next months, with proper guidance and a steady progression in the difficulty of the fights he takes, Maccarinelli can once again be a force to be taken seriously on the cruiserweight scene.
To summarise then I feel that it was probably a bit rich to call the last few years a 'golden age' for British boxing, a purple patch might have been a more apt phrase. And to then say that the 'golden age' has come crashing down also seems to be a touch over the top, an easy headline for the armchair boxing fans to chat about in the pub. Of our many champions only Clinton Woods appears to be finished. In Joe Calzaghe we have a top 4 lb-for-lb fighter on anybodies list, and in Hatton and Haye we have two undisputed warriors. Nicky Cook, who claimed his title from Alex Arthur has yet to prove his metal and needs a solid test before we judge him as a champion, however, after his defeat to the capable American Steve Luevano last year he will need to improve to keep his belt for long.
And the future looks bright, if not exactly golden, too. Carl Froch gets a long overdue title shot next month as he takes on slick boxing Canadian Jean Pascal for the WBC Super Middleweight title, a bout in which this writer backs him to come out on top. Froch has undoubted potential, if he is able to keep his concentration and take the right fights he has the ability to have a prolonged reign, and along with the excellent Mikkel Kessler take control of the division. Add to this Herbie Hide mounting a late career resurgence at cruiserweight (due to fight in a WBC eliminator vs Matt Godfrey) and we could conceivably have two more champs by the springtime.
Maybe not in 2009 but definitely in the next 2-4 years there are several youngsters who could make a real splash on the world scene. Kevin Mitchell has tore through the European super featherweight scene and is almost ready to make the jump to world level, admittedly the likes of Edwin Valero, Robert Guerrero and Jorge Linares are not on his radar just yet, but give him time. He can punch, has fast hands and can take a shot too, definitely a threat.
Amir Khan, still reeling from his one round implosion against Breidis Prescott will come again. With a trainer like Freddie Roach in his corner and the much maligned but always successful Frank Warren guiding Khan's way another chance will come at some point. Khan has phenomenal hand speed and a killer instinct when his opponent is in trouble, his chin cannot be made any more resilient but with work on his defence Khan is more than capable of living up to his previous hype.
My final tip is for Sheffield welterweight Kell Brook, the current British titleholder. Although relatively untested to date he holds impressive wins over hard working Barrie Jones and a one-round blow out of former champion Kevin McIntyre on his opponent's home turf in Edinburgh. Schooled by the same people that gave us former world champions Naseem Hamed, Herol Graham, Clinton Woods and Junior Witter at the Ingle gym in Wincobank he has had a confident start to his career and has been tipped by the likes of Richie Woodhall and Steve Bunce to go onto bigger and better things.
Throw into the mix such other prospects as Paul Appleby (British Featherweight Champion), Paul Truscott (Commonwealth Featherweight Champion), Ajose Olusegun, John Murray and Nathan Cleverley plus 2008 Olympians James DeGale (Middleweight Gold Medallist), Tony Jeffries and world amateur champion Frankie Gavin, and the future could be very bright indeed.
Has Britain come to the end of its 'golden age', no, because we never really went through one, however thanks to some truly brilliant fighters, some good fighters working hard, and a promising young crop punching their way through the ranks, the future might well turn out to be very bright indeed.
I appreciate all comments on this article.
Contact – matt_knight86@hotmail.co.uk