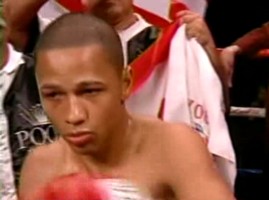 29.08.08 – By Vivek Wallace: This weeks 'Call Em Out Fridays' segment takes a look at perhaps one of the most pure boxers in the sport. In an era where the mythical pound for pound title is handed out like hot plates at a homeless shelter, it's a strange mystery how this masterful pugilist has failed to land somewhere in the top 5 on any of the list. Figuratively speaking, when you consider that Calderon only stands at a modest 5ft. tall, everyone's radar is probably not the only thing he continues to walk under, but realistically speaking, his God-given talent makes him a huge spectacle regardless. Obviously nothing in life is perfect, and neither is Puerto Rico's 'little giant'. Like every other 'Call Em Out Fridays' segment, we'll take a look at the fan supportive perspective, the critics perspective, and after laying out mine, we'll tune in so that you, the reader can chime in as well. So, with no further ado, we kick off another episode…….
Ivan Calderon – (Fan Perspective): Puerto Rican has been long known for producing some of the best talent in the world as it relates to the squared circle. Only a month ago, as fans braced for the Margarito/Cotto showdown, many boxing fans were educated on the wealth of talent the island has produced. In past decades we've seen Wilfred Benitez, Hector Camacho, Wilfredo Gomez, Felix 'Tito' Trindad, and more recently, Miguel Cotto. Finally finding his own place in that line of greats is Mr. Ivan Calderon, a somewhat unknown commodity in the mainstream, but easily one of – if not THE – most pure boxer in the post-Mayweather Jr. era of the sport. Slick, suave, methodical, and gifted all at once, Calderon's talent has slowly led him to experience 31 separate nights of victory, and despite a few tough nights at the office, in the end, he always awoke to a brighter day. Speed, footwork, movement, a constant jab; There are very few other attributes needed for a fighter that falls outside of that list. After a storied amateur career that saw him land a bronze medal in the 1999 Pan American Games, and despite his loss in the 2000 Olympic Games, few would ever truly question his greatness on the pro level, and they'd all end up correct. In only his 15th fight, he would hit pay dirt as he earned his first strap (WBO Minimum-weight Title) in a hard fought battle against Eduardo Ray Marquez. After a few successful defenses, he would later find himself in the ring with his stiffest test yet – Mexican Hugo Cazares. His initial fight with Cazares was a classic boxer versus brawler type, and despite being the smaller man, he was able to overcome an 8th round knockdown and earn his second strap, the WBO Light Flyweight. After this grand display of courage where Calderon proved his mettle by stepping into new territory and overcoming the odds, it would seem to most that this 'little giant' could do no wrong. But that was in the mind of those who support him. The critic spin, of course, is cut from a totally different fabric. In an effort to understand and analyze that perspective, we now take a look……
Ivan Calderon – (The Critic's Perspective): In the minds of those that have yet to subscribe to the 'Iron Boy', there are quite a few chinks in his questionably firm armour. Despite the undefeated record, the biggest knock on Calderon is the fact that he has only KO'd 6 of his 31 opponents. In post fight interviews there have been various reasons stated to combat attacks on why he hasn't been able to pack enough punch, but the bottom line is that either way, it hasn't changed. Many will question how effective can the punch of a 108 pounder be, but for the record, Cesar Canchila (21 of 28 fights), and Roman Gonzalez (18 of 20 fights), as well as many others on Calderon's level would completely shatter that notion. Aside from the question of Calderon's power, many see a loss inevitable, as one day, he's bound to face a very aggressive fighter who understands how to over work a talented fighter with extremely limited physical stats. Although Calderon hasn't made it a habit of touching the deck, he has been wobbled on quite a few occasions, the most recent coming against Cazares. The Mexican born Cazares laid the blueprint on how to defeat Calderon in their first fight, despite coming up short on the score cards. He was able to effectively pressure Calderon and although he missed quite a bit, he landed great shots in precise moments, and was able to actually wear Calderon down later in the fight when Ivan's legs began to tire from constant movement designed to help him abandon the many attacks he encountered. When you combine the lack of power with the physical limitations, all of a sudden Puerto Rico's 'little giant' comes up a bit short.
Ivan Calderon – (My Perspective): As I see it, Calderon, physical limitations and all, is far from an easy opponent, and despite the fact that he will be targeted once again by the bigger, stronger figure, I think you have to respect the fact that he has constantly been able to walk away with his hand held high in the end. Although some have likened his talent to that of Mayweather, I do think it should be duly noted that as good as he is, Calderon still lacks the reflexes needed in the 'money' rounds down the stretch to truly grant such comparisons. His plan – by his own admission – is generally to make a fighter miss and land enough shots to take over and win methodically on points down the stretch based on his better conditioning, but as we saw in the initial fight against Cazares, Hugo's conditioning apparently mirrored his enough to keep the fight close. This is where the critic perspective has come back to haunt Calderon. Particularly in the Cazares fight where he pressured Calderon and gave him very little room to breath, all of those limitations typically discussed about him came to life, and the only reason he walked away victorious was because Cazares got sloppy at times and failed to close the show. Does Ivan have the tools to remain undefeated and continue to display his high skill level? Yes. Will he continue to stay undefeated? Good question. But it's also one that we'll find out come Saturday night, as he faces the guy who single-handily designed that blueprint to overcome his skills. Calderon is a crafty southpaw and he won't go away easily, but if legs begin to fail him, I wouldn't be surprised to see another legendary Puerto Rican fall at the hands of a hungry Mexican who's durable enough to take a punch, and determined enough to continue landing his own. Saturday night I guess we'll all find out if there's a genuine reason why Calderon has never made those P4P list but if he does win impressively, there had better not be a credible entity that excludes him. Stay tuned.
(Got Questions Or Feedback?: Contact ESB's Vivek Wallace at vivexemail@yahoo.com, 954-292-7346, or show some love at www.myspace.com/anonymouslyinvolved)