Pawel Wolak weighed in at 153 ¼ pounds and Ishe Smith tipped the scales at 153 ½ pounds during Thursday's weight in at the New York City Athletic Commission Office in Manhattan, New York. Jorge Teron measured 135 pounds while Michael Lozada weighed in at 134 ½ pounds..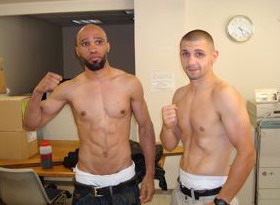 New Jersey's own Pawel "Raging Bull" Wolak (21-0, 14 KOs) will put his undefeated record on the line against ShoBox veteran Ishe "Sugar Shay" Smith (19-3, 19 KOs) in a 10-round junior middleweight bout, Friday, Aug. 1, live on SHOWTIME at 11:00 p.m. ET/PT (delayed on the West Coast). Friday's telecast marks the first time in four years that the critically acclaimed series that has produced 28 world champions will be contested in New York.
The co-feature pits undefeated, Bronx native Jorge "The Truth" Teron (21-0-1, 14 KOs) against the hard-hitting Mexican, Michael Lozada (29-4-1, 22 KOs) in a 10-round lightweight battle.
The fights will be promoted by Gotham Boxing from the Aviator Arena in Brooklyn, New York.
PAWEL WOLAK:
"I don't care about his inactivity; I know what I can do and I know how I can fight. I know I will win this. It is not a question in my mind. Him not having fought in a while does not play into this for me."
ISHE SMITH:
"If I can't beat him then what am I doing with my career? What am I doing? I have to beat him. For me this is do or die. I have no choice.
"For me this fight is like coming home. I grew up on SHOWTIME. That is where I got ranked…that is where everything started for me. I feel comfortable on SHOWTIME because it is home.
"Tomorrow night you will see the old Ishe mixed with the new Ishe. I am just going to keep throwing the punches and you will notice my growth but you will still see the old Ishe."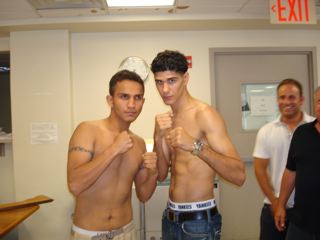 JORGE TERON:
"On paper this is my toughest fight. We prepared though. We watched a lot of tapes and I learned from them. I really worked hard these past few fights and I am at my best. I prepared."
MICHAEL LOZADA:
"I come in here for the victory; all the way here for the victory. I am far from home so why would I come to lose? I didn't. I came to win. I am here in his home, I know that, but I will still win."