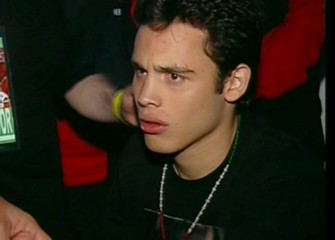 by James Slater: Back on July 12th, unbeaten Mexican prospect and son of a legend, Julio Cesar Chavez Junior was so disappointed with his performance in his fight with Minnesota's Matt Vanda he considered retiring afterwards. Chavez Jnr laboured to a close points win, but the result was roundly booed by his countrymen as it was announced.
Despite his best efforts to please his fans and KO Vanda, Chavez was unable to do so. Well, his decision to retire didn't last long, turning out to have been nothing more than a statement made on the spur of the moment, and the 22-year-old Mexican star is scheduled (according to BoxRec.com) to be back in action this October – against Vanda in a rematch. The fight makes sense.
In giving Chavez all he could handle on July 12th, the 29-year-old Vanda made it clear the unbeaten light-middleweight is still very much a work in progress. Figuring to give Chavez another stern test on October 25th (the scheduled date up ion BoxRec), Vanda has proven he is a good opponent. Only ever stopped once in his 38-7(21) record, "The Predator" is tough, hungry and determined. Will Chavez be able to handle him better the second time around?
Julio Cesar Chavez senior said, after his son's struggle a few weeks back, that Junior had gone into the fight having been less than 100-percent fit – claiming the doctor had deemed it necessary to give him a shot after the weigh-in. This perhaps explains the young fighter's poor display. Then again, maybe Chavez Jnr's limitations were once again revealed. Currently 37-0-1(29), the 22-year-old has no amateur experience under his belt and all his learning has been done in the pro ranks. As such, there is still plenty of time for the kid to develop. It shouldn't really be such a shock when Chavez struggles, he is after all still a number of years from his physical peak.
Vanda has another fight scheduled for September 20th, but should he come through that fight okay, or if that date gets removed in favour of a lucrative rematch with the fighter some felt he defeated, the return looks like being on for Mexico in October. It's not clear yet whether the bout will be the main event, or a co-feature on a card with other fights. But it does seem the rematch will sell well enough. Vanda will be going in with sincere belief that he will win, while Chavez will be going in determined to erase the memory of the last fight.
Expected to be a tough and watch-able affair, Chavez-Vanda will likely have no trouble attracting the fans. I go for a fully fit and highly motivated Chavez to get the stoppage win this time – somewhere in the halfway stage of the ten-rounder.