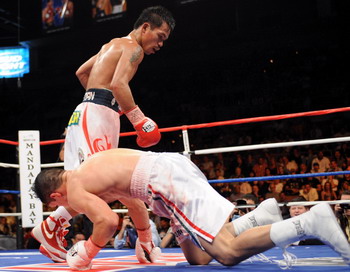 By Ted Sares, photo by Naoki Fukuda: Asia has produced any number of legendary fighters over the years. Fighters like Yoko "Fierce Eagle" Gushiken, Jung-Koo "The Korean Hawk" Chang, Masao Ohba, Yuri Arbachakov (alias Yuri Ebihara), Jiro Watanabe,Chartchai Chionoi, and old timers Ceferino Garcia and Pancho Villa. There are many more, but three in particular come to mind.
Fighting Harada (Japan)
One of my favorites was Masahiko Harada better known as Fighting Harada and a member of The International Boxing Hall of Fame. Among other accomplishments, he beat the great Hall of Famer Eder Jofre, 72-2-4, twice and split a pair against Pone Kingpetch and rugged Jose Medel. He also fought Australian great Lionel Rose and duked with Johnny Famechon twice. In 1969, he challenged Famechon for the world featherweight championship in Sydney. It was a classic brawl that in the end was called a draw by guest referee Willie Pep, but Famechon's fans rallied over the call by booing Pep.. Willie then announced he had miscalculated his scorecard and actually had Famechon ahead, making Harada a loser by a fifteen round decision. Many felt that Harada had done more then enough to earn the verdict and the title.
Arguably, he is Japan's greatest fighter ever and finished with a 55-7 slate. The victim of many questionable decisions, his record easily could have been 58-4.
Khaosai Galaxy (Thailand)
Another favorite was the great Thai bomber Khaosai Galaxy who finished with a sterling record of 49-1 and a KO percentage of 86%. The rap against Galaxy is that many of his fights were against so-so opposition and were fought in Thailand. Still, this tough brawling southpaw earned the moniker, "The Thai Tyson," and was a closer extraordinaire. When the muscular Galaxy hurt his foe, he moved in quickly for the kill and the crowd would go absolutely wild. He was the very essence of a stalking predator closing off the ring, making contact, and quickly accomplishing the kill with a variety of savage power shots thrown with uncanny accuracy and evil intent.
While reigning as WBA junior bantam king, he successfully defended the title 19 times, 16 by knockout–a truly amazing feat. Aside from his loss to Sakda Sak, Galaxy Saksuree (9-9) for the Thai Bantamweight Title in 1981, which he quickly avenged by brutal KO, Galaxy never took part in what could be called a close fight.
He was an equal opportunity kind of guy. He did his thing against Mexicans, Venezuelans, South Koreans, Colombians, Indonesians, Panamanians, Dominicans, Americans, fighters from the Philippines, warriors from Japan, and Thais. I saw him ice Filipino Cobra Ari Blanca in 1990 in Bangkok and then starch Panamanian, Enesto Ford, in Petchaboon later that same year.
The IBHF enshrinee information states, in part: "Thailand's greatest boxer… was acknowledged by many as [sic] the best, and most significant 115-pounder in history, as well as one of the greatest fighters from Asia."
"Flash" Elorde (The Philippines)
Gabriel "Flash" Elorde was another great fighter to come out of the Asia-Pacific region, winning 88 against 27 losses and 2 draws. Every year from 1952 to '67, this Filipino legend was involved in a national, regional or world title bout. Fighting mostly in Cebu City early on, his level of opposition soon became daunting and included two bouts each with Sandy Sadler and Carlos Ortiz. In only his second year of professional competition, he beat Hiroshi Horiguchi, 72-9-5 coming in. As well, he duked three times with Masashi Akiyama, 70-25-8 and then beat Sadler, 141-14-2 at the time. Around 1956, he began to fight often in California against tough hombres like Cecil Schoonmaker and Dave Gallardo and later Ike Chestnut and a number of imposing warriors in Japan. In 1959, he beat Teddy "Red Top" Davis, 69-69-6, and then KOd the great Harold Gomes twice in 1960. A win over El Tigre Colonense, Ismael Laguna, came in 1966, but the end was in sight and he finally retired in 1971.
In 1993, he became the first Asian inducted into the Hall of Fame in Canastota–and is considered by many to be the greatest world junior lightweight boxing champion in WBC history and one of the greatest boxers of all time.
Manny Pacquiao (The Philippines)
If this warrior continues to win, a strong case can be mad to label him the Best Asian Fighter of All Time. At 47-3-2, he is on a tear–and against the very best opposition. As far back as 1998, he KOd the great Chatchai Sasakul in Thailand
Now having won world titles at four different weights, who knows where he could end up. After a draw with Agapito "El Ciclón" Sanchez in 2001, names like Marquez, Barrera, Morales, Larrios, Valazquez, Fahsan 3K Battery, Emmanuel Lucero, Lehlohonolo Ledwaba and many others began to pop up on his list of victims. In his thrilling draw with Marquez, one of the judges later admitted to making an error in the scorecards, as he scored the first round as a "10-7" in favor of Pacquiao instead of the standard "10-6" for a three knockdown round which would have given Pac-Man the victory.
With his in-and-out whirlwind style and heavy hands, he continues to improve under Freddy Roach. He seems to add a new dimension in each fight as his arsenal of weapons becomes awesome. He has speed, movement, stamina, a solid chin, crunching left uppercuts and punishing right crosses. He unleashes hard left hooks (like the one that iced David Diaz) and combos that keep coming and coming and coming. Once he senses his man is hurt, one brutal pot shot after another is launched as the prey is positioned for the kill in the fashion of Khaosai Galaxy.
As for heart, Manny Pacquiao has engaged in brawls that truly test a fighter's warrior heart— and he has passed those tests with flying colors.
Pacquiao is the most exciting fighters in the sport of boxing today. Perhaps it may be premature to call him the best Asian fighter of all time. But if he stays focused and continues to win, it will be difficult to argue otherwise.