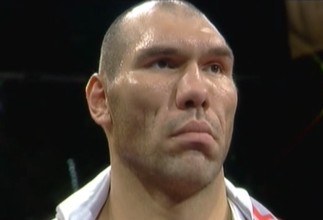 by James Slater: Yesterday, in Germany, the official press conference to announce the Ruslan Chagaev-Nikolai Valuev heavyweight rematch took place. Now scheduled for July the 5th, and topping a card being called "Night of Rematches," the WBA title fight return has the Felix Sturm-Randy Griffin rematch as its chief support (WBA middleweight champ Sturm fought Griffin to a draw in October of last year).
Tickets are apparently selling well, and all the fighters involved are confident of victory. Looking at the intriguing Valuev-Chagaev return, can the unbeaten Chagaev repeat the points win he pulled off over a then undefeated "Beast From The East" back in April of 2007? Chagaev certainly thinks so.
Speaking at yesterday's press conference, the 24-0-1 southpaw holder of the WBA heavyweight championship of the world had the following to say.
"The fight against Nikolai was a really nice time," a relaxed Chagaev said. "But that was before. Now comes the new fight. The preparation has gone well so far and on June 9th we will begin sparring in Hamburg [Germany]."
Chagaev, of course, pulled out of the original date for the fight with an illness, the second time in his career he has been struck down with ill health. Now looking in good shape, the 29-year-old whose last fight was a tougher than expected points win over Britain's Matt Skelton in January, will be looking to once again beat the man who stands at over seven feet tall.
Valuev too, sounded confident yesterday.
"I have a very good chance to win," the 48-1(34) Valuev said. "I have seen and analysed the first fight with Ruslan multiple times. I will not let those errors happen again. I did my homework. I will win this time."
Losing to Chagaev in a big upset last spring, Valuev was unable to impose his strength on the smaller, counter-punching Chagaev. Indeed, the only man to have ever beaten the 34-year-old got his tactics perfectly correct with his effective style. Standing in front of Valuev, but making him miss and then countering, worked a treat for the 29-year-old. The question is, will such an approach work for a second time?
As the saying goes, "If it ain't broke don't fix it." I feel Chagaev will adhere to this adage and attempt to do exactly the same thing again. It is up to Valuev to do something about it, and, judging by his comments yesterday, he feels he has found a way in which to do so.
Look for another distance fight in a bout that should be as close as the first fight between the two heavyweights. I lean, ever so slightly, towards Valuev recapturing his world title with a very close points win.