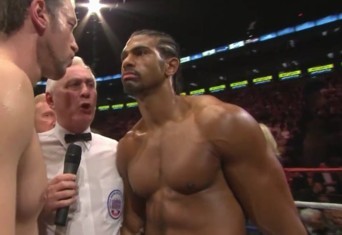 By Jim Amato: I recently caught a clip of cruiserweight champion David Haye calling out heavyweight champion Wladimir Klitschko at a shopping mall. Wladimir looked to be rather amused by Haye's bold challenge. He had a " you've got to be kidding me ' look on his face. Wlad said something to the effect that David needed to put on some weight. He also told Haye to " get in line " for a title shot.
I had to see for myself if Haye really had the "goods" to be a force in the heavyweight ranks. There were some excellent clips of Haye on www.youtube.com. Yes, I saw that Haye has a lot of tools and he can really whack, BUT…he won't win if he brings his chin. An aging Carl Thompson took Haye outta' there in the 5th round of their September 2004 bout, this after Haye ran out of gas. Haye has also been knocked down or hurt on other occasions. The Thompson bout, however, was a clear revelation for me. As Max Schmeling once said before his first fight with Joe Louis, "I see something," in regards to a Louis style flaw.
I see a major flaw in Haye's style that will be exploited by Klitschko. Haye takes too many right hands and that happens to be Wladimir' s best power punch. I see Klitschko keeping the aggressive Haye at bay with that fine jab of his and then dropping over some big overhand rights. If Haye did the shake and shimmy from a Carl Thompson right hand, what do think Wladimir's right will do to him? It may not be pretty.
I'd like to see Haye fight a couple of heavyweight fringe contenders before talking his way into a match with Wladimir. A Williamson, a Monte Barrett, a Dominck Guinn or even a James Toney. This way we could gauge if Haye is big enough to play with the big boys of the heavyweight division. The boxing public can ill afford being duped by Haye or promoters looking to cash in on a lucrative Klitschko – Haye match up. Haye needs to prove himself worthy of a title shot and if he does he'll just have to march through the division and wait his turn. As Wladimir told Haye to "get in line" My advice to Haye" Be careful what you wish for."