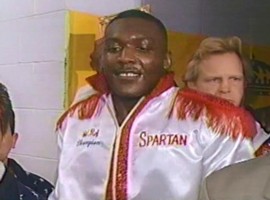 By Geoffrey Ciani: This morning, as I glanced through a schedule of upcoming bouts, I noticed that former heavyweight champion Bruce Seldon has a fight scheduled this weekend. Frankly, I was not even aware that Seldon was still fighting, although the news hardly came as a surprise. After all, professional boxers have an uncanny ability to stick around well beyond their expiration date, but who am I to question how a man makes a living?
Upon seeing the name "Bruce Seldon", I was immediately reminded of his controversial contest with "Iron" Mike Tyson, wherein many observers accused Seldon of taking a dive. This, of course, is what he is best remembered for. Prior to that, however, he had put together a pretty decent career for himself, which started off with a string of eighteen consecutive victories that came to an end when he was pitted against future champion, Oliver McCall. Clearly ahead on the cards, Seldon fell victim to his own poor conditioning, and was stopped by the "The Atomic Bull" in the ninth frame. In his very next contest, he was stopped by future undisputed champion Riddick "Big Daddy" Bowe in a single round.
Over the next few years, Seldon would post a 15-1 mark, with his only loss coming at the hands of another former champion, Tony Tubbs. During this streak of good fortune, he managed to win the vacant WBA strap from Tony Tucker, and successfully defended his title one time before being pitted against Tyson. His title shot largely stemmed from the fact that unified champion George Foreman was stripped of this belt when he chose to face Axel Shultz instead of Tucker, who was the organization's number one contender at that time.
When George Foreman shocked the world by defeating Michael Moorer for the recognized championship, the division was thrown into disarray. Foreman would ultimately be stripped of both titles he won, and did not suffer a loss until he was on the wrong side of a controversial decision against Shannon Briggs (in a bout I feel Foreman certainly deserved to win). Around the same time, Mike Tyson was on the comeback trail having just been released to prison, and Seldon was the final sacrificial lamb delivered to "Iron" Mike when his perception of greatness still far exceeded his actual talent level.
After his release from prison, Tyson was pitted against journeymen Peter McNeeley and Buster Mathis Jr, neither of whom provided him with any type of real test. In his third bout back, he squared off against WBC champion Frank Bruno, whom he had already beaten some seven years earlier. Once again, Tyson would emerge victorious and, all of a sudden, his aura of invincibility was back in full swing. Interestingly enough, however, rather than defend his title against Lennox Lewis (as mandated by court order), Tyson relinquished the belt and, instead, took on Seldon for the WBA strap. Many people did not realize it at the time, but Tyson and his handlers were fully aware of the threat posed by Lennox, even if the general public was not.
After Tyson's first round destruction of Seldon, many observers and casual fans were fully convinced by the hype. Mike Tyson was back, and nobody was going to stop him! Of course, he would lose in his very next bout against an aging Evander Holyfield who was already clearly on the downside of his career. Seven months later, Tyson would lose again to Holyfield, this time by disqualification in the infamous ear-biting match. By this point, it should have been clear to everyone that Tyson was far removed from his prime fighting days when he was a menacing force of power and destruction. All that was left was the name and the power, but Tyson was an enigmatic personality whose popularity continued to soar, even after the Holyfield bouts.
After the Tyson debacle, Seldon retired for nearly eight years before making a comeback that lingers on to this day. In the end, he will always be best remembered as the man who 'took a dive' against "Iron" Mike after his release from prison, but in a way, this sells him short. Boxing is not an easy sport, and during his career, he had more success than most others who have laced up the gloves and entered the professional ranks. After all, how many people out there can lay claim to the fact of being a former heavyweight champion of the world? Not many.
To contact Ciani:
ciaaaani@yahoo.com
To read more by Ciani please visit The Mushroom Mag:
http://www.eatthemushroom.com/mag