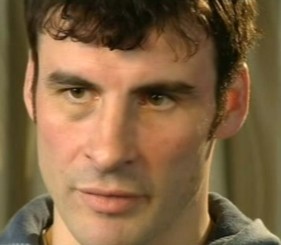 By Geoffrey Ciani: East Side Boxing's "Boxing Forum" is a pretty good place to gauge how fans feel about a particular upcoming contest. Generally speaking, there tends to be some fairly good balance when it comes to making assessments, which is why I am utterly baffled by the foolishness on display pertaining to the upcoming mega bout between Bernard Hopkins and Joe Calzaghe. The way these Calzaghe fans talk (and there are scores of them), you would think Calzaghe was slated to fight Academy Award winning actor, Anthony Hopkins, instead of Bernard. Then again, the out-of-control mass delusion which has overtaken a large percentage of the Calzaghe faithful might well mean giving the actor best known for his portrayal of Hannibal Lecter a better chance against Calzaghe than Bernard.
That so many fans believe Calzaghe will beat Hopkins is one thing; that so many believe he will beat him easily is quite another. This is simply inexplicable.
One of the first methods of madness is to discredit Hopkins's resume. According to the Calzaghe faithful, Hopkins has never beaten anyone of note. Sure, he has some names on his resume, but they mostly consist of blown-up welterweights who had no business fighting Hopkins.
Take, for example, his bout against Felix Trinidad. According to the Calzaghe faithful, Trinidad is a bum who had no business fighting above 147. It seems that Calzaghe fans conveniently forget the fact that Trinidad was not only successful during his stay in the 154 pound division, but that he was also a four to one favorite against Hopkins as the reigning WBA champion, having just battered William Joppy in the opening-round of Don King's middleweight tournament. It should also be noted that Trinidad was universally recognized amongst the pound-for-pound best in the sport when Hopkins thoroughly outclassed him.
More recent examples of this campaign designed to discredit Hopkins would be his wins against Antonio Tarver and Winky Wright. Against Tarver, Hopkins had jumped two weight classes at the age of 41 to take on the top dog in the light-heavyweight division. Tarver was a three-to-one favorite and widely recognized as a top pound-for-pound talent in the sport, and yet he was systematically dominated by Hopkins. In his very next bout, he took on yet another pound-for-pound elite in Ronald "Winky" Wright. Once again, Hopkins was the underdog, and once again, Hopkins would win a lopsided decision.
Yet, the Calzaghe faithful gives him absolutely no credit for these two sensational victories. To them Tarver was always 'overrated', and worse yet, he was 'weight drained' from his role in Sly Stallone's Rocky Balboa. As for Winky, he was just another blown-up welterweight who had never accomplished anything north of 154. Winky was 'too pudgy' at that weight, and even still, they claim he made Hopkins 'look bad'. In fact, some even have the audacity to claim Winky deserved victory in a contest he clearly lost. Furthermore, they seem to forget that Hopkins himself had just recently moved north of the middleweight division, but why ruin a good disinformation campaign by allowing the facts to get in the way?
Another method of madness being utilized by the delusional Calzaghe faithful is overstating his resume. After chatting with a Calzaghe fan, one might be left with the impression that Jeff Lacy and Mikkel Kessler were all-time greats on par with Sugar Ray Robinson and Henry Armstrong! The way Calzaghe fans speak of his conquered foes, you would think he had cleaned out every worthy contender south of cruiserweight over the past fifteen years. In reality, Calzaghe's resume is a rather underwhelming ledger best defined by mediocrity, barring a few exceptions like Kessler and Chris Eubank, but even here, we are hardly discussing anyone even approaching an elite level.
One of the final methods of madness being used is the 'work rate' argument. This one basically states that "Calzaghe throws too many punches, ergo, he will overwhelm Hopkins, much like Jermain Taylor did". This argument ignores the fact that styles make fights and that Calzaghe and Taylor fight nothing alike. It also undermines the fact that Hopkins is a defensive tactician and outstanding counter-puncher, when it just so happens, these are the exact qualities that help neutralize high punch volume as recently evidenced when the unheralded Carlos Quintana bested another fighter known for work rate, Paul Williams.
Indeed, speaking with Calzaghe fans leaves one with the impression that he is being pitted against a stationary target who is incapable of throwing punches, rather than a future Hall-of-Famer with impeccable skills and pedigree. The most hysterical thing in all of this is that Calzaghe himself is surely aware of the daunting task at hand. No doubt he is smart enough to realize what he is up against, and no doubt he understands that beating Hopkins is a tall order. Unfortunately, Calzaghe fans seem blinded by this reality, and the ridiculous arguments they put forth certainly seem indicative of overcompensation.
In the end, I wonder who it is Calzaghe fans are trying to convince: The rest of the boxing community or themselves?
To contact Ciani:
geoff@eatthemushroom.com
To read more by Ciani please visit The Mushroom Mag:
http://www.eatthemushroom.com/mag