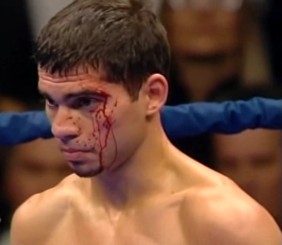 01.04.08 – by James Slater: This Saturday, in his native Ontario, "The Canadian Kid," Steve Molitor makes the fourth defence of his IBF 122 pound championship when he is challenged by Mexico's Fernando "Pinocho" Beltran Junior. The 26 year old Mexican earned his shot with a final elimination bout triumph last December, when he TKO'd Panama's Jose Arboledo in ten rounds.
Molitor, a southpaw like his challenger, is rapidly becoming a formidable and respected world champion. Pretty much at his absolute peak right now at age 27, the unbeaten Molitor captured the vacant IBF belt in late 2006 with a relatively quick stoppage win over Britain's recently retired Michael Hunter. Possessing superb speed of hand, if not devastating punching power, the 26-0(10) champion will take some beating. Most of his fights have taken place in Canada, but Molitor is not afraid to travel, as he proved when winning the vacant title in Hunter's hometown of Blackpool in the U.K. Interestingly, Molitor has boxed over in the U.K on three occasions. Saturday's defence takes place at home, however, and Beltran Jnr will be up against it.
The 30-2-1(18) 26 year old, who has never been stopped, is genuine world class. Not only did he win the official elimination bout against Arboledo, but Beltran has also been in with the formidable Joan Guzman. He may have lost to the unbeaten world champion from The Dominican Republic (in a WBO super-bantamweight title fight in April of 2005), but Beltran went the full twelve rounds – losing by only a two point margin on the card of one judge. Clearly then, the Mexican southpaw is a worthy challenger for "The Canadian Kid."
Molitor, an accomplished amateur who won a bronze medal at the Pan American games and also boxed in the Olympic trials (losing a decision) seems to be of a much higher overall class than the man he will be facing at the weekend. In his last fight, which took place in January of this year, Molitor defeated another tough Mexican in Ricardo Castillo. And before that the IBF champion turned back the challenge of Thai fighter Fahsan 3K Battery, who, like Beltran, is a southpaw. Facing a fellow lefty is nothing for Molitor to worry about, then.
It seems the defending champion will have more or less everything in his favour come April 5th; home town advantage, an unbeaten record, the experience of having boxed all manner of top class opponents and a fine amateur pedigree. Look for Molitor to retain his IBF strap successfully for the 4th time. More than likely via a wide decision.