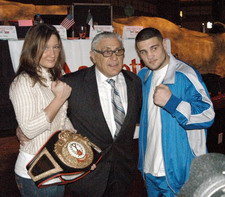 By Peter Mark Heintzelman: The women's IWBF lightweight championship belt is on the line, March 14th at Twin River Event Center, in Lincoln, Rhode Island, when Jamie "The Hurricane" Clampitt defends her golden belt against seasoned veteran, Belinda "Brown Sugar" Laracuente.
The 29 year old Larcuente (23-20-3, 9 KO's), fighting out of the Big Apple, has forty-seven professional bouts under her belt, twenty-one of which bouts were against world champions. She sports an opposition list of the "who's who" in the female boxing world, including names like Missy Fiorentino (17-1, 6 KO's), Sumya Anani (24-1-1), Mary Jo Sanders (15-0-0), and Holly Holm (21-1-2) whom she last fought on February 7, 2008 at Pechanga Resort & Casino, in Temecula, California, where she lost a ten round decision. With twenty of her last twenty-one bouts have been against world champions, she has gained the respect and admiration of boxing fans of the fairer sex..
The current IWBF lightweight champion , Canadian-bred Jaime "The Hurricane" Clampitt (18-4-1, 7 KOs), fighting out of Warwick, RI, has won five out of her last six fights, against the best out there, including Jane Couch (28-9-0) and Mia St John (43-7-2). She lost to Missy "The Fury" Fiorentino (17-1, 6 KO's), in a 2006 fight where Jamie broke her right hand in the third round.
At a recent press conference this past week at the Twin River Event Center, East Side Boxing caught up with "The Hurricane," to capture her thoughts as to her upcoming title bout with Laracuente:
Eastsideboxing: Jamie, how did you get to be on Team Ireland, on this card billed by Jimmy Burchfield as an Italian versus Irish team night; do you have green blood running through your veins?
Clampitt: I do, actually, I'm like half-Irish! A lot of my ancestors are from Ireland, my grandparents are from Ireland!
Eastsideboxing: How does it feel to have Irish Micky Ward as the team leader of the Irish Team, and might he be working your corner that night?
Clampitt: Its unbelievable, I'm a huge fan of Micky Ward, but I'm not sure if he will be working my corner. He has always been such a great fighter, and he's represented the Irish fighters very well.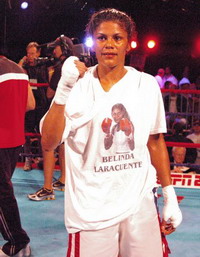 Eastsideboxing: What do you know of your opponent, Belinda Laracuente, and her style. What are you doing to prepare to give her a dose of boxing, Canadian-style?
Clampitt: Belinda is a really slick fighter, and she's fought absolutely everybody in three or four weight divisions. She always comes to fights, and a lot of times, she comes as a different fighter. Sometimes, you'll see her box, and sometimes you'll see her coming in as a slugger. It just depends on who's she's boxing, and what she feels like doing that evening. I give her the utmost respect, but I'm definitely getting ready for her.
Eastsideboxing: You are good friends with Vinny Paz, who is team leader of the Italian Team, and therefore in Belinda's corner that night. How does that feel?
Clampitt: It makes me a little sad, because I love Vinny , but what are you going to do!
Eastsideboxing: Jamie, what are your goals during the remaining years of your professional boxing career?
Clampitt: I feel more comfortable staying at 135 pounds. Hopefully soon, the opportunity will come for me to unify the belts, and have a huge fight with Ann Marie Saccurato (13-3-2, 6 KO's). She has the other two belts in the division, and hopefully I'll fight her and beat her, and go from there!
Eastsideboxing: Why should your fans come out to the fights at Twin River on March 14th?
Clampitt: First of all, I'll be very festive, wearing green trunks for Saint Patrick's Day, and I'm coming in there a different fighter. My trainer, Kurt Reader and I have been working on different things. I've just really learned a lot in the past year, and I think its definitely going to show!
"Rumble at the River," part of "The Budweiser Night at the Fights" series at Twin River, is promoted by Jimmy Burchfield's Classic Entertainment and Sports, Inc., in association with Twin River, Budweiser and Tournament of Contenders.
The card Clampitt fights on headlines The Pride of Providence" Peter Manfredo, Jr. (28-5, 13 KO's) against Shane "The Irish Hitman" Benfield (17-1, 9 KO's). Cruiserweight Chris McInerney (9-1-1, 6 KOs) of Stoughton, MA faces former Massachusetts' cruiserweight king, Tim "The Hammer" Flamos (19-4-1, 7 KOs), of Brockton, in a six-round bout of a rematch McInerney won by sixth round TKO last December. Russian undefeated middleweight Andre Nevsky (3-0, 3 KOs), of Worcester , MA faces his toughest test to date in a four-round bout versus Eric Pinarreta (2-1, 2 KOs), of New Bedford (MA). USBA No. 4 super middleweight Joey "KO Kid" Spina (20-1-1, 15 KOs), of Providence; light heavyweight "Irish" Joey McCreedy (6-1, 4 KOs), of Lowell (MA); unbeaten Lynn (MA) flyweight Isander Beauchamp (3-0) and Providence junior welterweight Diego Pereira making his pro debut, are also on the card against opponents to be determined.
"Rumble at the River," tickets are priced at $35 (ADA stage seating only), $40, $50, $75, $100, and $150, and may be purchased by calling Classic Entertainment & Sports, Inc., at 401-724-2253/2254, going on line at www.cesboxing.com, or www.twinriver.com, or Twin River Events Center at 877-82RIVER. All fights and fighters are subject to change. Twin River has waived its 18 year old plus rule, for Rumble at the River, but any one under 18 years of age must be accompanied at all times by and adult, and must enter through the West entrance. Twin River Events Center is located at 100 Twin River Road, in Lincoln, Rhode Island. Doors open at 6pm, and the first bell rings at 7pm.