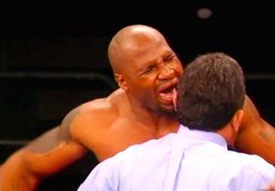 by James Slater: As most fight fans will surely be aware, the last time Travis "Freight Train" Walker and T.J Wilson met, back in October 2007, Wilson won via a highly contentious TKO in just 15 seconds of round number one. Referee Raul Caiz, deeming Walker to be badly hurt, took it upon himself to dive in and call a halt to the action. What followed was anger, controversy and the need for a rematch. That rematch takes place this coming Friday (February 29th) in California, and this time the NABF title is on the line.
Taking a break from his training for the much anticipated return bout, Travis Walker very kindly gave this writer the following words earlier today.
Here is what Travis had to say..
James Slater: Firstly, Travis, how has training gone for the rematch?
Travis Walker: It's gone absolutely great. Training couldn't have gone better.
J.S: You've been sparring with Tony Thompson?
T.W: That's right. I've been working with the best southpaw fighter in the world (T.J Wilson is a southpaw, of course).
J.S: The first fight was extremely controversial thanks to the referee. Do you know who the ref will be this time around?
T.W: No, I don't know. I'm pretty sure it won't be the same guy this time though.
J.S: Were you ever hurt in the first fight?
T.W: No. It was a kind of feel out round. I was letting him get off with his shots because I didn't think he was in shape. He caught me with one hook, but I was never hurt. He didn't really have much power, actually.
J.S: Do you think T.J will try and jump on you real quick this time?
T.W: I doubt he will. If he does, he will likely run into something himself. But this time I will make sure I stay off the ropes and keep the fight in centre ring.
J.S: T.J has been saying that his win wasn't controversial and that he'll do the same thing again. Did you listen to what he's been saying?
T.W: No, I don't care about what he's been saying. I hope he's in better shape this time, though, because I want to have a good fight. I want to show the fans that I can fight. I must say though, that I respect T.J for being a man. He said he'd give me a rematch, and he's kept his word.
J.S: Has your overall confidence been affected by the loss?
T.W: Not at all. I don't really look at it as a loss. It was a loss that was given to me by the referee. I just have to make sure that that doesn't happen again. In a way, I have benefited from the loss, in that I don't think I would have been given the opportunity I have had I won the first fight. Now I'm boxing for the NABF title, and the rematch is a bigger fight. This rematch has gotten more attention.
J.S: Are you happy the fight is taking place in California?
T.W: No, not at all. I think the refs in California are a little scared right now, and they are looking to stop fights too soon. You see, a couple of weeks before my first fight with Wilson, a guy actually died in a fight in California. But the way I see it, if it's your time, God will call you whatever you're doing. I would rather get KO'd for real, rather than get stopped prematurely. I would really have liked this fight to have taken place in Florida (laughs) my home state. Or it would've been great for this fight to have taken place on the under card of [Wladimir] Klitschko's fight tonight [Vs. Ibragimov].
J.S: Not to look past Wilson, but what do you expect for your immediate future?
T.W: I'm looking forward to a great '08. I'm looking forward to defending my NABF belt, after I win it, and fighting some big fights. I'm not calling any names out, I leave that to my promoter, but as I say, I'm looking forward to a great 2008.
J.S: It's been great speaking with you, Travis. Do you think you might get the quick win this time?
T.W: Yes, I do. I'll be looking to blast him out. I'll be using a real stiff jab in this fight, and looking to set the tempo.