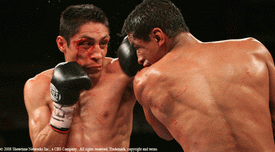 By Ted Sares, video coverage of Vazquez v Marquez I & II courtesy of Showtime: On March 1, with the super bantamweight supremacy at stake, boxing fans will be treated to the rubber match in what again promises to be an exciting, back-and-forth slugfest between two hard men. They will likely go to war with a total disregard for their wellbeing, and with a doggedness and uncommon determination that may well produce another Fight of the Year candidate. These two warriors are what machismo is all about. "The Final Confrontation" will be televised live on SHOWTIME CHAMPIONSHIP BOXING beginning at 9 p.m. ET/PT (delayed on the West Coast). A serious nose injury– a metabolic blockage–halted Vazquez in the first fight when he surprisingly retired after the seventh round even though he seemed in control..
In the rematch, Vazquez once again displayed his superior power, this time his nose didn't slow him or his left hooks down on his way to a TKO of Marquez at 1:15 of the sixth round. The specter of these two super bantams going after each other with an uncommon fury and with blood flowing down their faces was for me the essence of machismo. They two were warriors on this special evening at the Dodge Arena in Hidalgo, Texas.
In the rubber match, Marquez (37-4, 33 KOs) will hold the advantage in speed and technique, but Vazquez's superior power (though Marquez is the bigger of the two) may give him trouble by the fourth or fifth round. If Marquez is to prevail, he will need to adjust and stay out of the way of Magnifico's chilling hooks. In short, he will have to fight smart and try to avoid the brawl that Vazquez (42-4, 32 KOs) likes best.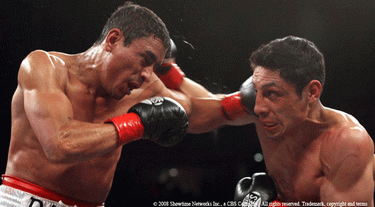 Given the first two fights of this trilogy and given the respective styles of the fighters, I don't see a strategic or technical bout. What I expect is another give-and-take, bloody non-stop cock fight. One possesses a lethal straight right; the other owns a savage left hook. Both are skilled. Both will again blast away while displaying an incredible work rate. The fight will be the essence of "machismo explosivo."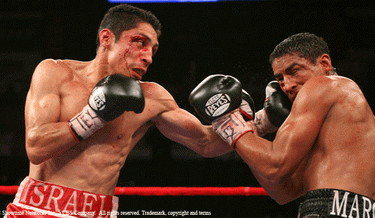 The showdown will be televised live on Showtime Championship Boxing beginning at 9 p.m. ET/PT (delayed on the West Coast). Glued to the screen, I expect to see heart, tenacity, desire, skill and courage–and the possibility of non-stop back-and-forth action, blood, cuts, and vicious knockdowns.
Outcome:
I see Marquez winning early by fighting smart and cutting up Vazquez with his jabs. If he can stay away from the in-coming Vazquez, he can win by stoppage due to cuts or by a UD. But if he falls prey to the stronger native of Mexico City and allows him to dictate the pace in the mid rounds, it will lead to a Vazquez stoppage victory in the ninth or tenth stanza.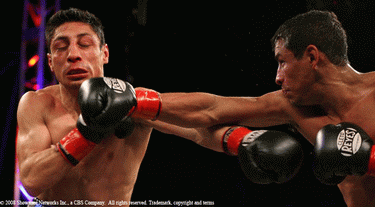 Vazquez – Marquez III, which headlines an exciting night of world-class boxing action, is presented by Gary Shaw Promotions in association with Sycuan Ringside Promotions, Golden Boy Promotions and Romanza Promotions, Inc. The bout will be televised live on SHOWTIME CHAMPIONSHIP BOXING beginning at 9 p.m. ET/PT (delayed on the West Coast).
Tickets for this sure-to-be-classic are priced at $300, $150, $75, $50 and $25 tickets may be purchased at The Home Depot Center Box Office, or by calling 310-630-2020. Tickets may also be obtained online at www.Ticketmaster.com and Ticketmaster round of the year and fight of the year honors for a reason; it was non-stop action and everybody loved it.