By Frank Gonzalez Jr, photo by Wray Edwards / ESB – Saturday night at Madison Square Garden, Ukrainian Heavyweight champ Wladimir Klitschko (50-3, 44 KO's) defended his IBF and IBO titles against Russian WBO champ, Sultan Ibragimov (22-1-1, 18 KO's). Klitschko stood four inches taller on paper but looked a foot taller in the ring. Ibragimov earned his stripes beating former WBO champ Shannon Briggs by UD 12 in June of last year. A month later, Wladimir avenged his loss to Lamon Brewster by administering a beating. Brewster retired in his corner after the sixth round..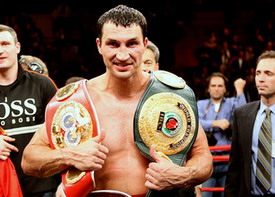 Wladimir has faced the better opponents and in spite of a few bumps in the road, he has emerged as, 'the man to beat' at Heavyweight. Ibragimov came in like a wildcard team in the playoffs, dangerous and not to be underestimated.
As they touched gloves to start the contest, my first thought was, how long it would take for Wladimir to dispose of the smaller south paw. But I remembered another south paw named Corrie Sanders, who five years ago faced Wladimir in Germany as a huge under-dog. Sanders' started fast and was able to knock Klitschko out within two rounds with an all out assault that worked perfectly. Was it a fluke? No one will ever know for sure since Wladimir never did fight Sanders again—when it would have mattered. That scenario would not be repeated for Sultan Ibragimov Saturday night as Wlad fought in a "prevent defense" mode, content to win a boxing match and keeping the risks to a minimum. It had the effect of pissing off the crowd at the Garden but it won him the fight.
Wladimir is studious of opponent's assets as well as his own adaptations to such. Against Ibragimov, who is known for his quickness and respectable counter punching skills, Klitschko fought a careful, technical fight that consisted of jabbing to keep the right distance and to score points. I gave Ibragimov the first two rounds for being busier with the punches but from rounds three to the end, it was all Wladimir Klitschko, who used his long jab to pop Ibragimov in the face all night. In the late rounds, Klitschko got comfortable enough to start throwing his powerful straight rights, which found the mark a few times, to the delight of the action starved crowd.
Ibragimov was totally game and managed to land a few good shots but never anything he was able to build on. Klitschko used his height and jab well and controlled most of the action. For a boxing match, it was a mismatch. For a fight, it had a couple of decent moments but not enough to be remembered.
For the crowd in attendance at the Garden, it wasn't an exciting fight. They booed throughout the match, frustrated at the lack of aggression from Wlad and the ineffectiveness of the very gamely Ibragimov. While Ibragimov tried to make it a battle, Wlad always managed to keep him out of range by keeping his jab in Ibragimov's face. Sultan would keep jabbing, then as suddenly as expected, leap in with a left to the body that sometimes landed but never flush enough to hurt Klitschko.
Klitschko boxed like a chess player. He wasn't looking for a knockout as much as he was looking to hit, without being hit. He did a great job of it. It wasn't so pleasing to watch, but it was one recipe for success. In the end, it was a lopsided Points victory for Wladimir Klitschko. Credit Ibragimov for being tough enough to go the distance over a guy who usually wins by KO.
* *
HBO's coverage team of Jim Lampley and Lennox Lewis are both reasonable, sound commentators but Max Kellerman is annoyingly distracting to listen to. Early in the seventh round, Kellerman questioned Harold Lederman's score card for giving Ibragimov rounds one and six at that point, by saying that it was a virtual shutout in his mind, all the while complaining that Wladimir's tactics were not crowd pleasing enough. Klitschko easily lost the first round by just pawing at Ibragimov's jab instead of jabbing himself. Klitschko landed two soft punches to Ibragimov's five. Ibragimov was the aggressor in the first round and landed more punches in that round but according to Kellerman, Ibragimov lost every round. I prefer Larry Merchant, who isn't afraid to ask the tough questions, say unpopular things and doesn't kiss up to the house fighters. A virtual shut up on Max's part would've been better received by this viewer.
The picture at HW could be more exciting but this is what we have:
WBA champion, Ruslan Chagaev, who won a Majority Decision over giant sized Nicolay Valuev last year in April. He last fought in August and should be available to fight Wladimir in a few months. I can't see him beating Wladimir but speculation doesn't count for much. Chagaev is unbeaten, just like Ibragimov. Time will tell how that one plays out.
There's WBC champion Oleg Maskaev, who won the inherited title away from Hasim Rahman back in 2006 and has been quiet since. He has a win over relative unknown Peter Okhello in December of 2006. That's a lot of rust to shake off before facing Samuel Peter, who has explosive power, improved boxing skills but is vulnerable to clean punching as demonstrated by Jameel McCline last October. Maskaev is slated to face Sam Peter on March 3rd. Peter has been busy. Maskaev hasn't. Maskaev is the better boxer and has sneaky power. Peter is tough, strong and aggressive. It should be interesting.
Wladimir Klitschko, now owns the WBO, IBO and IBF titles. If his mission is to unify the titles, his brother Vitali should return to the ring AFTER that happens, not before. Vitali will interfere with the current line up. If Wlad can beat the winner of Maskaev Peter and beat Chagaev, he will be the true ONE Champion of the World. Vitali hasn't fought since December of 2004. Considering how soft the division is, if Vitali comes back, he probably wins a title right away, thereby forcing a Klitschko vs. Klitschko fight in order to create ONE true Champion. They have always said they'd never fight each other so…
* * *
Comments can be emailed to dshark87@hotmail.com