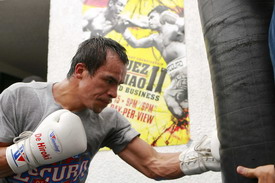 LOS ANGELES, CA (February 21)—Fundamentally, it is Mexican champion Juan Manuel Márquez's professionalism and dedication to his craft that makes him one of the best in the sport of boxing today. Márquez, one of the last warriors of the great Aztec dynasty of modern boxing, seeks a place in the boxing history, has been proven to be among the elite level in the sport but he attributes his success both in and out of the ring to his tremendous work effort and although successful, still maintains his hunger for fame and glory that keeps him dedicated to his training and committed to his daily regime of hard work and training when preparing for a fight.
"In the ring there is no such thing as an easy fight or a small challenge and I keep that in mind and base my philosophy on that when I am preparing for a fight. If you do not look at boxing that way, with a very serious attitude and dedication to the way a fighter prepares for a fight.. There is no getting around it in boxing and if you do not prepare as you should the opportunity passes you by and all the glory with it.", said Juan Manuel Márquez, from his Mexico City training camp, where is in preparation—with an eye on revenge—for this fight against the extremely talented, and worthy Manny Pacquiao on March 15.
"This fight against Manny [Pacquiao] is definitely an opportunity for me to seek revenge and also a tremendous victory, as I plan on having, for my career. It will give me the truly highest honor of being among the other great Mexican warriors who have come before and whose names stand throughout the incredible boxing history of our great country. Also it will give me the fame, glory and the commercial boxing value that is at the top of the sport."
A CHAMPION'S ROUTINE:
Marquez works hard from Monday to Saturday when he faithfully arrives at the gym and has spared nothing to achieve an ideal physical condition, and be at his best when he faces Pacquaio, considered one of the best in the sport today, on March 15.
"The fight is very interesting. I do not feel I have to prove anything because I feel like I won the first fight, even though they declared it a draw.", said Márquez. "But this time I want to make a new history. I know the same thing won't happen as it did on May 8, 2004 as there will be no doubt as to who won this one."
Here's how Marquez gets to his peak performance level. Let's take a look at his daily routine:
4:00 a.m.: Runs for close to an hour in the snow-covered Toluca mountain, higher than a quarter of the entire country. Other days he chooses to stay closer to home and runs in the Desert of the Lions.
6:30 a.m.: Returns home and sleeps for a couple hours.
9:00 to 9:30 a.m.: Nutritious breakfast with lots of fruits and fruit juices, which he likes to mix in with his eggs.
1:00 p m.: Arrives at the gymnasium for training sessions which include sparring, calisthenics (his basic exercise routine.) As he is already in the final phase and in tremendous shape, he can work more on his speed and velocity for the fight.
4:00 p m. to 5:00 p m.: He returns home, eats something and then rests again. Staying on his strict protein and low carbohydrate diet, he has a variety to choose from such as chicken, fish, vegetables and fruit. As he lives together with his family, he likes to relax, watch television and catch-up on other sporting events, such as soccer.
9:00 p m.: After having one more luxury piece of fruit, he goes to sleep to await another day.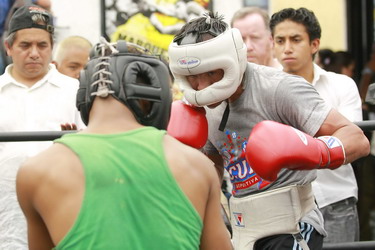 SPARRING PAYS OFF
Marquez understands the routine for preparing for a fight is critical to success. But it is in sparring that he has the chance to work on his strategic game plan, fine-tuning the various ways he feels he need to use for fighting Pacquaio. Surrounded by his team, including his coach and mentor, Ignacio "Nacho" Beristain, Marquez visualizes the fight and he and his team timelessly go over the game plan, making it routine so the night of the fight it comes naturally.
For this preparation, Marquez has enlisted the services of sparring partners of the Nicaraguan left-hander Eusebio "Osejo" Gray, native of San Judas, Nicaragua, and whose velocity serves him so that the monarch intensify the reflections and the I pitch. Also he counts on the left-handed one Venezuelan Rafael Hernández, whose power and movements cause they think and to handle the situation to Juan Manuel. Hernández is high, strong and their priority is to remove consistently the right hand simulating the tagalog challenger.
Finally counts on the Japanese one Norio Kimura, who has a month in Mexico City. Is left-handed, weighs 140 pounds, and is the champion superligero national of its country. It is classified number 7 by the CMB, and has carried out 11 defenses of its girdle. Kimura is aggressive and its work is not to leave to think to the champion and to put it on the cords.
RE-TELLING THE FACTS
In the boxing, to part of history, there are moments that always remembered. They are moments of courage and resilience, of getting knocked down and fighting back. Marquez, and many a boxing fan, remembers the night of May 8, when at the MGM Grand in Las Vegas, Nevada, when he showed everyone his true grit and determination in the first round of the fight. Fighting Pacquaio for the first time, the Fillipino came out strong and knocked the Mexican challenger down three times in the first minutes of the fight. What Pacquaio and the crowd were amazed to see was the electrifying effort of Marquez who continued to get up, found his way through the first round and then changed the direction of the fight almost immediately at the start of the second round. What looked like a complete domination of Pacquaio over Marquez, became a competitive slugfest that ended in a controversial draw. "It was a robbery as far as I'm concerned and most people agree I won the fight," said Marquez. "But looking back does me no good and all I know is on March 15, I am going to fight to the end, be victorious and there will be no doubt among everyone as to who is the best in the super-featherweight division."
UNFINISHED BUSINESS
Promoted by Golden Boy Promotions and Top Rank, in association with Romanza Boxing Productions and MP Promotions and sponsored by Tecate Beer, Rock Star Energy Drink and Southwest Airlines, Marquez vs. Pacquiao II Unfinished Business will be for the WBC and vacant Ring Magazine Super Featherweight World Championship. The world title bout will take place March 15 at Mandalay Bay Resort & Casino in Las Vegas, and will be produced and distributed live on HBO Pay-Per-View, beginning at 9 p.m. EST/6 p.m. PST
Tickets for Marquez-Pacquiao II, priced at $600, $400, $300, $200 and $100, are now on sale and can be purchased at the Mandalay Bay box office and at all Las Vegas Ticketmaster locations (select Smith's Food and Drug Centers, Macy's West at the Fashion Show Mall, and Ritmo Latino). Ticket sales are limited to eight (8) per person. To charge by phone with a major credit card, call Ticketmaster at (702) 474-4000 or Mandalay Bay (702) 632-7580. Tickets are also available for purchase at www.mandalaybay.com or www.ticketmaster.com.
The Marquez vs. Pacquiao II pay-per-view telecast, beginning at 9 p.m. EST/6 p.m. PST, has a suggested retail price of $49.95, will be produced and distributed by HBO Pay-Per-View and will be available to more than 61 million pay-per-view homes. The telecast will be available in HD-TV for those viewers who can receive HD. HBO Pay-Per-View is the leading supplier of event programming to the pay-per-view industry. For your Marquez vs. Pacquiao II fight week updates, log on to www.hbo.com.