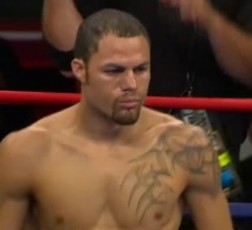 29.11.07 – By Matthew Hurley: The scheduled welterweight unification bout between International Boxing Federation champion Kermit Cintron and World Boxing Organization champion Paul Williams is being postponed. The two fighters were set to meet on February 2nd if Cintron got past challenger Jesse Feliciano on November 23rd. Cintron found himself in a rugged bout against his overlooked opponent but managed to stop Feliciano in the tenth round. He did however damage his right hand.
According to Cintron he hurt his hand with the very first punch he threw. At fights end, after raising his gloved fists over his head in celebration the fighter crumpled to the canvas in apparent agony. He thought he had broken the hand and was understandably disappointed with his performance. Two days later Cintron's trainer Emanuel Steward said that the hand wasn't broken but just badly bruised.
In light of Cintron's injury and his lackluster performance not only did his match with Williams come into question but so too did his resolve. Cintron had become yet another of Emanuel Steward's reclamation projects after the fighter was knocked out in five one sided rounds by Antonio Margarito in 2005. The Kronk fighter began showing marked improvement under Steward's tutelage, including a vicious second round blowout over Walter Matthysee. But his inability to keep the light punching Feliciano off of him and the panic that creased his face on several occasions during the bout has once again brought up question regarding the fighter and whether or not he has truly recovered from the loss to Margarito or if a pressure fighter with a good chin will turn the hard hitting "Killer" into a skittish fighter. The fight with Feliciano could also very well have been an aberration on the road to bigger and better things, which is what the fighter and his trainer are convinced of.
According to Main Events CEO Kathy Duva the injury includes severe ligament damage to the right hand and that an orthopedic surgeon has advised Cintron not to even begin training for a fight again until March 1.
Duva issued this statement. "Kermit will take the time necessary to heal his hand. We will not run the risk of him entering the ring and injuring his hand further."
In other news, ESPN2's "Friday Night Fights" will return on December 28th. The main event will showcase heavyweight prospect Alonzo "Big Zo" Butler, 26-01 with 19 KOs against Dominick Guinn, 28-5-1 with 19 KOs. The event will take place at the River Rock Casino Resort in Richmond, British Colombia.